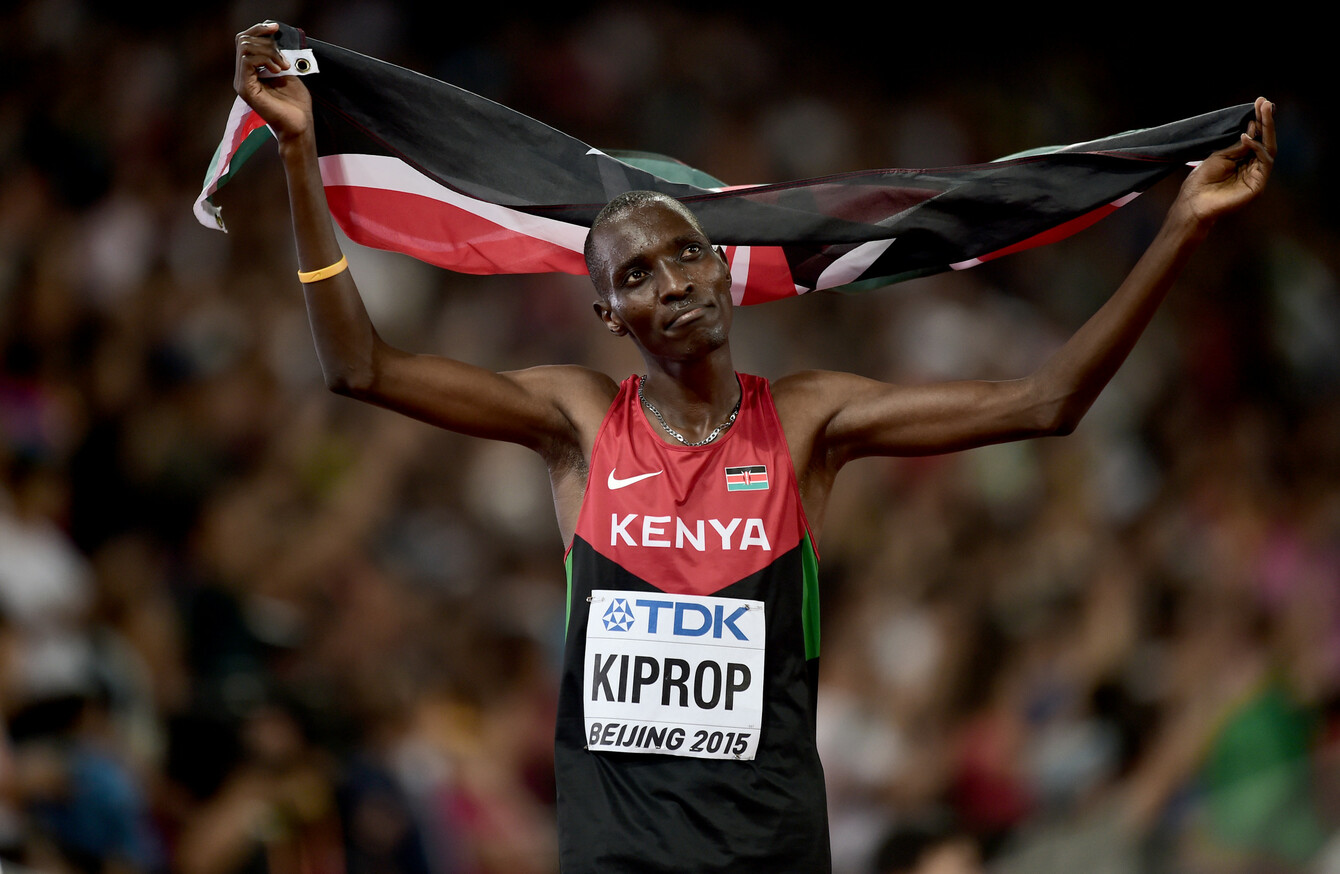 Image: Adam Davy
Image: Adam Davy
REIGNING OLYMPIC AND three-time world 1500m champion Asbel Kiprop is understood to have tested positive for EPO in what's a massive blow to athletics and Kenyan distance running.
Widely regarded as the finest 1500m runner of the past decade, Kiprop is reported to have failed an out-of-competition test. His agent, Federico Rosa, confirmed to Mailsport – who this evening broke the story – that he had 'heard the same rumour' and was 'still trying to get confirmation.'
Kiprop acknowledged reports that he had failed a test in a statement released on Wednesday night.
Maintaining his innocence, the Kenyan said: "I have read the reports linking me to doping. As an athlete, I have been at the forefront of the fight against doping in Kenya, a fight I strongly believe in and support.
"I would not want to ruin all what I have worked for since my first international race in 2007. I hope I can prove that I am a clean athlete in every way possible."
Last year, Jemima Sumgong, the Olympic women's marathon champion at Rio 2016 – who also hails from Kenya – tested positive for EPO and was banned for four years.
Rumours have recently circulated within athletics suggesting another major Kenyan star had failed a drug test. On Wednesday, Kenyan newspaper the Standard quoted 'impeccable sources' who claimed an unnamed athlete had tested positive for the performance-enhancing drug erythropoietin, which boosts the production of red blood cells and aids oxygen flow in the body.
A Standard report said that a 'high-profile runner' who has 'dominated world championships over the years' was embroiled in a doping scandal.
It also claimed that, while there was no confirmation from the Anti-Doping Agency of Kenya (Adak) or Athletics Kenya (AK), the substance was the same blood-boosting drug used by Sumgong.
In 2016, Kenya reported a total of 40 cases of failed drugs tests over the previous four years, with marathon star Rita Jeptoo also caught using EPO. She, like Kiprop, was managed by Rosa, who himself was the subject of a doping investigation by the Kenyan authorities in 2016.
One of the biggest names in Kenyan sport, Kiprop won world titles in 2011, 2013 and 2015 as well as Olympic gold in 2008. He was beaten in the latter race by the Bahraini Rashid Ramzi, but had his medal upgraded when Ramzi tested positive for a performance-enhancing drug.
Kiprop is the third-fastest 1500m runner in history.