STEPHEN KELLY BELIEVES the understanding he has with Damien Duff at club level can boost his chances of being named in Ireland's starting XI in Poznan on June 10.
The Fulham defender, who is currently enjoying the best spell of his career, has made the right-back position his own under Martin Jol and featured 25 times in all competitions for the Cottagers so far this season.
International boss Giovanni Trapattoni is also clearly a fan of the Dubliner as he played a pivotal role in securing qualification for Euro 2012 with solid performances against Russia, Armenia and in the play-off first leg against Estonia during 2011.
And while a back four of John O'Shea, Richard Dunne, Sean St Ledger and Stephen Ward looks the Italian's preferred choice when everyone is fit, Kelly says the relationship he has built up with one of the country's greatest ever wingers gives him an added advantage in his quest to be the No1 right-sided full-back.
"All I can do is continue to play and the fact that myself and Damien are playing with each other every week is a great thing," Kelly said at ESPN's media conference in Dublin on Wednesday. "We're so comfortable with together and it is not often that you can get that at international level.
That is something that will bode well for me. When it comes to the summer, the manager might go with it. If he doesn't, it will be disappointing but I'll just continue on in the same vein as I have done throughout the campaign."
The 28-year-old former Spurs and Birmingham City player was included in the original 24-man squad named before the 1-1 draw with the Czech Republic at the Aviva Stadium last week but was forced to pull out after suffering a torn quad in Fulham's 1-0 win over QPR.
Although the final squad for the tournament has yet to be announced, Kelly feels he has done enough to secure a spot and while he is happy to fill in at a number of positions across the backline, insists the one he is commanding in the Premier League at the moment is his best.
"If I'm perfectly honest, I didn't (have any doubts about making the squad for the Czech game)," he said. "I just felt that it had gone really well with the amount I had played during qualification and the fact that I am getting in at my club every week.
"I've not been left out of a squad since I got into it first, and touch wood, it won't happen during the summer.
"Right back is my favourite and my natural position. I'm comfortable playing on the left or even at centre-half as I did during the Carling Nations Cup but I would say for me to be at my best it would be on the right. I get forward and my distribution from there is better.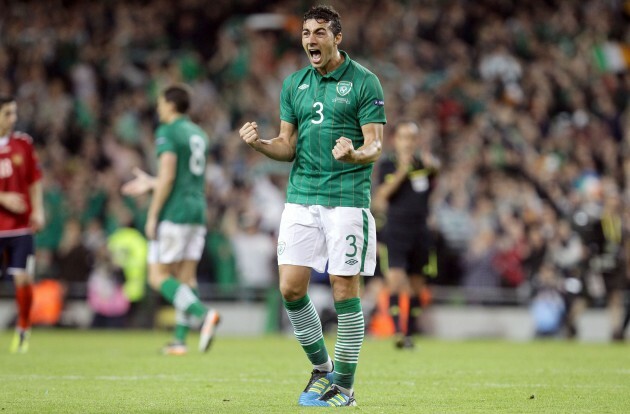 Kelly celebrating at the final whistle of the 2-1 win over Armenia. Credit: ©INPHO/Cathal Noonan
Casting an eye towards the finals themselves, Kelly does not intend to travel to Poland simply to make up the numbers and is adamant that Ireland can cause problems for their Group C opponents. An opener with Slaven Bilic's Croatia is followed by fixtures against current world champions Spain and Trapattoni's homeland Italy.
And Kelly, who sees the controversial play-off defeat to France in 2009 as a turning point for the team, thinks gaining four points from the three games is a realistic target.
"We've grown and grown since the France game. The disappointment in that has spurred us on a little bit more to achieve something.
"When we get there, we might just think to ourselves that we have got a chance. Why can't we turn heads and make a statement?
The teams we're playing are sides we have performed well against in the past. We met Croatia not so long ago and drew 0-0. It may have been a friendly and wasn't the fastest-paced game but their top players were there and we have had a little insight into how they line out.
Everyone knows how we've always been with Italy. For some reason, we seem to pick up results against them. Spain are obviously the best team in the world and are amazing to watch but again, history says that they don't find it easy against us.
"Tactically, we're a very hard team to beat and I don't think any of the three will like playing against us. If we can get there and find a little bit of extra belief then why not?
"The first game is always important and we can possibly get three points from it. If we do, the way the rest of the fixtures pan out means a draw might be enough going into the last game against Italy.
Impact
It is six years since Kelly made his senior debut at international level during a 1-0 defeat to Chile at Lansdowne Road back in May 2006. That was Steve Staunton's second game in charge having begun his managerial career with a 3-0 win over Sweden. Stan's reign quickly took a nose dive however, and Kelly cannot speak highly enough about the impact that Trapattoni has made on the set-up since arriving in 2008.
"For the team to be in a situation where we've gone 12 games unbeaten and qualified for the European Championships is no easy feat and the manager has had a lot to do with that.
"I know there is criticism about how we play and the way we pass the ball but it has got us to a major tournament and that has also been the case in the past.
"The team spirit is unbelievable, everybody wants to play for one another. You are going out there playing for your friends, it's not just team-mates at this stage as we've been together for such a long time that it is so closely knit and everybody wants to achieve the same goal.
"We've got to the Euros now and we're are not going to just leave it at that."
Stephen Kelly was speaking at ESPN's announcement of their forthcoming live matches: Everton v Tottenham (March 10), Stoke v Manchester City (March 24) and Kilmarnock v Celtic (April 7). Live Barclays Premier League football and live Clydesdale Bank Premier League matches are shown on ESPN channels alongside live, top European soccer and other international sports. To get ESPN, visit: www.ESPN.ie.