AUSTRALIA'S ATTACK PLAYED a starring role in a wonderful game of rugby at the Aviva Stadum on Saturday evening, asking major questions of Joe Schmidt's Ireland.
Michael Cheika's side dragged the home team around the pitch in the first half, stretching the home side's defence to breaking point on a number of occasions.
The Wallabies certainly deserve credit for their attacking ability, but Schmidt and co. will look at their first-half defence from a viewpoint of self criticism.
There was a distinct improvement after the break, with Ireland limiting the Australians to just three points in the second 40 minutes. An increased focus on linespeed, more connection, better spacing in the defensive line and a huge work rate helped Paul O'Connell's side to turn things around.
Big plays early on
Ireland actually started the game with a pair of thumping hits, much in line with their best work during the remarkable 16-minute blitz of the Wallabies that left them 17-0 ahead.
Simon Zebo is the first man to leave his mark, as we see below, an excellent beginning to what was a superb defensive performance from the Munster wing.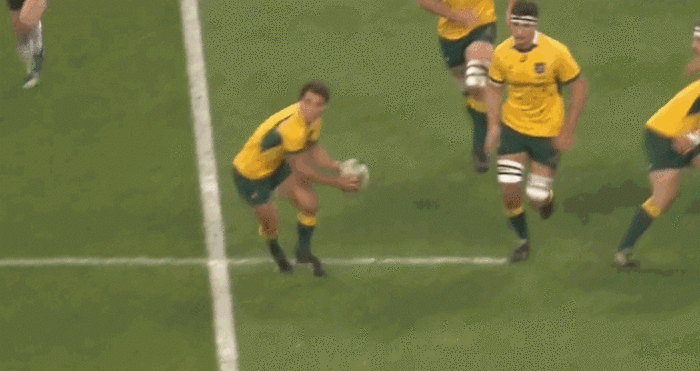 It's a dominant tackle from Zebo well beyong the gainline and means the Wallabies lose huge yardage on their very first attack of the evening. More importantly, it's a strong decision from Ireland's left wing, who shuts down a notable overlap.
Australia's width tested Ireland in a major way for the entire first half, and we get some indication of that element on this opening thrust, as they attempt to shift the ball from left to right, and wide to the opposite touchline.
The Wallabies use of Adam Ashley-Cooper as a decoy in midfield sits Ireland's centres down for a split second, holding them infield and preventing them from immediately drifting out wide.
That in turn means Zebo is left a little stranded in the situation below, with Michael Hooper, Henry Speight and Ben McCalman waiting outside Tevita Kuridrani.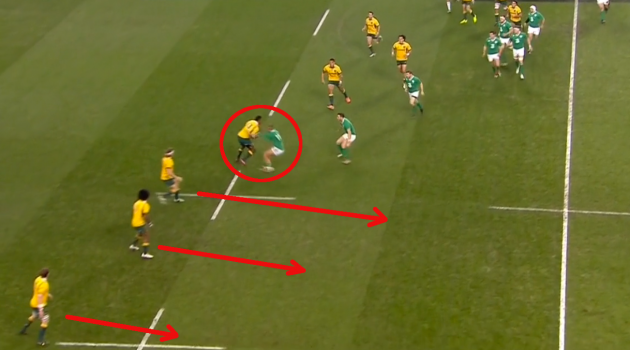 Rather than sit back and allow the Wallabies to make up a big gainline advantage, or even a linebreak down Ireland's left, Zebo opts to shoot off his wing and shut the play down swiftly.
It's an excellent decision, well-timed and with a clear underlying desire for the collision. On the very next phase, Paul O'Connell gets up with great linespeed to make another dominant tackle behind the gainline, this time on Luke Jones.
While these are two excellent defensive plays to start the game for Ireland, the Wallabies do make advances down their left touchline on the very next phase, giving another sign as to how they intend to play the game.
This same wide-to-wide pattern is something that comes to stretch Ireland greatly later in the half.
Warning signs in second minute
On this very same passage of attack from the Wallabies, there is a clear warning shot for Ireland of how big a test the creative and multi-faceted attack of Cheika's men is going to be.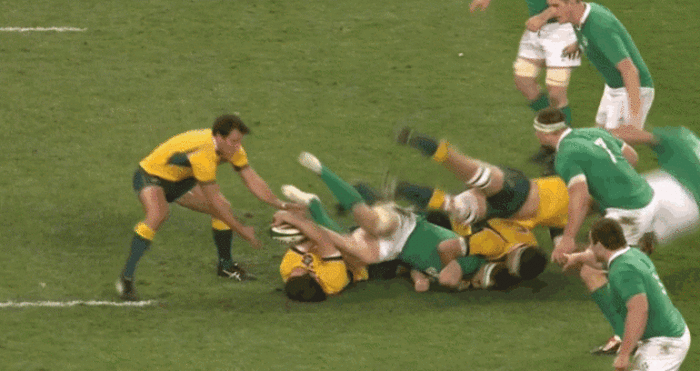 This is just the second minute of the game, and already the Wallabies have created a bust of the Irish line. Cheika's side run a clever screen-pass play, with the dreadlocked Saia Fainga'a pulling the ball behind Hooper to Kuridrani.
From an Irish point of view, we get a sense of the lack of connectivity in their defence, even at this early stage of the game.
As we see below, O'Connell is in a good position to get to Fainga'a and make the tackle on the Wallabies hooker. If that had happened, it would have meant Mike Ross being in place to shift out onto Hooper, and therefore allowed Gordon D'Arcy [12] to cover that pass 'out the back door' to Kuridrani.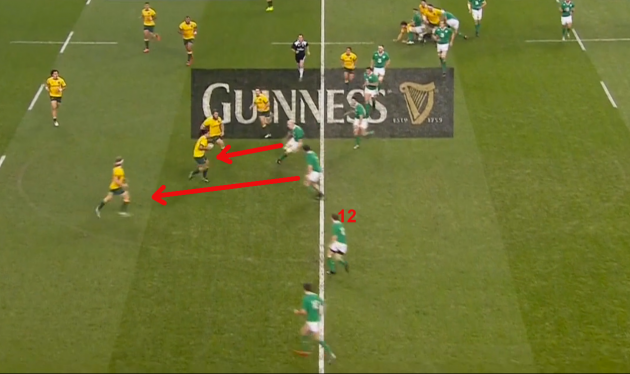 Instead what happens is that Ross bites in on Fainga'a, in turn dragging D'Arcy in on Hooper and opening space outside Ireland's 12. Further out the line, Johnny Sexton is not making that same out-to-in action, leaving the hole for Kuridrani to run into.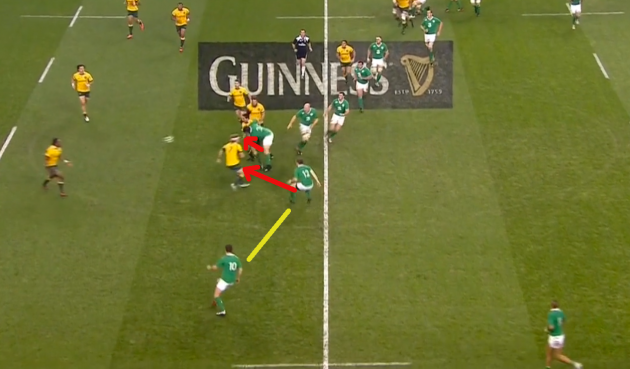 Generally, most defences will operate under the idea that should one player bite in, as Ross does here, the players outside him will do the same. For Sexton, the fact that the Wallabies are holding width out on the left touchline makes it more difficult for him to commit inside.
Whatever about the philosophy behind Ireland's system, defence coach Les Kiss would have been unhappy with this instance of a loss of connection in the line. More positively, Robbie Henshaw does well to hunt from the inside and make the covering tackle.
On the next phase, Rhys Ruddock comes up with a big choke tackle to redeem the situation, ably aided by Ross, Devin Toner, Jack McGrath and D'Arcy.
Missing tackles
Even when Ireland were going about their early scoring frenzy, the defensive weaknesses were apparent. Indeed, Tommy Bowe's intercept try came from a major breakdown of Ireland's defence, with the Ulster wing saving a desperate situation.
Immediately following Zebo's try, Ireland exit their 22 and the Wallabies come back hard on the kick return, with Bernard Foley making a searing break and offload.
There is a hole inside D'Arcy in the instance above, and he would have preferred one of Ireland's chasing forwards to cover out across the field a little more, but even still the inside centre will have been disappointed with his contact on Foley.
The Wallabies out-half is coming at pace and on a lovely angle, but D'Arcy would always back himself to complete the tackle. Foley's break means Australia are right onto the front foot, leaving Ireland in a really difficult defensive situation.
We see that below, as Ireland are still setting their defensive line even as Phipps moves the ball away.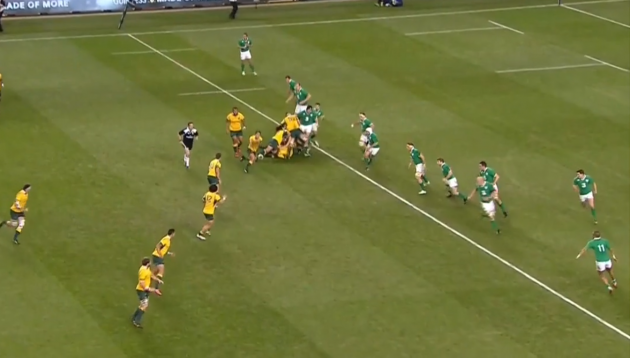 That allows Israel Folau to pick a soft shoulder and offload to McCalman, again breaching the Ireland line.
After Jack McGrath makes a good tackle on the very next phase, Australia are left with a three-on-one out on the left and really should have scored. Cheika will have been left raging with their inability to finish, but Bowe deserves major credit for his intercept.
Phipps breaks away
Bowe dots down, but again Ireland give the Wallabies a way back into the game. Zebo's attempted offload to Sexton is blocked down by Foley, and Phipps is in the perfect place to benefit.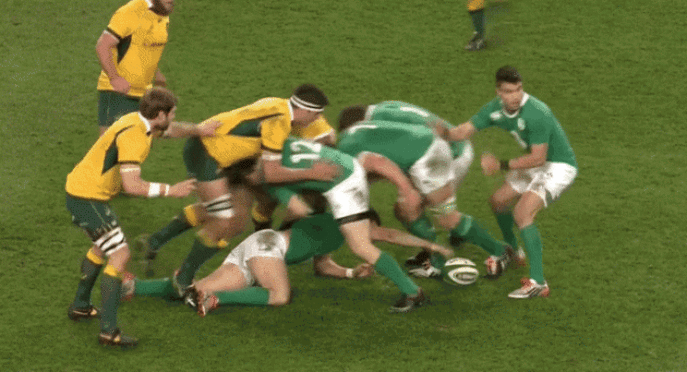 Much has been said about the offload from Zebo elsewhere, and it certainly seemed a time for Ireland to hold the ball, but our focus here is on the defensive effort after Phipps scoops up the pill.
It's a truly difficult scenario to defend in again, a totally broken-up portion of the game and one in which the Wallabies always thrive. Ireland would have focused on avoiding these situations as often as possible during their preparation.
Phipps' little dummy just makes Rob Kearney sit off, while Rory Best simply doesn't have the pace to stretch back and make the tackle. As the 'last' defender for Ireland, Kearney probably feels he can't commit in on Phipps.
He's worried about having to spin around to his outside should the pass be realeased, and is hoping for a tackle on the scrum-half from inside.
Exclusive Six
Nations Analysis
Get Murray Kinsella's exclusive analysis of Ireland's Six Nations campaign this spring
Become a Member
Toner is covering across and overruns Phipps, accentuating Kearney's decision to stand off and cover the outside. It all adds up to the Wallabies' nine scampering clear for a what is simple, superbly-taken try.
Out of the comfort zone
Australia's next try, through Bernard Foley, came as the end result of a really poor passage of attack from Ireland, who struggled to get over the gainline and eventually threw a panicked pass, before Sexton sliced the ball into touch inside their own 22.
An initial maul shove failed for the Wallabies, before Foley went cross-field to Speight, and then referee Glen Jackson and TMO Eric Guazins awarded a much-discussed try to out-half Foley.
In terms of the Irish defence for that score, which you can see more of here, Schmidt and Kiss might point to the fact that Foley went through the tackle of Ruddock even to get that close to the line. They will expect the flanker to win those collisions in the future.
That habit of losing metres in the tackle was present throughout the first half, although we will see later that Ireland largely remedied the problem after the break. Back to the first half, the Wallabies next try, Phipps' second, was a marvel, a score of real beauty.
50 second after Phipps collects the bouncing ball just outside Australia's 22, he scores at the other end of the pitch, capping a superb movement in which each of the Wallabies played an important part.
Here, however, we're looking at the score from an Irish defensive point of view. In that regard, it is the Wallabies' width that ensures Schmidt's men struggle. On the third phase of the attack, the visitors spread the ball all the way to the right touchline.
Not too many teams in the world will run the ball from their 22 in this manner, and we see below how much pressure it puts on Ireland. Rob Kearney is the widest defender, but inside him Peter O'Mahony and Rory Best are already working hard to cover across.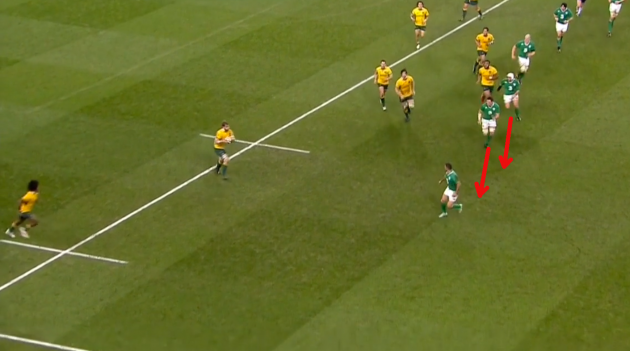 O'Mahony actually does very well to get into position to tackle McCalman; he's usually good in these situations in wide channels, where other forwards might struggle. That leaves Kearney with a one-on-one against Speight, but the tackle is missed.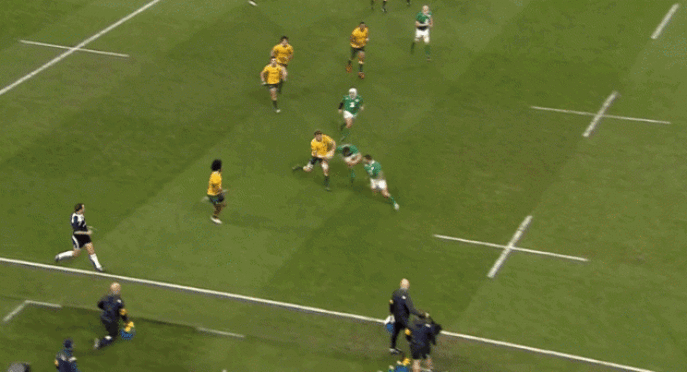 Kearney almost knocks the Wallaby wing into touch, but Speight has the balance and skill to release a sublime pass behind his back and inside to Foley. Panic stations for Ireland.
There is a stroke of fortune for Australia as Phipps' pass on the next phase rebounds off Zebo's hand and back to Speight, but even still, their attacking intent and speed of recycling leaves Ireland grasping.
As Phipps moves the ball left to Matt Toomua [who was sensational for the Wallabies], it's clear that Ireland prop McGrath is stranded and in big trouble.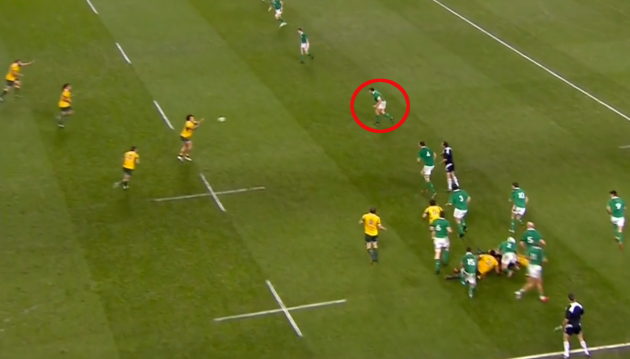 The sheer space on either side of McGrath is the issue here, and again it's that Wallaby width we've already talked about that causes Ireland's problems. When we get a view from behind the posts, we get a better sense of exactly what Kiss' men have to defend against.
We've highighted Ashley-Cooper wide on Australia's left with a red circle above, as he hugs the touchline and just stretches out Ireland's resources.
The players outside McGrath have set up wider than they did at earlier stages of the game, mainly because they are now so aware of that Australian width. This Ireland set-up, as indicated below, means they are going to have to defend from out-to-in, rather than vice versa, as would be preferable in this situation.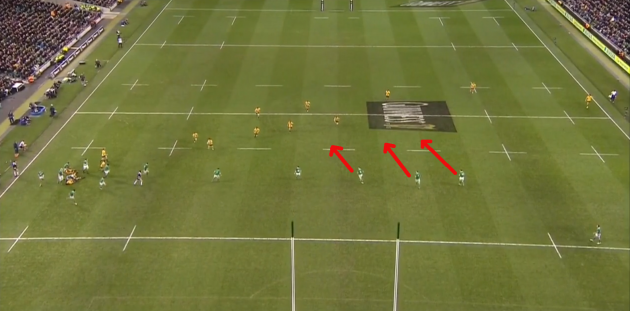 Futhermore, the fact that Ireland have had to retreat halfway down the pitch after Speight's initial surge and offload means they don't really have time to set up exactly as they would hope to.
The Wallabies are intelligent enough to identify the space around McGrath, targeting his inside shoulder for the linebreak. Despite everything, Toner – who has started some distance inside McGrath – gets across to attempt the tackle, but again it's a miss.
It's one Toner will be deeply unhappy with, getting brushed off by the 90kg Foley, but it's all about the circumstances. The ball has been in play for 1min 16secs at this stage, and Toner has gotten through an Irish scrum, an effective rucking effort, and then covered a whole lot of ground in defence.
It's the genius of the Wallabies attack, dragging teams around the pitch, forcing forwards like Toner out of their comfort zone and into errors like this missed tackle.
Indeed, the Leinster lock is superb in making his one-on-one front-on hits in phase play in usual circumstances. What he's probably not as used to is making tackles against a team like the Wallabies, who stretch the opposition with their width and intelligence.
In behind the line, Sexton is sweeping across, but he steps beyond Foley and also slips off the tackle. Again, it's a miss the Ireland out-half will have been unhappy with.
Three-point linebreak
There was one further important bust for the Wallabies before half-time, providing them with three points in the 37th minute. Again, this thrust was about the Wallabies width and invention, as well as Ireland's lack of connectivity in defence.
Everything we look at in this article is founded in Australian attacking quality, as with this break, but again this is something Ireland will have looked at as avoidable. A scrum close to halfway is always an ideal platform for backs to attack from, but even at that, Schmidt and Kiss will have been disappointed.
Initally, Ireland are comfortable. Sexton, D'Arcy and Henshaw eat up the first few metres in defence at speed, getting up aggressively from their starting position and then settling into their drift across the pitch as the Wallabies carry out their starter play.
We can see below that D'Arcy is communicationg well, pointing to Toomua and presumably saying something like "I'm on ball, my man." That tells Henshaw that he can push out on to Folau, in turn freeing Tommy Bowe to cover the pass out the back door.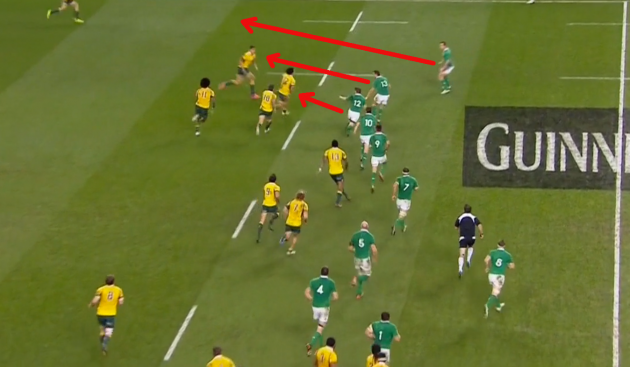 However, Bowe makes the decision to bite in on Folau from his position as the last defender on the outside edge of the line. Earlier, we lauded Zebo for doing something similar, but this is an entirely different situation for Ireland.
This time, the defenders inside Bowe are in good positions to cover across and make tackles, unlike when Zebo made his intervention. On this occasion, Bowe bites in and hits a player who doesn't actually get the ball.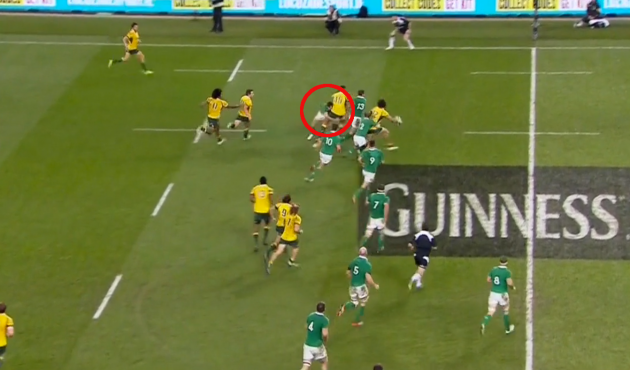 D'Arcy completes his tackle on Toomua, but the Wallabies' inside centre has the strength and skill to offload, allowing Speight to send Foley racing up the left and deep into Ireland's half.
For Ireland's forwards getting up out of the scrum, it's the nightmare situation. They are forced to work back all of 40 metres to get into position to defend. Again, it's drawing them out of their comfort zone and Toner is pinged for offside on the very next phase.
Foley makes no mistake from the tee and it's three points for the Wallabies.
A harrowing half
While Ireland scored 20 points in the first half, it was a harrowing experience from a defensive viewpoint. The Wallabies' pace, width and invention dragged Ireland out of shape and out of their comfort zone in alarming fashion.
If the game had continued along a similar trajectory after the break, it would have been difficult to see Schmidt's side emerging with the win. However, having regrouped under Kiss's input at half time, Ireland were able to reinvent their defence and begin to push the pressure back onto the Wallabies.
We will look at that Irish transformation in the second part of this analysis. Longer-term, it is a concern for Ireland that they were manipulated in this way by Cheika's side.
Against a more structured, powerful side like South Africa, Ireland were superb in making plenty of front-on tackles on runners coming around the corner. Australia are a different proposition, however, and lessons will have been learned from the chinks exposed in that first half.