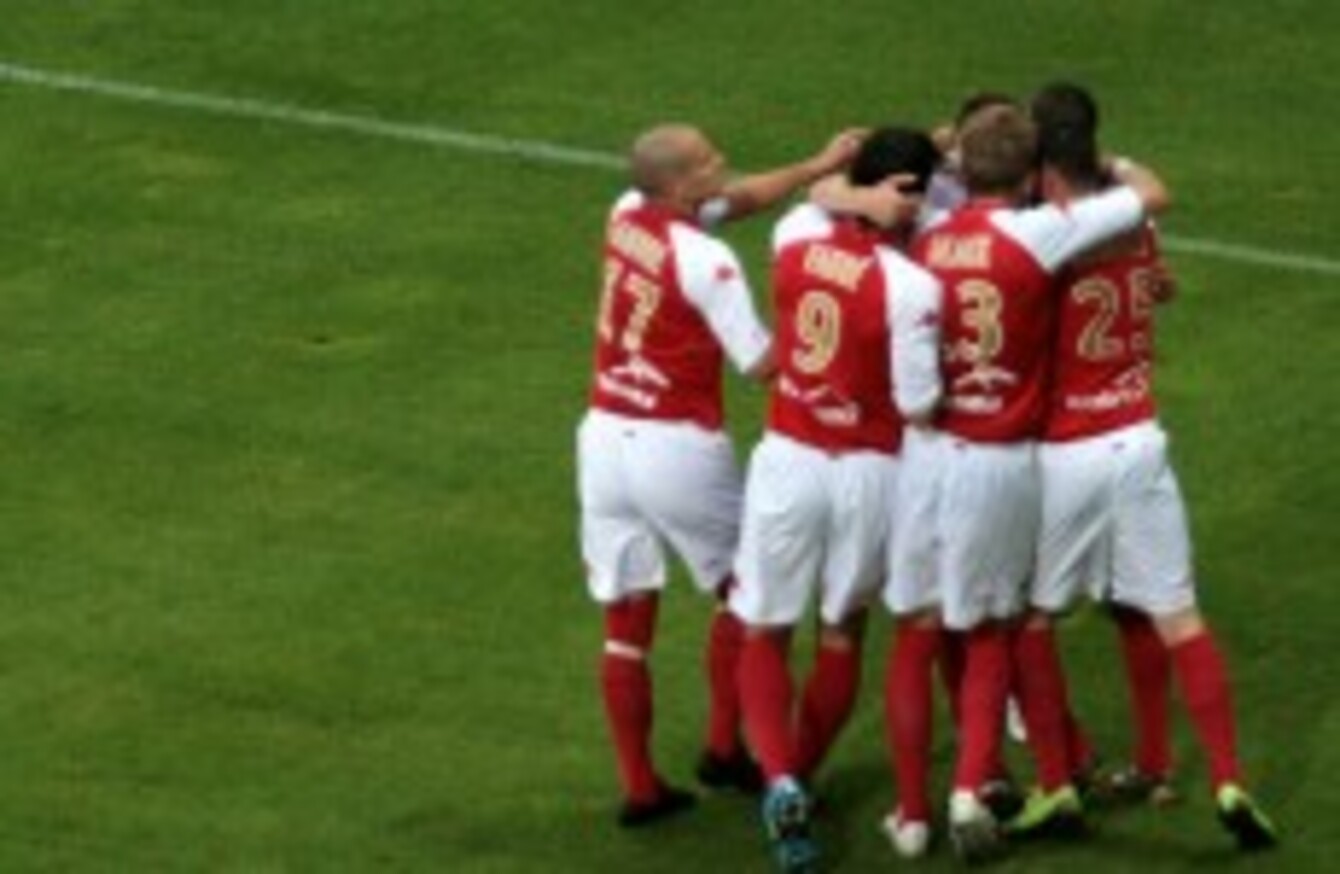 Image: Stade de Reims
Image: Stade de Reims
A SORRY BATCH of penalties did for Real Madrid and their dreams of capturing European Cup number 10 this season.
Jose Mourinho's men will have to settle for their 32nd league title this season.
Meanwhile, the French team that played Real Madrid in the first ever European Cup Final will be dreaming of future clashes with Los Blancos.
On Monday, Stade de Reims beat Monaco 2-0 to secure promotion to France's Ligue 1 for the first time in more than two decades.
Having fallen €7.5m in debt, followed soon after by liquidation, in 1992, the club was forced to begin its climb for the French fourth division. It was a steep climb.
Rough start
The situation looked bleak early in the season as Reims lost away to Stade Lavallois and Sedan.
Hundreds of the club's supporters, travelling to and from away matches, had to content themselves with reminiscing about the club's golden period of the 1950s and 60s.
For a club that played in front of 40,000 fans in that 1956 Parisian final against Real Madrid, with legendary players such as Raymond Kopa and Michel Hidalgo, it is an easy routine to fall back on.
Stade de Reims were the outstanding French team of the 1950s.
From 1949 to 1962, the team from the northeast region of France won six league titles, two French cups, and a Latin Cup–the precursor to the European Cup.
YouTube credit: kimetlopez
World Cup
At the 1958 World Cup the French team, featuring six Reims player including captain Robert Jonquet, finished in third place.
They came unstuck against eventual winners Brazil in the semi-final, a game notable for the fact that captain Jonquet competed for 65 minutes of the game with a broken leg.
The main star of the competition was another Reims player, Just Fontaine, who struck 13 goals. The feat remains a World Cup record to this day.
Robert Pires
Robert Pires was born and raised in Reims and spent three years with his hometown club before moving on to success at Marseille and Arsenal. He says:
There is a big passion for football there. Everybody growing up knows the history; they had so many great players.
They were the first French team, along with St. Etienne, to gain such fame and become known in Europe," Pires adds. "It remains the most important part of life for many people living there."
Robert Pires played in the Stade de Reims youth team. (Matthew Ashton/EMPICS Sport)
One man who would agree with that statement is 73-year-old Daniel Wargnier, who attended the 1956 final in Paris as a teenager.
Wargnier, president of the official Stade de Reims supporters group, remembers the occasion as a time when all of France got behind Reims.
Be part
of the team
Access exclusive podcasts, interviews and analysis with a monthly or annual membership.
Become a Member
"There was a real craze for the Stade de Reims team back then," he says. "A lot of people come from all over the country to see the club play." He adds:
There were a lot of supporters of Reims who came all the way from Paris to see every Stade de Reims match. Every car and train was full of supporters travelling to the final in June 1956.
Greatest ever
Daniel recalls Fontaine and the Argentinean Carlos Bianchi as two of the finest players to represent the club. However his eyes light up when he speaks about the attacking midfield skills of Kopa.
Born Raymond Kopaszewski in 1931, he played 402 games for the French side and scored 84 goals.
Kopa was a driving force for Reims against Real Madrid in the first European Cup final as they took a 3-2 lead after 62 minutes.
Goals from Marquitos and Hector Rial dashed any hopes Stade de Reims had of securing their place in history but the paths of both clubs were yet to diverge.
Reims legend Raymond Kopa. (SMG/Press Association Images)
Kopa signed for Real Madrid the next season and while he went on to claim two European Cup medals as the Spanish side beat Fiorentina and Milan, his former team remained dominant in France.
In 1959 the teams clashed in a European Cup final again. Wargnier made the journey with thousands of Stade de Reims fans to Stuttgart for the game but the growing gulf in class was apparent.
An early strike from Enrique Mateos left Reims chasing the game and living of scraps of possession.
An Alfredo de Stefano goal in the second half killed off the game. Real Madrid had their fourth European Cup.
Raymond Kopa collected three cup winners' medals in three seasons and returned to Reims. He would not come as close again.
Decline
The club won its last league title in 1962 and remained a top side for two decades before sliding down the table, and into money difficulty in the late '80s and early '90s.
Reims now play at the 21,000 seat Stade Auguste Delaune II stadium and average more than 11,000 fans per game.
Oliver Letang, the club's general director, says, "Reims is the 12th biggest city in France, with a population of over 200,000 and a club with a rich history and high expectations. It is the responsibility of the management and the players to create a strong future for the club."
The team retains strong links with Real Madrid and played against the Spanish giants just before the 2006 World Cup. Letang says:
When we celebrated the 50th anniversary of the first European Cup final we were joined by several former Madrid players such as Francisco Gento, who won the cup six times, and Emilio Butragueno. It was a great gesture and sign of support.
High hopes
Next season, Stade de Reims will take on top sides such as Paris Saint-Germain, Marseille and Lyon.
Daniel Wargnier will travel with the supporters group to the game in the hopes of seeing his team reclaim their position as 'the beacon of French football'.
An immediate return to European football may be a stretch but Wargnier has seen it all at this stage. He declared:
Football is a game of chance but it also offers the chance to dream.