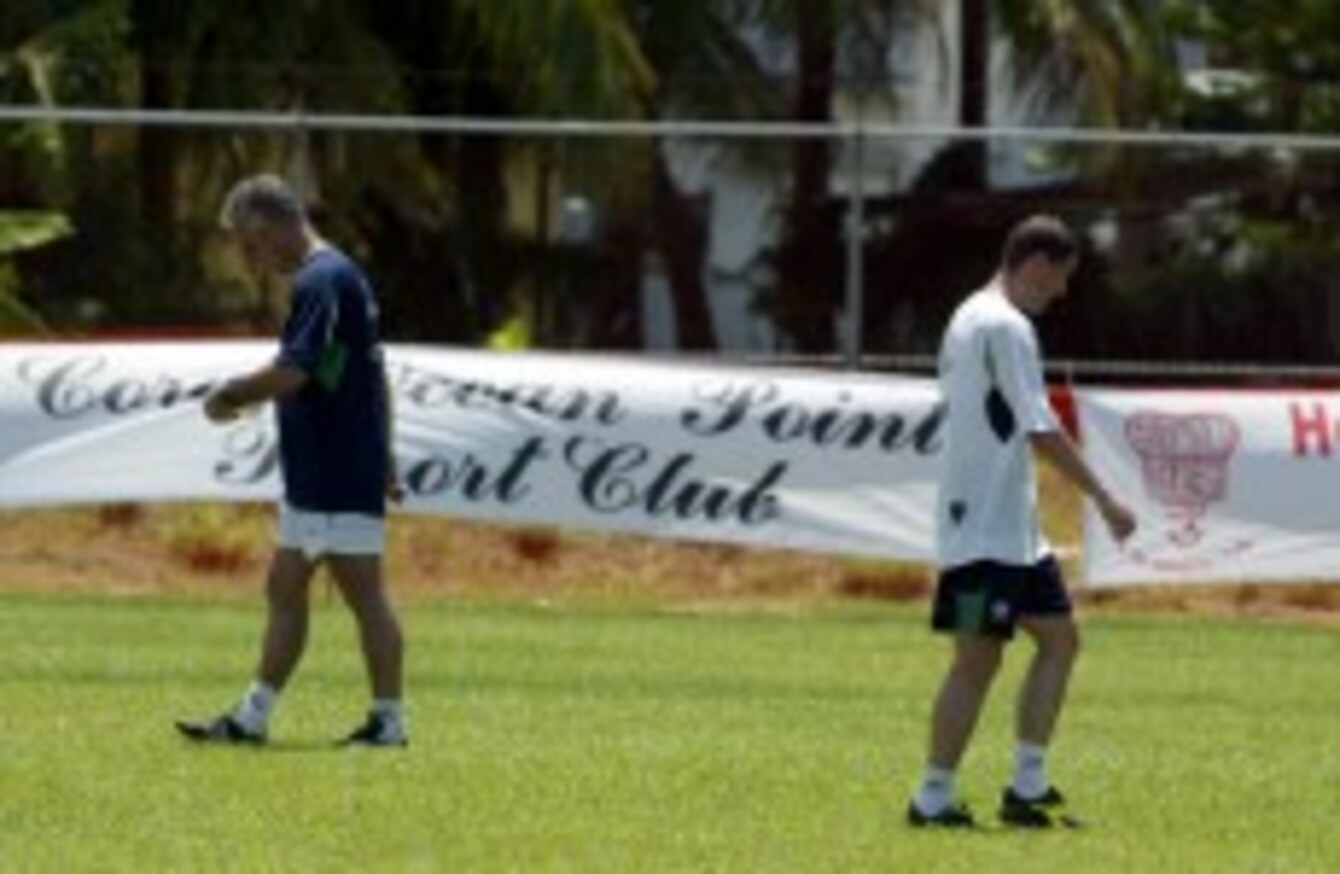 Mick McCarthy and Roy Keane at training circa 2002 just before the withdrawal of the latter from Ireland's World Cup squad .
Mick McCarthy and Roy Keane at training circa 2002 just before the withdrawal of the latter from Ireland's World Cup squad .
1. "With their pricey seating at 60,000 capacity Emirates Stadium, commercial income up, and £38m still being made from property development, Arsenal's income was a massive £283m. Still Arsenal argue they struggle to compete against Manchester United,Chelsea and Manchester City, with a wage bill at a sensible 54% of turnover and a profit made every year. Owned by the mostly absentee American Stan Kroenke, Arsenal abide by the "self-sustaining model", meaning shareholders made millions selling up, but are not expected to put any of their gains into the club."
If it's a relatively concise and well-researched explanation of where each of the Premier League teams stand in terms of financial fair play that you seek, then this piece by David Conn is essential reading.
2. "What is it, I ask him, about footballers and Dubai? Can't you guys take your holidays anyplace else? The former Manchester United captain sounds relaxed and in good humour. "I'm working here," he jokes. "Trying to find some new Irish lads, you know yourself."
"The Republic of Ireland assistant manager has assumed his post at time when morale amongst supporters of the national team is at an all time low. The biggest names in the Irish side that performed so abjectly at Euro 2012 were all veterans of Keane's own playing days."
Roy Keane has been doing the media rounds this week, and Eoin Butler's interview with the Ireland assistant boss is one of the most fascinating articles focusing on the Corkonian in recent times.
3. "During a recent Countdown, he denounced Brooklyn Nets shooting guard Joe Johnson, whom Simmons has tagged as the most overpaid player in the NBA. "Joe Johnson did not deserve to be on the all-star team," he says, so outraged and high-pitched he's nearly yelping. "Even he had to be shocked he made it." After the show goes off the air, Countdown host Sage Steele turns to him, shaking her head. "You," she tells him, "are a psycho."
"The shit has been successfully stirred: Within minutes, Twitter is in flames. "Never hated a sports analyst as much as I hate Bill Simmons," I read as I scroll through his mentions, followed by "I want to punch him in the face," "He is such a douche" and "If Bill Simmons ever got in a car accident, I would be happy." There are compliments, too, but, let's face it, those are boring."
Rolling Stone Magazine profiles one of America's most renowned and controversial sportswriters, Bill Simmons.
4. "You always heard stories and whispers about how heinous he was. The one that shocked me most: one Clippers player (still on the team) telling a friend of mine that Sterling routinely brought people into their locker room after games, then could be plainly overheard ogling their "beautiful bodies." Like he was admiring race horses or something. This was a man who heckled his own players during games. This was a man who coldly ended Elgin Baylor's 50-year association with the NBA, sending him packing with a terse PR statement and nothing else. This was a man who fired Mike Dunleavy, then refused to pay the rest of Dunleavy's guaranteed contract; Dunleavy actually had to sue Sterling for the rest of his money."
And if you're not sick of Simmons yet, his piece for Grantland on disgraced NBA owner Donald Sterling is an excellent read.
(Mayweather's time in jail is analysed in this week's best sportswriting)
5. "Because of his celebrity status, officials at the jail placed Mayweather in protective custody, where he was separated from other inmates and forced to spend 23 hours a day inside his cell. Normally the center of a huge entourage and the object of constant attention, Mayweather fought desperately to be released into the jail's general population or transferred to another facility, records show. He complained that the isolation at Clark County was wreaking havoc on his psyche, and the idleness posed a threat to his career."
SEE SPORT
DIFFERENTLY
Get closer to the stories that matter with exclusive analysis, insight and debate in The42 Membership.
Become a Member
Floyd Mayweather had far from an easy time in jail, as this illuminating article by Geoffrey Gray illustrates.
6. "Sports are games. But they can also carry a lot of baggage. When you root for teams, their wins and losses seem to mirror the ups and downs of your own life. Or, let me not mess around with the indefinite "you": that's the way it works for me.
"Soccer — especially the World Cup — can also take on political symbolism that can have dramatic — and sometimes deadly — consequences. Some examples: Austria v Nazi Germany – the "Anschlusspiel" — in 1938; West Germany vs. East Germany in 1974; and the Algerian "independence" movement in 1968, when key Algerian players refused to play for occupying France, then practicing "la mission civilisatrice" by torturing its colonial subjects striving to be free."
If you were intrigued by our article on the Loughinisland tragedy last week, you'll be eager to ascertain Alex Gibney's take on 'Ceasefire Massacre'.
7. "With Keane already seething, it was left to Hollywood actor Will Smith to make things worse. On the flight to Tokyo, Ireland's captain killed time watching Smith's portrayal of Muhammad Ali and was transfixed by the scene in which the boxer resists the urgings of his family, friends and advisers to accept the draft for the Vietnam war. "They're all urging him to give in," recalls Keane. "Take the draft. You won't have to fight. Just go through the motions, play the game, screw the things you believe in. Ali resists them all. I'm doing what I think is right. It matters. You don't compromise on your principles. Watching this is very moving. I hadn't known this about Ali. Something in this scene strikes a chord with me. Don't put up with shit. I'm not fighting a white man's war. It's an inspiring notion, a demonstration of conviction that I understand very clearly and I relate to my own life. Don't compromise the things you believe in."
As part of The Guardian's 'World Cup stunning moments' series, Barry Glendenning gives a comprehensive analysis of Ireland's infamous 2002 Saipan debacle.
8. "Brian Smyth told the Guardian he and his fellow fans came up with the idea of flying the rainbow flag of the global gay rights movement, albeit with the Cliftonville shamrock crest stencilled on to the middle of the banner, in opposition to homophobia both inside and outside the game."
Henry McDonald discovers that Irish League champions Cliftonville are leading the way in the fight against homophobia in football.