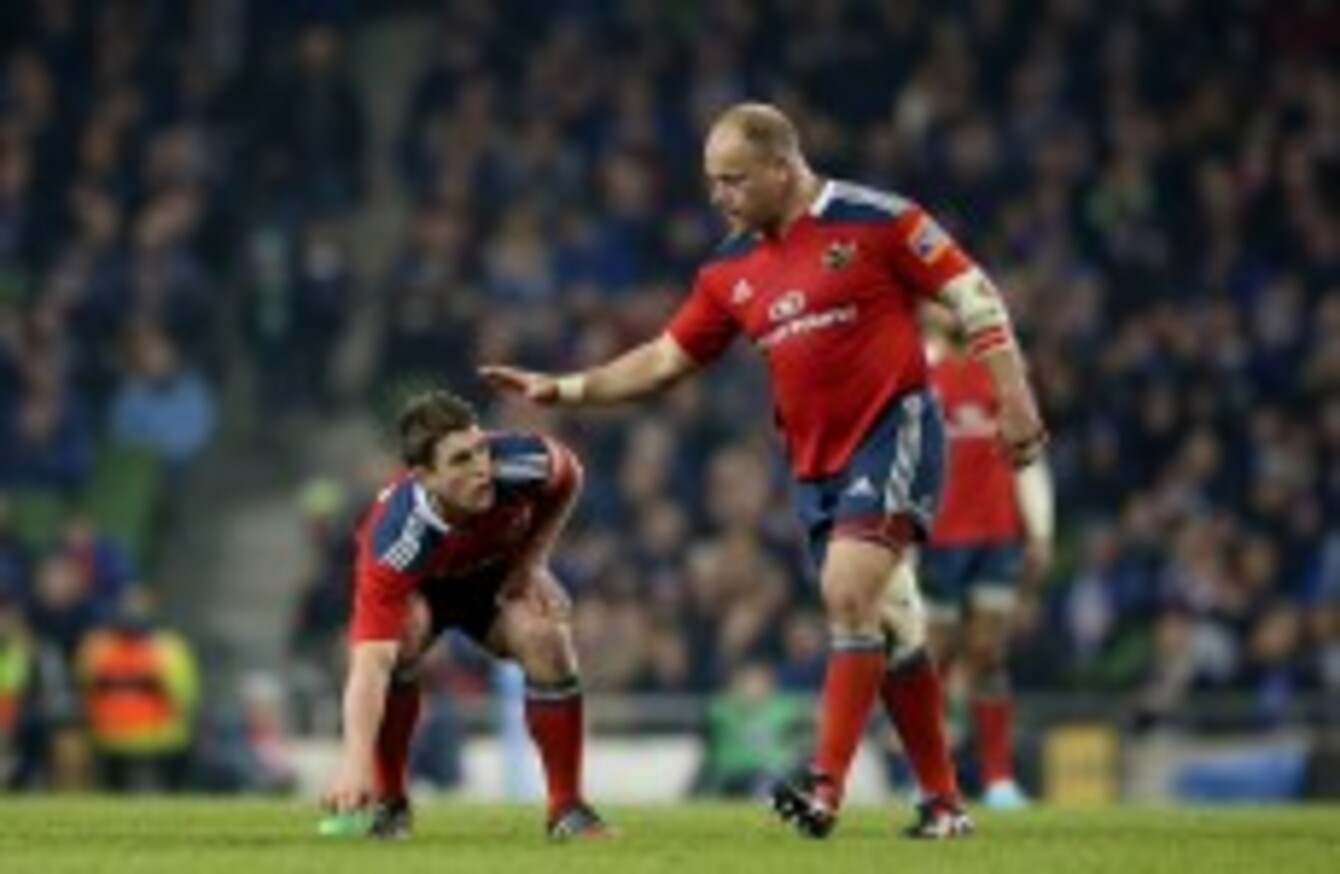 Botha's experience and leadership are important for Munster.
Image: James Crombie/INPHO
Botha's experience and leadership are important for Munster.
Image: James Crombie/INPHO
THE ABSENCE OF Census Johnston is an obvious blow to Toulouse this afternoon against Munster in their Heineken Cup quarter-final [KO 1.30pm], but Guy Novès' pack still landed in Limerick with genuine scrummaging power on board.
Yohan Montès, a veteran of over 150 appearances in the Top 14, fills in at tighthead in a front row that also includes the sheer strength of 20-year-old Christopher Tolofua and the 122kg bulk of 49-times capped Springbok Gurthrö Steenkamp.
Behind them are a pair of heavyweight second rows in Yoann Maestri and Patricio Albacete, both of whom are comfortable scrummaging behind Montès in that crucial tighthead lock position.
It is also worth remembering that Munster have their own propping troubles, with regular back-ups James Cronin and Stephen Archer missing out through injury. The onus will be on John Ryan and Alan Cotter to provide impact from the bench.
BJ Botha is Munster's scrum leader, and has been tasked with kick-starting the Irish province's efforts in this area of the game.
"No team reaches the finals of Europe without a good pack and the Toulouse scrum and line-out are good; we've been preparing accordingly. French packs play week in, week out against each other and it's always full-on.
For us, it's been about preparing for that mentally and doing the touch-ups that are needed. We've been building our game."
Indeed, Munster have built their scrum and they were firm in their insistence that a perceived dominance against Leinster last weekend went largely unrewarded. Under the coaching of Rob Penney, and with Botha adding his expertise, the Munster scrum has grown in confidence.
"We've come on quite a lot this season I reckon, especially with our prop stocks and a few of our guys have been unfortunate not to get a call to play for the Irish side. We did get a few penalties against Leinster and obviously we felt that there were more on the way.
"He [Alain Rolland] felt it was more 50/50, which was disappointing, but hopefully we can carry that through to this weekend."
The part-removal of the 'hit' [where the front rows crashed together on the 'engage' call] this season has been a major talking point around the scrum, and a facet of the set-piece that some of the more experienced props have struggled to adapt to.
"It made a difference at the beginning," says Botha. "We've seen a few players in the press, even Nicolas Mas, saying that he wasn't enjoying the whole system. So for sure, it took us time. I'm from the era and the years when we were used to the 'hit'.
The scrum has changed probably three times during my time [as a prop]. It's an adaptation. Now is the first time the hit has been taken out of it, we've had to adapt. It's a work in progress for us, but we're looking forward to the front row battle this weekend. That's what you look forward to in the big games; the physicality."
Maestri and Albacete are known to add real grunt to the Toulouse scrum, while Mike Ross highlighted the power of Paul O'Connell's scrummaging in the aftermath of the Six Nations.
Botha confirms that the removal of the hit has increased the demands on the players behind the front rows at scrum time.
"I think the second rows and the back rows are now probably much more important, providing that stability and providing that go-forward. I think that us front rows can't get that momentum that we would like to from the hit, so a lot of our momentum comes from our back five now.
"They need to bind and they have, as we've seen. That is a big part of the game now in scrummaging."
Hooking has re-emerged as a front row art this season too, with some hookers struggling to master the technique. One man who appears to have coped better than others is Damien Varley, who starts in the number two shirt for Munster again this afternoon.
The 30-year-old has even won a handful of scrums against the head by hooking on the opposition feed, which Botha puts down to Varley's strong decision-making.
"I think that we've given him free reign to go for it, although we know that if one foot is off the ground, we're scrummaging with one less foot and the pressure [on the opposition] releases. That's the kind of call he needs to make and the hookers are doing that.
We've seen a lot of scrums, specifically the Italian scrums, where they don't hook the ball. They try and scrum over the ball, but it can give the other team more impetus to go for the shove or go for the strike.
"It leaves that kind of space out there. It will be interesting how teams develop there, but we do know that French teams can destroy you if they arrive."
So how are Munster allowing Varley to hook for the ball? Is there a certain mindset or technique that allows them to provide stability when their hooker lifts his leg to strike the ball? Botha explains how it works:
"You obviously have to be matching the hit [however reduced it may be now]. You can't be on the back foot, because then it's very difficult to strike. You have to be, at least, matching the hit and then having a bit of a gain over them in that department.
"Not moving forward, but maybe with pressure downwards, pressure that people don't see on the outside. Then that initial shove after the ball has come in, that allows him to strike."
Rolland played a key role in the scrum battle in Dublin last weekend, while Nigel Owens is tasked with calling the shots in Limerick this afternoon. Botha outlines that the referees must understand the shifting nature of any physical confrontation.
"That's what teams are working on – as soon as the ball comes in, that momentum. But again, it's controlled by the ref because he doesn't want too much momentum there. The refs at the start were very strict on having the scum completely still or else it was a free-kick.
"Now, they're realising that it's a contact area and you can't expect it to be completely still. There's going to be some movement, someone moving up or down, or sideways. If the ball comes in, just get on with it and let the contest begin."
That's exactly what Owens will strive to do at Thomond Park, and what a contest we have in store.
Munster: Felix Jones; Keith Earls, Casey Laulala, James Downey, Simon Zebo; Ian Keatley, Conor Murray; Dave Kilcoyne, Damien Varley, BJ Botha; Dave Foley, Paul O'Connell; Peter O'Mahony (capt.), Tommy O'Donnell, James Coughlan.

Replacements: Duncan Casey, John Ryan, Alan Cotter, Donncha O'Callaghan, CJ Stander, Duncan Williams, JJ Hanrahan, Gerhard van den Heever.
Toulouse: Maxime Médard; Yoann Huget, Florian Fritz, Gaël Fickou, Hosea Gear; Lionel Beauxis, Jano Vermaak; Gurthrö Steenkamp, Christopher Tolofua, Yohan Montès; Yoann Maestri, Patricio Albacete; Yacouba Camara, Joe Tekori, Louis Picamoles.

Replacements: Cyril Baille, Schalk Ferreira, Jaba Bregvadze, Romain Millo-Chluski, Gillian Galan, Jean-Marc Doussain, and two from – Vincent Clerc, Yannick Nyanga, Clément Poitrenaud, Luke McAlister.