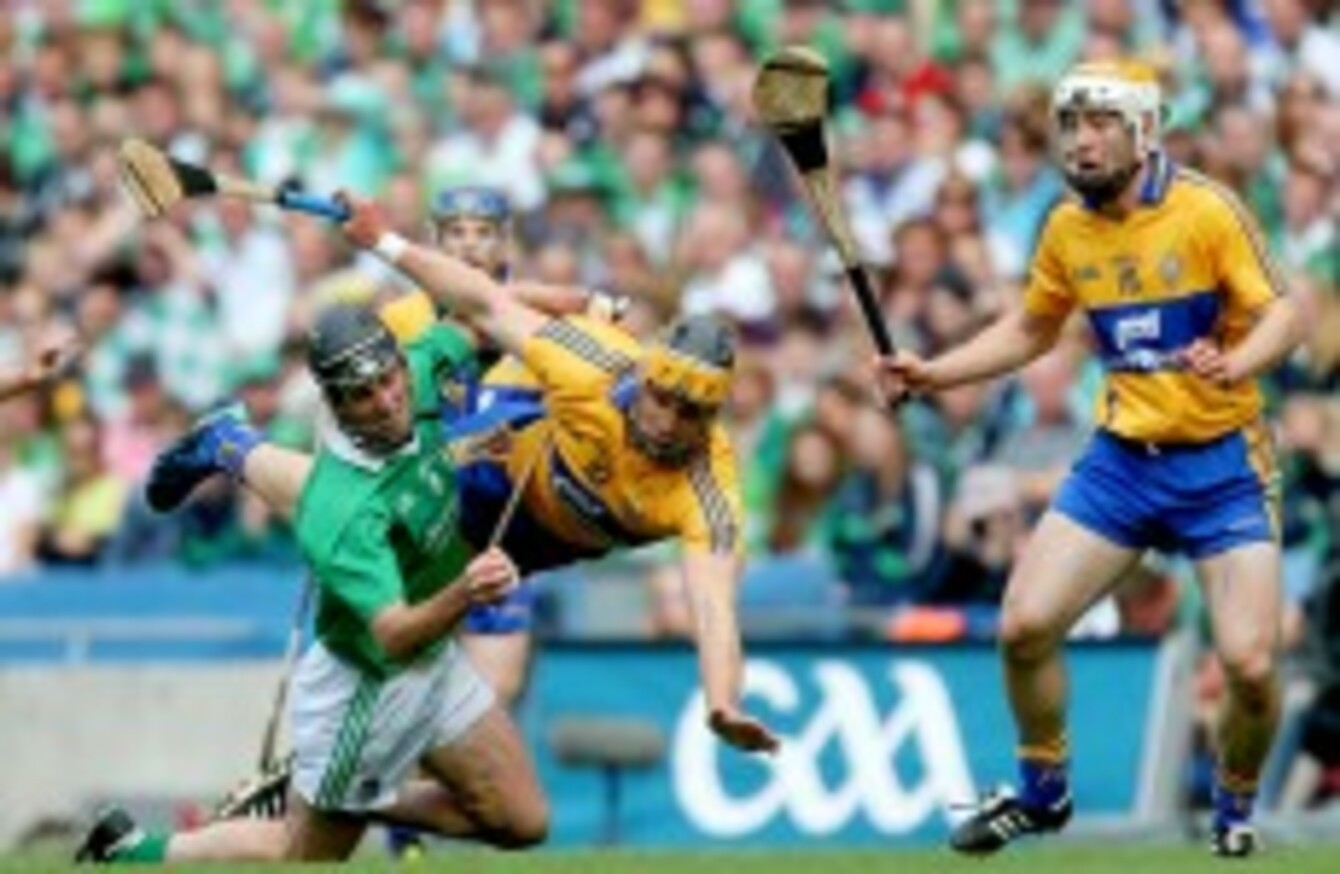 Clare and Limerick's last championship clash was the 2013 All-Ireland semi-final
Image: Ryan Byrne/INPHO
Clare and Limerick's last championship clash was the 2013 All-Ireland semi-final
Image: Ryan Byrne/INPHO
A WISECRACK or two in the Limerick dressing room will have been enough to defuse 'Mammygate' this week.
I know that if something like that happened in my playing days, the player involved would don the flak jacket and brace himsself for some good natured banter.
I'm sure that Aaron Murphy has a sense of humour and while he'll be disappointed that he's not playing, manager TJ Ryan will be happy with that.
If I was in charge of the team and one of my players wasn't upset at being left out, I'd question his commitment.
TJ won't have wanted the media attention that came with Mrs. Murphy's tweet but it will have been seen a light-hearted thing in the dressing room and the group will move on quickly.
Because now we're in championship mode and players become selfish in the pursuit of their personal goals around the Munster hurling quarter-final.
There's pressure on Clare manager Davy Fitzgerald, no doubt, but the return of prodigal son Nicky O'Connell following that mid-season controversy is a boost.
What happened then showed strong management on Davy's behalf, the players come out in support of his stance and I don't believe that they were prompted in any way to do that.
Clare will be conscious that Limerick didn't make the most of the batch that won three successive All-Ireland titles from 2000-2002.
Limerick had huge potential but never fulfilled it and Clare won't want to be remembered for one All-Ireland senior title, when they didn't have to beat Tipperary or Kilkenny to win it.
It's time for Clare to deliver again because the 2014 season was a write-off for them.
Despite having two shots at Wexford, they were knocked out and the season ended in ragtag fashion, with a huge whiff of indiscipline in the air.
Clare's players took their anger out on the opposition in a negative way instead of remaining cool, like they were in 2013.
We'll see a different Clare now and while they're without a number of key players, the batch of U21 winners provides real strength in depth.
But Clare have other players who need to recapture 2013 form, Colin Ryan chief among them.
He enjoyed a superb season then but skulked in the shadows last year, reverting to his old self and not fulfilling his vast potential.
I know it's in Colin if he puts in a shift like he's supposed to, gets on the ball and starts hitting frees properly.
With Brendan Bugler suspended, Clare need leaders to emerge and I believe they will.
It's a big day for Patrick Kelly between the sticks for the Banner County. Pa had to work hard to dislodge Donal Tuohy during last year's championship and it's a fresh start for him.
I watched Pa's demeanour during the National anthem when Clare played Cork in the 2014 Munster championship and he cut a desolate figure.
I'd expect him to perform with a bee in his bonnet but there's pressure on any player in game of this magnitude.
Sometimes that's created internally but external pressure can create problems too, particularly public expectation.
Limerick are that little bit older and the worry is that they have reached critical mass.
I think Clare can do it because down the home straight last year, Tipp missed plenty of chances and Limerick dogged out a result.
They won the arm-wrestle on that occasion but Shane O'Donnell could well turn out to be the trump card for Clare.
His pace will trouble Richie McCarthy and while normally a forward at the end of goal chances can be perceived as windy, O'Donnell is not afraid to take the wallops.
Richie McCarthy is the main man for Limerick but Clare will target the full-back, looking to create space inside and have Richie running towards the sidelines, which he won't want to do.
If Richie finds himself running laterally, he's isolated but very few teams have managed to achieve this.
That's where the work-rate of Tony Kelly around the middle of the field will come into play for Clare, allowing that space to open up inside.
If Limerick are losing the middle third, they'll have to commit another body forward because Clare will look to swamp this area of the field.
To win the game, Limerick will need goals and I want to see Graeme Mulcahy stepping up to the mark.
In the All-Ireland club final with Kilmallock, Graeme didn't look to interested in taking on a defender when he got on what was admittedly a limited amount of ball.
I remember in the 2013 Railway Cup semi-final against Ulster when Graeme skinned his marker, raced to the line, turned, squared him up and got by him.
Unfortunately, that's a facet of Graeme's game that's faded out and if Limerick are to achieve anything throughout the summer, they'll need Graeme terrorising opposition defenders.
I'm expecting Clare to play a little bit more expansive and I hope Davy doesn't get in his own way.
These are young men who want to hurl and play and while you do need a structure in the modern game, it's not a series of rigid set-plays like football.
Colm Galvin is a major loss as he and Kelly had a telepathic link.
Clare will have to bring Kelly to midfield and his job will to be carry the fight from midfield but will Seamus Hickey follow him?
Hickey did a great job on Noel McGrath in the Tipp game last year, taking Noel out of the game.
If I was TJ Ryan and I saw Kelly running all over the pitch, I'd hold my shape as best I could and send Hickey after him.
Shut down Kelly and you shut down one of Clare's leaders.
The two key figures in Sunday's game are McCarthy and Kelly. How they fare out will go a long way to deciding who plays Tipperary on 21 June.