AS FAR AS baptisms of fire go, few were more daunting than the rookie Brendan Rodgers taking charge of Watford in November 2008.
The 35-year-old had no senior management experience, but faced a precarious mandate — with the Hornets sitting just two points clear of safety in 21st in the Championship.
Crippled by financial constraints, a season-long relegation battle was a certainty for a club who were playing in the Premier League only two years previously.
However, rather than turning to an experienced manager, Watford's hierarchy saw the fledgling Rodgers as having the profile and philosophy to lead the Hornets to mid-table consolidation.
"The board, under Graham Simpson, appointed him before I arrived as chairman in November", Jimmy Russo told TheScore.ie. "At the time, Graham saw Brendan as someone who was young, up-and-coming, and relatively unknown. With Aidy Boothroyd — who was completely unknown coming into it — that blueprint had already been successful. They were looking for someone fresh and Brendan had been tipped-off as someone with great potential going forward.
"Brendan was a nice guy, a really nice guy. He was calm, calculated, very down to earth, and never panicked. Brendan had no arrogance about him at all. He knew his stuff and spoke with confidence. He always knew exactly what he wanted to do and you could tell he was a huge fan of Mourinho. Brendan was a leader, as well, and his attention to detail…when you spoke, he listened to every single word. We didn't have the highest class of individuals to play in an attractive way, but he had the right calibre and was just a class individual."
Determined to prove that attractive football could thrive in the Championship, Rodgers won just two of his first 10 games in charge of Watford. To his credit, the Northern Irishman turned it around and steered the Hornets to an impressive 13th place.
Rodgers had firmly stepped out of the shadows and just 192 days after taking charge at Vicarage Road, Reading came calling.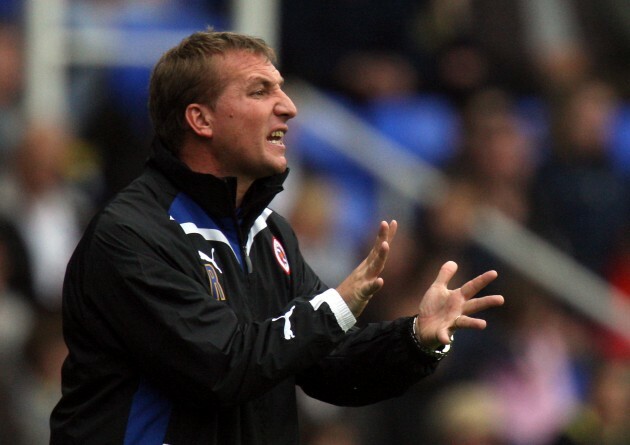 Steve Parsons Steve Parsons
"With that particular incident, you could clearly see that when someone has been associated with a club for so long and has the chance to go to greener pastures, it's a welcomed opportunity to go back. I could see why he wanted to go back and the deal was right for us financially [£1 million]. But, more importantly, we knew who was coming in when Brendan left. One of his coaches, Malky Mackay, was more than capable and it was a spot-on decision to appoint him. Malky proved himself and also went on to better things, with Cardiff. It softened the blow and Reading paid the right money. Sometimes, when someone is that good, you can only do so much and you just have to let them go. "
Although Reading had just finished fourth, and had been defeated by Burnley in the play-off semi-finals, Rodgers believed he would have time to rebuild Steve Coppell's crumbling foundations.
While this was in part owed to Rodgers' naivety, the 36-year-old felt that his previous association with Reading – as a reserve player and an Academy coach – would serve him in good stead.
However, with key players like André Bikey, Stephen Hunt, James Harper, and Kevin Doyle having departed the club, Reading were entering a chaotic transitional phase.
Taking a leaf out of José Mourinho's book, Rodgers targeted former players — notably Tommy Smith, Jobi McAnuff, and Grzegorz Rasiak — for the difficult challenge ahead.
Exclusive Six
Nations Analysis
Get Murray Kinsella's exclusive analysis of Ireland's Six Nations campaign this spring
Become a Member
"I first met Brendan when he arrived at Watford in 2008″, Rasiak told TheScore.ie. "I've got very good memories of my time with him. In my opinion, Brendan was the best coach I worked under – especially on the training field. From the beginning, you could tell he would go on to become a top manager. Tactically, everyone knew what they had to do. The level of organisation at training was very good and we had a lot of position and passing drills. All the exercises were geared to what we would eventually do on the field. I was very happy to play for him, because Brendan is not a typical British coach. He worked under José Mourinho at Chelsea so while there was a lot of hard work on the training pitch, it was always with the ball. We had hard sessions, but you developed so much from all the hard work.
"As a person, I can only say good things about him, too. He was a very honest person – right from the beginning. The first time I met him, at Watford, we had a private one-on-one chat and he told me about the kind of football he preferred with players adapting to different tactical positions. In the beginning, I wasn't in the starting XI because we played 4-3-3 and he needed something different to a big target man. But, he told me if I worked hard, I would play and keep my place in the team in a 4-4-2. So, I worked very hard to be able to break into the team and, soon after, I started a lot of games under him and we played very good football."
Sacked
While Rodgers had time for his philosophy to click at Watford, life at the Madejski Stadium was not so kind.
Remarkably, before being sacked in the run-up to Christmas, Rodgers won just six of the 23 games he oversaw as Reading manager.
Losing his job for the first time since the age of 16, it would prove a chastising but crucial experience for Rodgers.
"Brendan didn't have enough time to build a team because so many players arrived that summer. That made it difficult to start well and hit the ground running. I was sad to see him go, because I had a very good time under him. We drew too many games and we found it difficult to win games at home. We only won our first game at home in November.
"But, I still knew that he would become one of the best coaches in the UK if he had time. Under him, from what I saw on the training pitch, I knew that he could make it if he had the time to build a team in his philosophy. I could tell that he would eventually go on to perform very, very well."