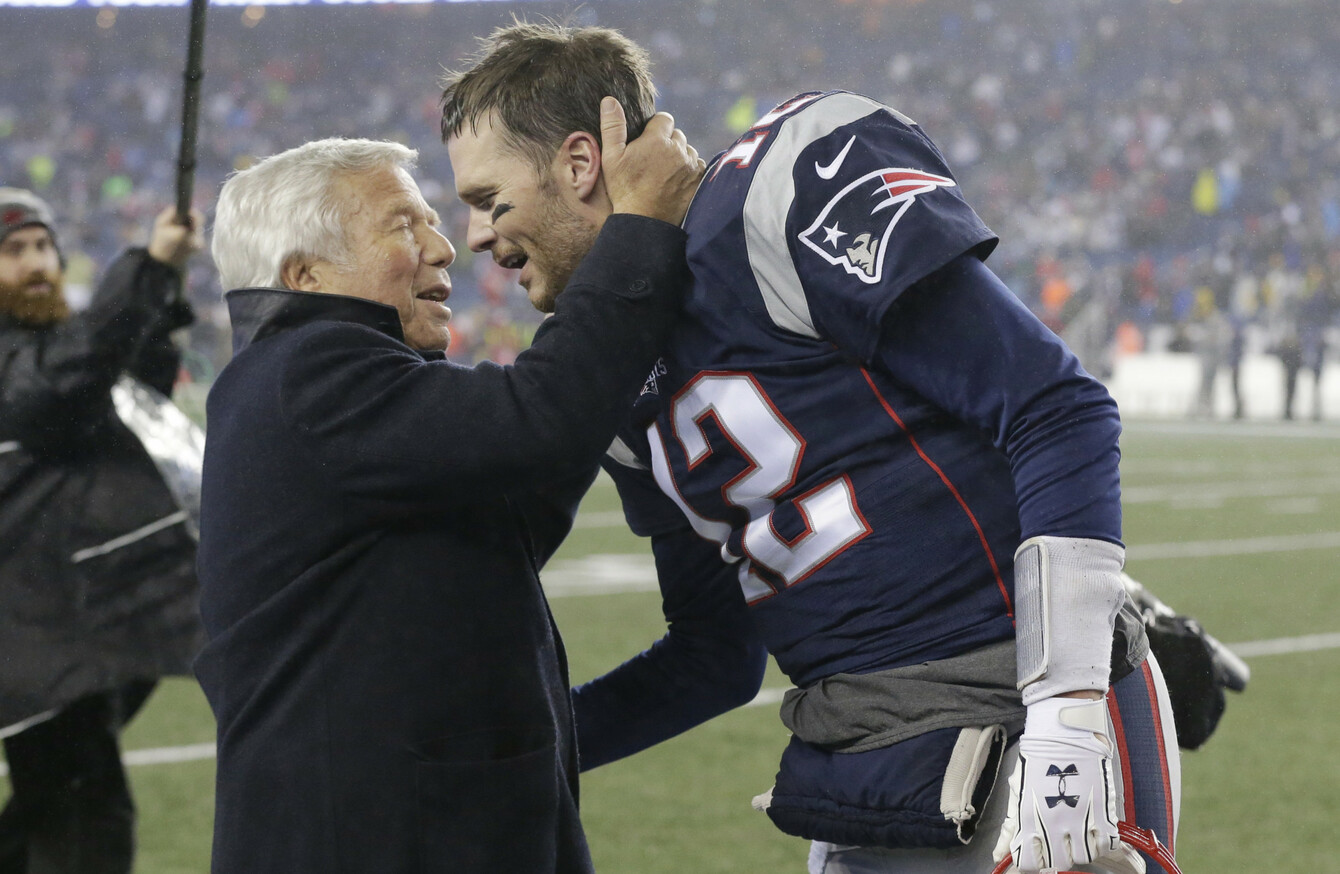 O'Donovan helped Robert Kraft (left) buy the Patriots.
Image: UPI/PA Images
O'Donovan helped Robert Kraft (left) buy the Patriots.
Image: UPI/PA Images
HAVE YOU HEARD the one about the West Cork native that played a significant role in helping the NFL New England Patriots and New England Revolution soccer franchises flourish?
Brian O'Donovan was recently honoured by the city of Boston with a day officially named after him. O'Donovan's work with WGBH radio station over a 30-year period has made him one of the most recognisable Irish names in the famous American city.
Yet, O'Donovan's involvement with Robert Kraft and the New England Patriots American football franchise is just as interesting a tale so a couple of transatlantic emails later and we have the following remarkable story.
How did a person, born and raised in Clonakilty, end up becoming involved with the one of the most successful franchises in American football history?
Brian O'Donovan's story begins in UCC, takes an unexpected turn when organising an Irish Music festival in Boston before one of American sports most well-known names walks into his life.
"I graduated from UCC in 1978 before moving to Boston two years later," O'Donovan said.
Then in 1982 I went to Graduate School at Emerson College, located in the city (Boston). During that time, I became interested in producing events through working with the local radio station, WERS. So, in one period, I advanced towards both broadcasting and event management.
"I was hired as a consultant on an Irish music festival that was being produced at what was then known as 'Sullivan Stadium' which was the home of the New England Patriots. The Sullivans, who founded and still owned the Patriots at the time, liked my work on the festival and invited me on-board to develop an events program for the 61,000-seater stadium. I was fresh out of graduate school and married with two kids. I jumped at the opportunity."
By 1987, Brian O'Donovan was General Manager of the newly renamed Foxboro Stadium. Within two years, Robert Kraft came on board, bought the stadium but not the actual New England Patriots franchise.
"My job was focused on three specific areas over an important five-year period,' explained the Clonakilty native.
"Develop event programming (mostly large-scale rock concerts) at the stadium, help with the Kraft family's pursuit of ownership of the Patriots and advance the effort of securing World Cup 1994 with the ultimate goal of our becoming a partner in Major League Soccer (MLS) after the event."
It was 1994 when the Kraft family finally completed their takeover of the Patriot's NFL franchise. Yet, it would not be until Bill Belichick arrived to take over the head coaching role and an unknown quarterback by the name of Tom Brady arrived on the scene that the Patriots fortunes took a dramatic turn.
That combination of Kraft, Belichick and Brady helped the New England Patriots become one of the most powerful and successful NFL franchises of all time.
"By the time I became Vice-President of Stadium Operations, I was working directly with Robert Kraft who along with son Jason, were incredibly driven and well-connected," O'Donovan stated.
Bill Parcells was head coach at that time and Bill Belichick was in Cleveland with the Browns. Belichick was fired in 1996, came back to New England as an assistant, left with Parcells for the New York Jets where he ended up becoming head coach for one day before returning to the Patriots in 2000.
"My time with the Patriots was a fun, wonderful and totally surprising unexpected journey. I would never have imagined it. In retrospect and certainly by comparison with the enormous powerhouse the NFL has since become, it was more of a mom-and-pop operation but it really was a ton of fun.
"Between 1985 and 2000, the Patriots went from being one of the worst NFL teams to becoming a true dynasty unrivaled in the history of American sports. It continues to this day. The trio of Kraft, Belichick, and Brady is already enshrined in the game's history. Belichick and Brady have significantly changed the game even over the last decade, not without their controversies but then with huge success come envy and detractors.
"Sports remain dominant in [Boston] Think of the history of the Red Sox, Celtics and Bruins plus the Patriots over the last two decades. As with sports everywhere, it's a welcome distraction from our daily concerns, a rallying cry. I will say in this current day and age, sport has not managed to separate itself from a toxic political climate and that might even be exacerbated in the upcoming NFL playoff season."
Not content with helping the Krafts build an NFL dynasty, Brian O'Donovan also became the New England Revolution's (soccer) Chief Operating Officer and General Manager. O'Donovan was heavily involved in the negotiations that helped Major League Soccer (MLS) become a reality in USA after the country successfully hosted the 1994 World Cup.
He worked tirelessly behind the scenes and represented the Kraft Family interests with other potential franchise owners, encountering some well-known soccer personalities from the opposite side of the Atlantic Ocean.
"We certainly had a colourful start with the New England Revolution,' O'Donovan said.
"Former Republic of Ireland striker Frank Stapleton was our first coach but that didn't work out. Thomas Rongen (Holland) and Walter Zenga (former flamboyant Italian goalkeeper) also came in before, with four games left in the 2000 season, Steve Nicol took the job.
The former Scotland international and Liverpool stalwart had been a player-coach with a second division team for a few years. Steve was a great guy but ownership decided to go with another coach Fernando Clavijo for a couple of years before hiring Steve back. He and his assistant, Paul Mariner (former England international and Ipswich Town player) had some success with the team, leading them to a few finals but failing to win a trophy.
"Nowadays, soccer remains as popular as ever in the Boston area. It is great that the team and league appear set to stay. I have always said that all the game needed to thrive here was a stable league. Looking to the future, the Revolution, and soccer in general, would very much benefit from a downtown stadium in Boston as our current NFL home is too big and too far out of town."
It has been quite a journey for Brian O'Donovan, all the way from Clonakilty to sitting alongside Robert Kraft in some of the most powerful boardrooms in American sport. His involvement with both the New England Patriots and the New England Revolution has seen O'Donovan play a key role in helping establish two of the most recognised brands in modern day sports.
Not bad for a Clonakilty-born, former Irish music festival organiser and radio host.
A version of this article first appeared in the Southern Star newspaper.
The42 is on Instagram! Tap the button below on your phone to follow us!