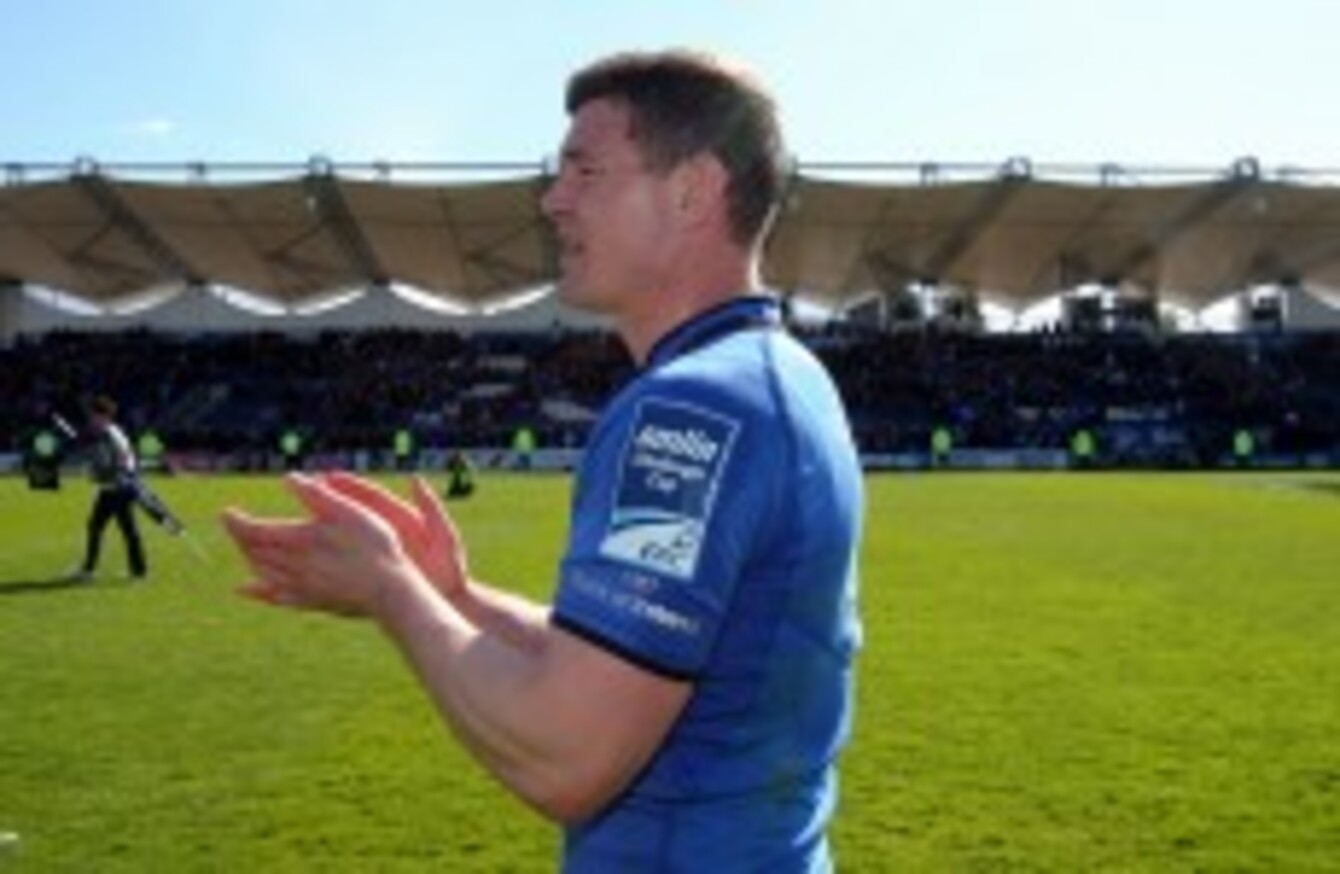 Brian O'Driscoll salutes the Leinster crowd.
Image: ©INPHO/Dan Sheridan
Brian O'Driscoll salutes the Leinster crowd.
Image: ©INPHO/Dan Sheridan
THE ANNOUNCEMENT THAT Brian O'Driscoll has signed a one-year contract extension with Ireland puts an end to at least two years of speculation about the centre's future in the game.
TheScore.ie went back over the stories from the past year in which O'Driscoll discusses his future and others in the game have their say.
10 May (at Adidas Lions 2013 promotion):
O'Driscoll: I'm probably guilty of that myself because I created a bit of uncertainty a while ago by answering questions a little too honestly. Alex Ferguson has been able to go about his business the way he's wanted to and call the shots on his terms.
Nothing's changed in me coming to a decision. I'm having a think about it and seeing how I feel as the tour progresses and hopefully I'll be able to make a call.
7 May (Lions pundits preview Lions tour)
Paul Wallace: Brian may struggle to the form he showed four years ago and has certainly lost a bit of pace from the last time he was in Australia [with the Lions] but his vision, and ability to read situations, is second to none.
With Sexton's threat, running along the line, sucking in defences, I think there should be lots of space for him. Let's hope he stays injury free as he could have one great, last hurrah."
29 April (Joe Schmidt named as Ireland coach)
Schmidt: It's something you're probably going to have to get Amy and Sadie to agree with," Schmidt told Irish Rugby TV. I'm not sure Sadie will have too much to say on it at this stage but I'm certainly sure that if Sadie's sleeping well and she's an easy baby, then maybe Amy will give him enough licence that he can get out and train and play. I think everyone would be delighted to see that.
YouTube credit: LasGarzas11
Schmidt: He's put some pressure on me. So I'd certainly like to put some pressure on him. We put some plants in the crowd to start that chant ('one more year' at the RDS). I'd like to see him continue. I'd love to see him named tomorrow and hopefully that will be the continuation of a wonderful career, not the end.
27 April (Leinster beat Biarritz, O'Driscoll scores try)
Cian Healy: It was a fitting reception for Brian. He's an unbelievable player and leader. That's his decision, if he decides to play on or call it a day but we'll all certainly be rooting for him to stay.
23 April (Leinster press briefing – Schmidt linked with Ireland)
O'Driscoll: Joe Schmidt has been fantastic for us these last few years and really rejuvenated me as a player. I learned an awful lot under his tutelage. We'll wait and see, nationally, what the decision is and makes calls over the next couple of months.
10 April (Lions squad announcement looms)
O'Driscoll: Who knows what the final act will be in my career. I just have to play it out this season and see how things unfold and then I'll make a call after that.
16 March (RTÉ run 'The Greatest' tribute before Ireland v Italy)
There was a growing sense of anticipation that the Six Nations finale could have been O'Driscoll's international farewell and RTÉ were not the only ones to pay tribute. Their video piece is perhaps the best:
YouTube credit: rte
15 March (Ireland camp ahead of Italy match)
Anthony Foley: He's an excellent teammate and an excellent man to coach. He's as hard as nails, he's a privilege to have in your squad and I don't think you ever take it for granted when you have guys like that in your squad. You cherish them while you have them because you'll be a long time missing them.
9 March (Ireland 13-13 France, O'Driscoll concussed)
Donnacha Ryan: Drico, for me, has been awesome. They should give him a development contract and sign him up for another 10 years, the way he's going.
Ireland's Brian O'Driscoll and his wife Amy Huberman with baby Sadie. (©INPHO/Dan Sheridan)
Keith Earls: When you see a fella who doesn't know where he is one minute and comes back on with his head all strapped up; he's a true warrior. In all the world, I've never seen anyone like him.
Maxime Medard (FRA): O'Driscoll is a legend and he showed that again tonight. I don't think we have seen the last of him yet.
27 February (Adidas promo)
O'Driscoll: I'm generating a little bit of an opinion in my own head but I just need to be able to play some more games to make that decision.
10 February (Ireland camp)
Donncha O'Callaghan: It's great to have a warrior in your room like that because it's someone, you know, the opposition are looking over and they're fearful of him. To have him is a massive plus.
See Sport
Differently
Get closer to the stories that matter with exclusive analysis, insight and debate in The42 Membership
Become a Member
6 February (Ireland camp before England game)
O'Driscoll: I was expecting this to be asked today but I haven't really allowed myself to think about it. If you start thinking about retirement in six months time, you're already there. I just want to enjoy myself and concentrate on my rugby at the moment, live in the moment, and it will all evolve.
30 January (O'Driscoll and D'Arcy break world record for centre partnership)
Jamie Heaslip: Maybe we should let them walk onto the pitch holding hands; have a ceremony for them… It's an incredible achievement for them and a testament to both players; how well they work individually and as a team.
17 January (Jamie Heaslip succeeds O'Driscoll as Ireland captain)

Declan Kidney: We need Brian the player just as much as we need Brian the captain and typical of the man and the selfless way he has contributed to Irish Rugby and the Ireland team, he has said that the captain and the team would have his full support.
21 December (Hoping for January return after ankle injury)
O'Driscoll: It's definitely the hardest part of what we do but sometimes you have to look at injuries in a positive light. They give you a chance to freshen up and go again for what will, hopefully, be a big six months.
4 December (World Cup 2015 launch)
O'Driscoll: I'll be [at RWC 2015] in some capacity, but as a player I doubt that very much. It's far too far away to be contemplating playing. I think my World Cup ship has sailed, but I'll be there as Ireland's number one supporter.
18 October (Rumours of a move to Michael Cheika's Waratahs)
O'Driscoll: It was an interview I did three and a half weeks ago when Michael Cheika was given the New South Wales job and aspects of it have been regurgitated. I've always said; never say never. But it's certainly not on my to do list at the moment.
Cheika and Wallace at Leinster. (©INPHO/Dan Sheridan)
13 October (Interview with TheScore.ie)
O'Driscoll:  "When the time comes, I am sure [Joe Schmidt's one-year contract extension at Leinster] will have some bearing alright but trust me it is October and I have played three games so I will worry about those sort of decisions in 2013.
24 September (Ireland camp, promoting Guinness Series)
O'Driscoll: We'll deal with the November Series first and, hopefully if I'm still in the mix, the Six Nations next year. After that is still too far away to be considering.
23 June (Following Third Test loss to New Zealand)
O'Driscoll: I won't be down in New Zealand playing again because I won't be around in 12 years, but if Queenstown's calling then I might be down for a Fergburger again.