BRIAN O'DRISCOLL IS as fearless a rugby player as they come but beware of placing the Ireland and Lions star in an enclosed space with feathered fiends.
The centre features on the out-takes video from HSBC's Lions' Legendary Journey video that proved so popular before the players set off for Australia.
In the GIF [below], O'Driscoll strides confidently through the restored wooden ship but loses one of his nine lives when some angry geese take offence to a stray pass. Lions legends Gavin Hastings and Gareth Edwards show little sympathy for his plight. Check it out here: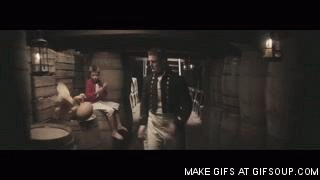 Former Lions captain Willie John McBride also features and has some issues fitting his giant second-rower's frame through the cramped corridors.
Here are the rest of the video out-takes:
YouTube credit: HSBC
We've checked out the list of fears and fear of a goose, or geese, is called Chinaphobia. There are rumours coming our way that the winged creatures featured may be a hen or chicken [two suggestions we've received so far] but our money is on geese.