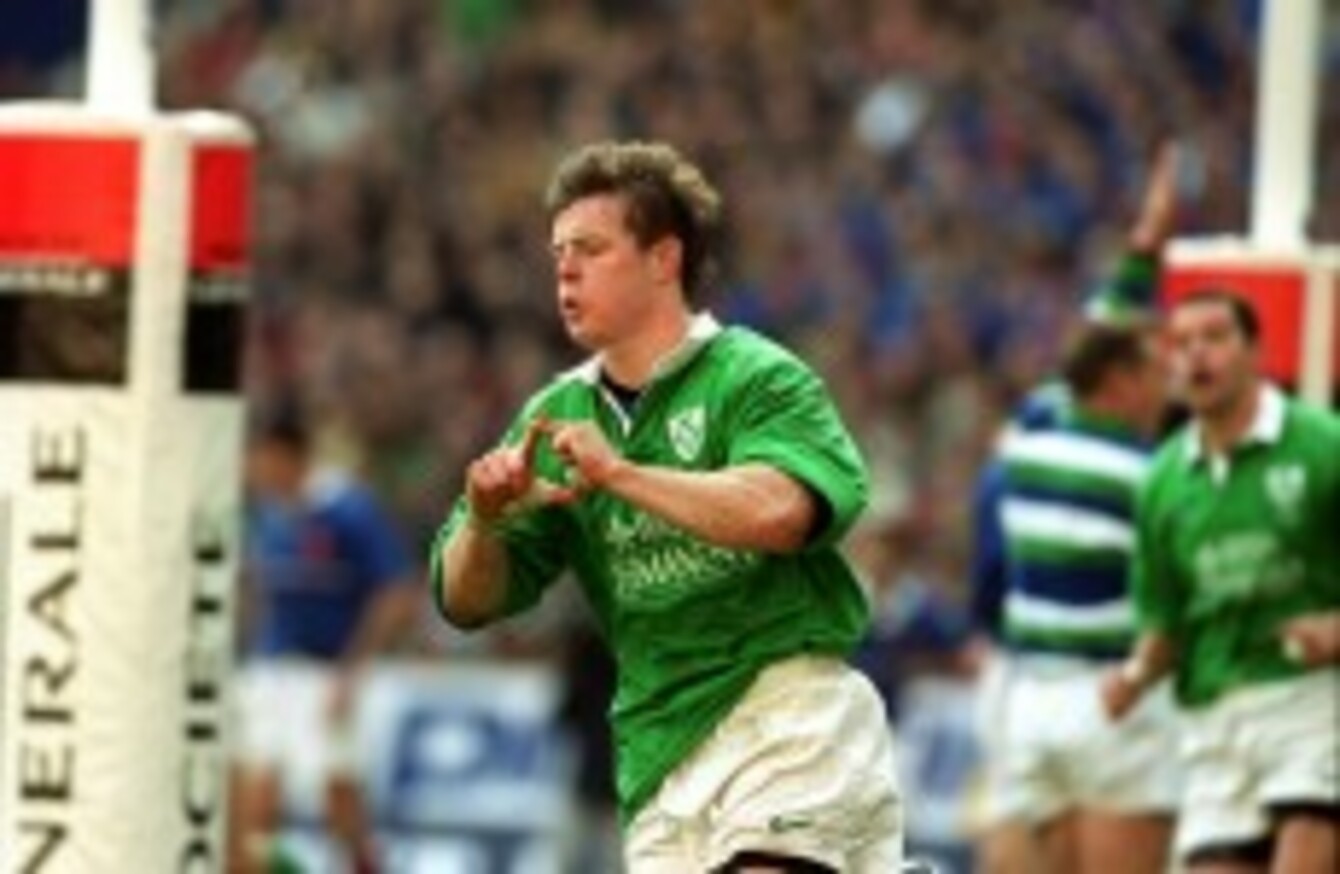 O'Driscoll has just two games left in his international career.
Image: ©INPHO/Tom Honan
O'Driscoll has just two games left in his international career.
Image: ©INPHO/Tom Honan
IT SEEMS THAT everyone is going to have their say on Brian O'Driscoll this week as the legendary outside centre prepares for his final home game for Ireland.
Instead of attempting to add to the deserved tributes, here we allow the man himself to express his own feelings on the occasion, the challenges to come, how he would like to be remembered in Irish rugby circles, and more.
O'Driscoll on preparing for his final home game as an Ireland international…
"It doesn't feel any different. I suppose it's hard when you just want to get on with it. I'm excited about it being a last home game, for sure, in that it'll be one to remember. At the same time, more importantly, it's an opportunity to put ourselves in a position to win the Six Nations.
"That's really been the main focus. I really won't think too much about the games and so on, until it's done and dusted. There's be plenty of time to reflect on it afterwards."
O'Driscoll on fearing that last season's draw at home to France was going to be his last home cap for Ireland…
"It was emotional last year against France, I did think that was going to be it. But a couple of different factors convinced me to play on for another season. I'm not really that emotional a person and so I won't allow the build-up to it to affect me.
"Whatever emotions you do have after that will happen organically, you can't force emotion on yourself. You just have to go with the flow. Sure, aspects will be difficult and I'll be sad, but we'll wait for Saturday afternoon."
O'Driscoll on how others have interacted with him as the end nears…
"People are probably sick and tired of hearing and reading stuff, so no one needs to be adding to it really. But obviously I've seen a few nice things, a couple of articles and ex-teammates saying nice things."
"I got a nice tweet from George Gregan on equaling his record and people have been lovely over the last while. I just want to be able to go out on a high, that's the big thing."
O'Driscoll on separating the team and the individual feeling…
"There is no individual feeling, there really isn't. I've never been one for great sentiment while living in the moment. There's always time for that afterwards and that's the time to do it.
"The team has been the priority this week and always has been. So there'll be no extra emphasis from anyone this weekend, other than an opportunity to give ourselves a final day showdown with France."
O'Driscoll on how he has enjoyed his last Six Nations campaign…
"It's been good, I'll enjoy it a lot more if we're walking around the Stade de France with the trophy. I've enjoyed it because there's been good excitement, there's a good buzz around camp.
"I've looked forward to coming in and learning new plays, being encouraged to try things. I think I've said before, we're in a good environment here where we're pushing one another and getting the best out of each other. Having the likes of Darren Cave and Robbie Henshaw playing so well puts pressure on me to make sure I deliver."
O'Driscoll on the benefit of retiring on his own terms, rather than being dropped…
"I can only see it from my point of view. It will be difficult; leaving something you've done all your adult life will be hard. Being in that environment, one day you're part of it, the next day you're not.
"No matter who you are or what you've done, that's always going to be a difficult situation. But it is fortunate that I have been able to call it on my terms. I can see it's time to move on to pastures new and not many people get to do that. I'm thankful for that."
See Sport
Differently
Get closer to the stories that matter with exclusive analysis, insight and debate in The42 Membership
Become a Member
O'Driscoll's perception of his own standing in Irish rugby history after Paul O'Connell highlighted his contributions in transforming the game here…
"That's over the top. I was very lucky to play at a time when there was great young talent coming through and you can see the guys who began at the same time. Someone like Gordon D'Arcy, who's still here, the ROGs, the Strings, the Shane Horgans, Simon Easterby, [John] Hayes.
"All those guys came in within six months of my first cap and I think we all had a big say in guiding expectation levels first of all, and then performance levels after that, to where we felt it should be.
"Now the onus is on every young guy coming through, seeing that as the benchmark to carry on and make it better."
O'Driscoll on the possibility of moving into the world of coaching…

"Coaching really isn't on my to-do list at the moment, but I don't know. I'll let the next phase of life happen, maybe there will be a chance to come back to it. For the time being, I don't see myself doing it in adult's rugby. Maybe kid's rugby."
O'Driscoll on how he would like to be remembered…

"Just as a team player, someone that was about winning as a collective. That's why I think we play a team sport, because we enjoy that camaraderie of winning and sharing the disappointment of defeat.
"You look at someone like Rory McIlroy the other night [he lost a playoff at the Honda Classic on Sunday], having to deal with that essentially on his own. I know he's got a network around him, but that is on his shoulders. Whereas we all share the responsibility of losses.
"To share the victories has been really sweet, namely in 2009, with guys you have soldiered with for so many years. That brings an awful lot of satisfaction."