BACK IN 2011, former Irish rugby captain Brian O'Driscoll visited kids in Temple Street hospital with the Heineken Cup, giving us one of the most joyful photos of the decade.
Last week, he shared a lovely reunion photo with the little girl in the picture – her name is Michaela Morley, she is now 13 years old, and since having a kidney transplant, she's doing much better.
Brian asked Michaela to come along to his interview on the Late Late Show last night, and she absolutely stole the show with her infectious giggle and sunny personality.
Brian told host Ryan Tubridy that they've met up quite a few times since the first picture was taken:
It's hard not to feel the energy, and I think you feel better about yourself in her presence. We've seen each other quite a bit over the course of the last six or seven years – in the hospital, we try to coincide with visits when she might be getting a treatment or a checkup.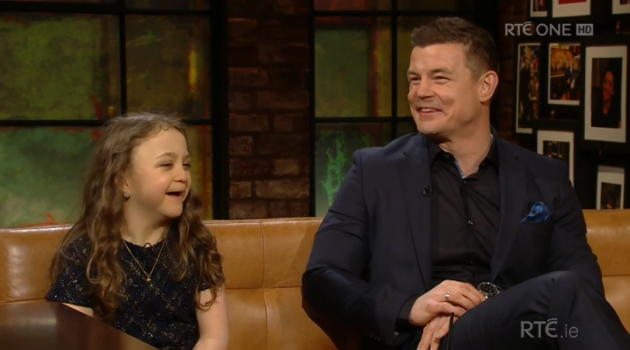 RTÉ Player RTÉ Player
Michaela revealed the real story behind the picture, and it's maybe a little different to what we all expected:
He came in with the cup and he had a little ball with him, and he got me to throw it in [to the cup]… The reason I was like that was because I got it in, not because I knew him!
Brian let Michaela take the floor for her part of the interview, only interjecting to remind her to talk about something very important.
Brian: You're a big fan of organ donor cards as well, aren't you.
Michaela: I think everyone should carry an organ donor card because it means that you're doing a good thing for a person like me.
Everyone agreed that Michaela was one hell of a trooper:
The most adorable BFFs ever.
DailyEdge is on Instagram!
Written by Valerie Loftus and posted on DailyEdge.ie
[image alt="" src="http://cdn.thejournal.ie/media/2018/02/img2-thejournal-682.png" width="600" height="115" credit-url="" credit-source="" credit-via="" credit-via-url="" wp-id="wp-image-3831931" class="alignnone" /end]