THE LIONS AXE fell for Brian O'Driscoll as he was helping himself to a pre-team announcement cup of coffee.
The Ireland centre has opened up to former teammate Shane Horgan on one of the toughest moments of his professional career — getting dropped for the first time. O'Driscoll told The Rugby Club on Sky Sports he was delighted the British and Irish Lions went on to beat Australia in the Third Test
He adds, however, that watching from the sidelines diluted the feeling of pure, unadulterated joy at winning his first Lions series in four attempts.
O'Driscoll is glad he can now look back on a successful tour [the Lions won the series 2-1] but, the centre, he does not feel 'as much a part of it as those guys who took the pitch' and won 41-16 in Sydney. "Do I look back on it with the same delight that they do?" he mused. "Probably not."
O'Driscoll received much praise in Australia as he declared the team announcement was not about him and for giving Jonathan Davies, who took over at outside centre, his full support. In his Telegraph column after the Third Test, he said, "It was a disappointment but it's the guys that don't make the 23 that make or break the tour. You can't mouth words and then not live them when it's your turn."
Jamie Roberts, who started at inside centre in the final game against the Aussies, said the Irishman offered him match advice and tips on opponents, minutes after the matchday 23 was announced. O'Driscoll gave an insight into how he discovered he had been cut adrift. He said:
I was making myself a coffee and I got a tap on the shoulder and Gats was there, and Rob Howley was there behind him and I thought, 'two is trouble'. And I got asked, can we have a word in the team meeting room and we went in and it pretty much just came out that 'we don't have a place for you this weekend'."
With outside centre Manu Tuilagi back in Lions rotation after a shoulder knock, the situation would get worse for O'Driscoll as he took a seat in the team room for the squad announcement. "I didn't actually know about Manu and I didn't ask them what the bench was, so until the team was read out and I didn't know that Manu was the spare outside back on the team, so that was kind of a kick in the guts."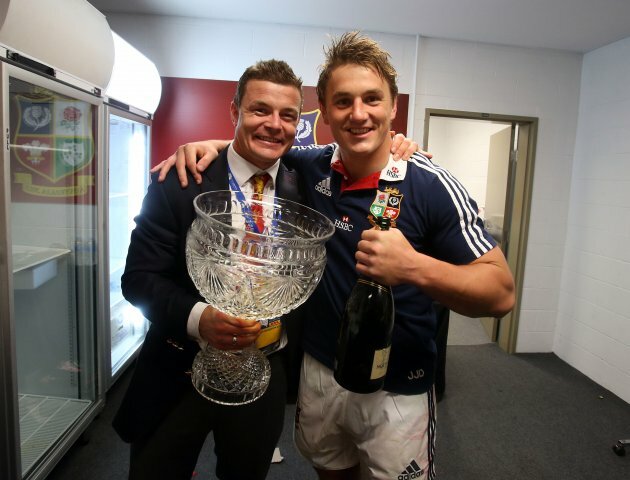 O'Driscoll and Jonathan Davies celebrate after the Third Test triumph. (INPHO/Dan Sheridan)
O'Driscoll confessed that he harbours feelings of resentment towards Gatland and remarked that he the Kiwi may not be on his 'Christmas card list'. Nonetheless, he took heed of Ian McGeechan's wise words about what it truly means to be a Lion and put his feelings to one side to offer advice to Roberts.
He added, "What should have probably been one of the greatest achievements in my career hasn't unfortunately turned out to be that case. I'll probably look on some other things that I have won with greater affection because of the manner in which the series finished. Again, I don't apologise for that, that's just my gut, it's just how I feel."
The 34-year-old told Horgan he is determined to be on the pitch for trophy-winning moments with Leinster and Ireland in his final season.
He said, "It might not be quite the same as 10 years ago, but I think the experience I can pass onto the new generation will hopefully equip them for their careers and listen you never know, you might win a bit of silverware in the meantime."
O'Driscoll will be "happy" if he wins two from his three targets of league, Heineken Cup and Six Nations. He will be "ecstatic" if he wins all three.
Leinster and Ireland supporters will be hoping the fairytale comes true for O'Driscoll, this time around.