Britton leads in the Budapest snow. Credit: INPHO/Sasa Pahic Szabo
IRELAND'S FIONNUALA BRITTON has won gold at the European Cross Country Championships for the second consecutive year.
The Wicklow runner ran a tremendous race to finish in 27:45, two seconds ahead of runner-up Portugal's Ana Dulce Felix with Adrienne Herzog of Holland in third, on a snow-covered track in Budapest today.
In doing so, the 28-year-old made history by becoming the first athlete to defend her senior women's title.
With Britton's team-mates Linda Byrne (8th), Ava Hutchinson (18th) and Lizzie Lee (21st) finishing strongly, the win also ensured that Ireland took gold in the team event as they pipped second-placed France on countback.
Non-scoring Sarah McCormack and Sara Treacy came in 36th and 42nd respectively.
The senior men's team was led home by Brendan O'Neill, as he finished in 22nd place, just ahead of his club mate Joe Sweeney in 27th. David Rooney was the next of the Irish to finish in 38th place, followed by Michael Mulhare in 44th, Sean Hehir in 52nd and Paul Maher  in 73rd.
John Travers led the men's under 23 home to an eleventh place finish. Travers ran a tactfully smart race and he moved up through the field to finish in 44th place. He was backed up by his team mates Patrick Hogan in 52nd, Dave Fitzmaurice in 76th, Samuel Mealy in 80th and Christopher Johnston in 86.
Laura Behan was the best of the Irish in the women's under 23 race, finishing 54th in a time of 23:38, just ahead of Una Britton in 58th place.
In the earlier junior races Sarah Collins was the top Irish finisher in 31st place in the junior women's race. Middle distance specialist Siofra Cleirigh Buttner was the next Irish athlete across the line in 36th place, followed by Mary Mulhare in 41st, Clare McCarthy in 68th and Linda Conroy in 70th.  The team combined to place eight overall.
The junior men's team was down to four athletes as Sean Tobin had to withdraw from the race due to illness. Stephen Kerr led the charge with a terrific 37th place finish.
Kerr ran a brave race and was running just outside the top ten positions during the first half of the race. Next in for the Irish team was Eoghan Totten in 61st, followed by Killian Mooney in 89th and Ian Guiden in 107th. The team combined to finish in 18th place overall.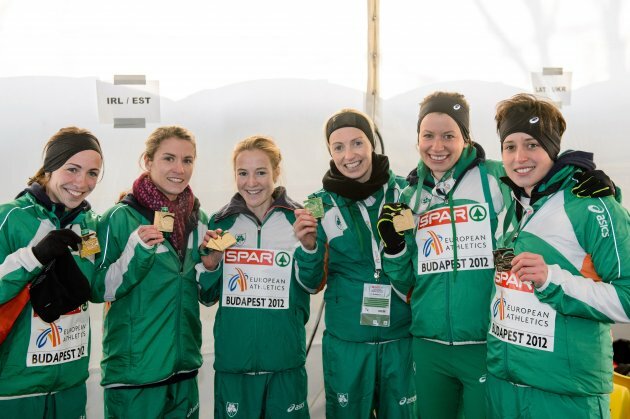 The victorious Irish team. Credit: INPHO/Sasa Pahic Szabo