WHAT BEGAN AS one of the proudest nights of his rugby career ended in sheepish admissions in front of TV cameras and microphones for Rory Best.
The Ulsterman, a late call-up to the squad, became the third Lions captain from Ireland on this year's tour and was hoping for a strong showing to force his way into the Test picture. With the lineouts not yet clicking on the 10-match tour, a solid, under-the-radar throwing game would have been Best's wish.
By the time Jerome Garces blew the final whistle to confirm a 14-12 loss, the wonky lineout was headline news. For a Lions team that included five men starting in the backline for the first time on tour — including an internationally retired Welshman over from Japan's second division — that is saying something.
Best's evening began well when he threw long and bravely to the very back of the line. He located Richie Gray, who in turn fed Ben Youngs to launch an attack. The next throw, however was not straight. The one after that was stolen. The hooker ended the half with six lineouts won off his throw and four lost. He needed to start well in the second half but three of the first four throws were either lost on penalised for being crooked.
Even when throws were won they were either on the edge of legality of not taken securely. Best, along with an underperforming front row of Matt Stevens and Ryan Grant, was called ashore on 59 minutes. Their replacements upped the intensity at the scrum and lineouts started to stick. Alas, for the Lions, it was too late.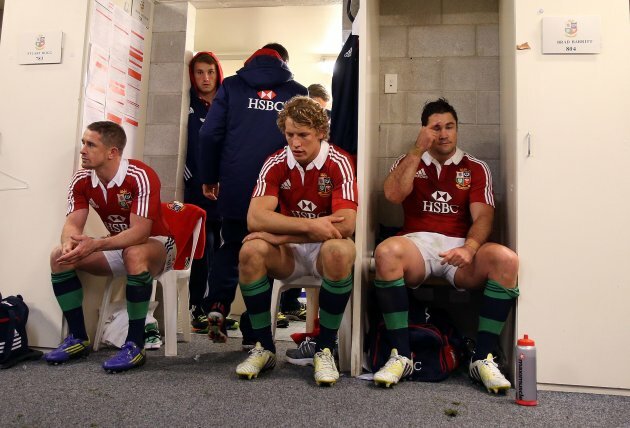 New Lions Shane Williams, Billy Twelvetrees and Brad Barritt in the dressing room post-match. (©INPHO/Dan Sheridan)
Speaking after the match, Best told Sky Sports, "We were physically beaten up, up front… there was pressure on the set-piece and we got nervy."
The captain refused to use the untried backline as an excuse for the two-point loss as head coach Warren Gatland had brought in 'quality players'. The winning and losing of the game, he insisted, came about at the breakdown where, once again, the Brumbies beat the Lions up. Asked about the lineout troubles, Best said:
We definitely got nervy. Small units misfired. If you can't secure ball, you'll always be under pressure. The forwards here have to put their hands up."
Best added, "We were fresh coming into tonight and feeling confident beforehand. we just didn't front up tonight. they wanted it more, right from the off."