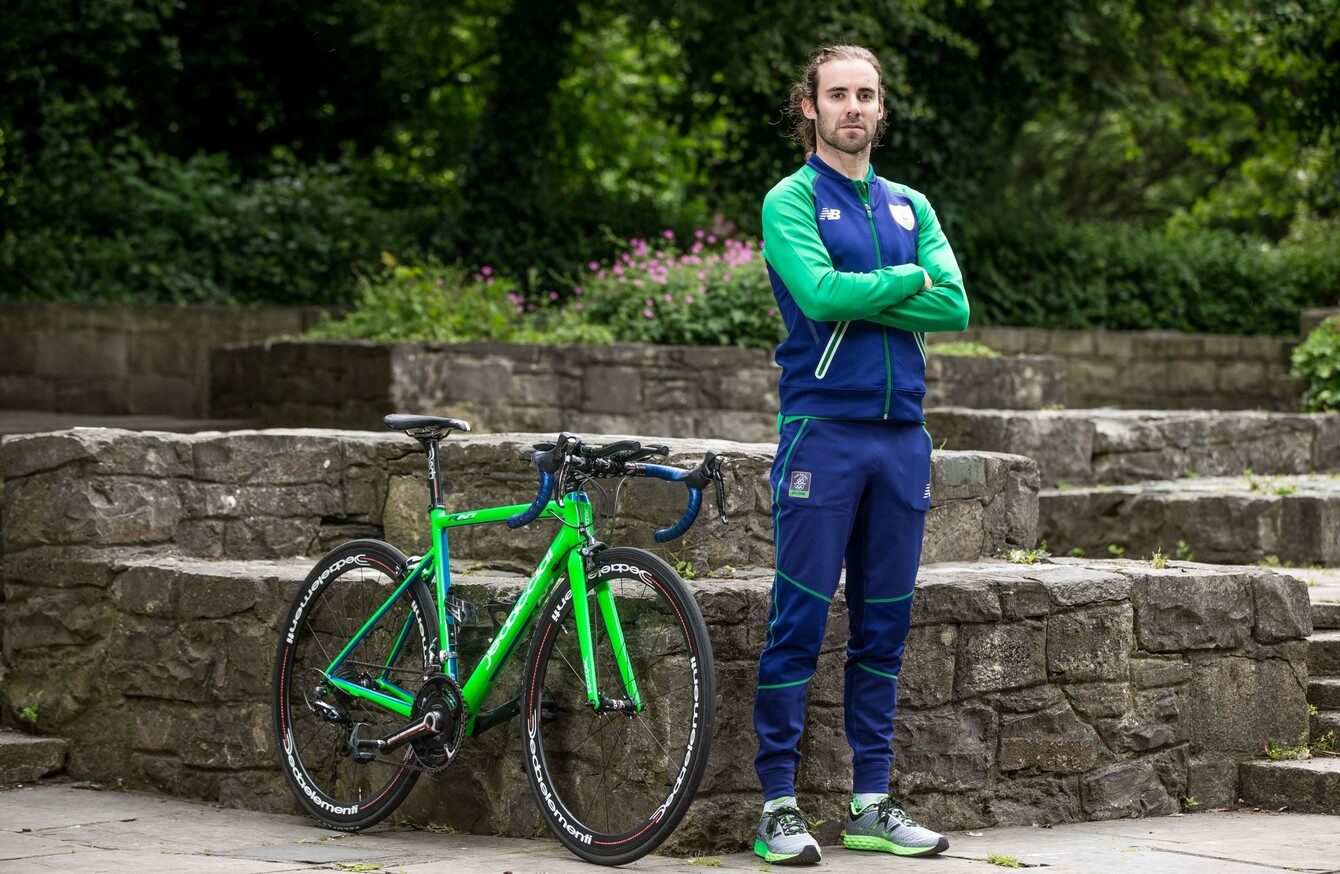 Image: Morgan Treacy/INPHO
Image: Morgan Treacy/INPHO
FOR BRYAN KEANE, it has been a long, painful and, at times, complicated journey but when he enters the water on Rio's Copacabana later today it will all have been worth it.
At 35-years-old, the Corkman will be the oldest competitor lining up for this afternoon's Olympic triathlon — but no other athlete will have overcome such adversity and enjoyed such a colourful route to Rio than Keane.
It has become something of a cliché but, in this case, it will be the ultimate realisation of a childhood dream.
To fully appreciate the rollercoaster ride Keane has been on, we need to rewind six years.
"I remember lying on the hospital bed before going in for an x-ray and I'm still in my cycling kit," he tells The42. "I still felt like an athlete because I had it on, it was part of me but then when it's taken off and you go in for surgery, it's gone.
"I remember saying 'can I wear this kit forever?', because I didn't want to let go."
As his quest to qualify for London 2012 was beginning to click into gear, Keane's dream was derailed after a horrific accident near his home in Cork.
In the weeks and months previous he had established himself among the world's top triathletes, consistently finishing inside the top 10. Then, disaster struck.
17 September, 2010.
On what was a routine training ride, a car on the opposite side of the road suddenly veered into Keane's direction, flinging him onto the concrete and leaving him with a shattered kneecap. It could have been career ending; one surgeon told him he was never going to compete again.
But anyone who has met Keane can instantly tell he's different. He's a competitor, a warrior.
"It will always be an element of my career, anyone you meet or talks to me mentions it," he continues, looking back on those dark days of painstaking treatment and monotonous rehab.
"I don't mind talking about it, it happened and I guess it makes my story a lot more colourful because of that. I can take great heart from the fact I have succeeded despite what was thrown at me and I didn't take no for an answer."
Despite everything — the shattered kneecap, the mental scars from being knocked off your bike when travelling at 90km/h and the devastation of having a dream so cruelly ended — he got on with it.
"I just took it day-by-day, there was nothing else I could do. I didn't know if I was going to get back or not but thankfully I did get back. It could have gone the opposite way and I would have never competed again.
"I think there's a lot of people, there's an Irish mentality sometimes where we say 'jeez he could have been some athlete, he would have played county now if he stuck at it' and there is that attitude of nearly men or guys who have near misses.
"I don't want to be a nearly guy, I don't want to be someone who could have been. I think I had more respect and ambition for myself than to be someone who could have rested on laurels and packed it in.
"I wasn't going to say 'I could have made an Olympics', I'm going to do it. I'm not going to accept that mediocrity or accept that 'if only that could have happened'. I could have felt sorry for myself, I could have just moped away and slowly drifted off. That's not me and not my personality."
Before that fateful day, Keane was well-placed in the Olympic rankings for London. He had worked so hard to get to that point and now he had to start all over again. It said a lot about his steely determination that he didn't concede defeat in his bid to qualify for London until it was physically impossible.
After practically learning how to run again, he set his sights on Rio.
"I had to go the long way round to get it [the leg] right, I had to get it right or I wouldn't be able to walk properly again," he explained.
"I just said 'this is it' and I just kept pushing and I had a team around me who were willing to stand by me and as long as I was driving, they were happy to be on that ride with me.
"I'm sure there were times they said it was crazy, I don't want to be around this, but I was never told no, I was never told I couldn't do it.
"I think emotionally I was pretty pragmatic about it. You can't get too emotionally caught up in sport or else it will kill you. Even on a day-to-day basis, you can't get too emotional about things. I kept a level head and made little goals along the way.
"Might seem trivial but exercises in the gym where I could see progress from week-to-week. You have to lay a foundation and it just takes time and I was willing to invest in that and it all worked out."
Keane knew this Olympic cycle was all-or-nothing. An Achilles tendon injury at the end of last year could have put him off track but, in May, he did it. Relief, pure unadulterated relief. Years of hard work, years of dreaming. He'd finally done it.
14 May, 2016.
What started as a four-year journey had effectively turned into an eight-year one but he could now call himself an Olympian. Finishing inside the top 55 world rankings after the final ITU World Race Series in Yokohama was enough.
"It's excitement, you can't help but be," he says, of competing at the Olympics. "The biggest stage in the world sporting wise and you're part of that. You're in a very, very select group of people who get to represent Ireland at an Olympic Games but also looking forward to representing me, my family. How many people get to achieve that?
"When I stop I'll look back but right now I'm on the rollercoaster and I'm just soaking it up. I never suspected I would make an Olympic Games at 35 years old."
What makes Keane's journey all the more remarkable is how he even embarked on it. A talented swimmer, cyclist and runner in his youth, he represented Ireland in the latter two — and then fell out of love with them.
After watching the triathlon in the 1996 Olympics, Keane joined his local running club, Leevale. A love-hate affair with sport was born. From there, he won bronze at the European Cross Country Championships in 2000.
"I'm really, really happy with that and I'm very proud of my achievements and what I've done," he says. "I've been all over the world with sport and I've kind of found one that I've stuck to.
"It has been very, very rewarding and it's given a lot to me but it has also taken away a lot but that's professional sport. It's a real mixed bag."
Then he tried his hand at cycling, joining the Sean Kelly An Post team who were based in Belgium.
"I'd done running, I quit it. I did cycling, I'd over trained. I was searching for something. When I over-trained on the bike in 2006 or so, I remember throwing the bike in the garage and not touching it for 10 months."
After turning his attention to graduating from the National College of Art and Design in Fine Print, Keane tried his hand at sports photography as he looked to the next chapter in his life.
"I was in a bit of twilight or unknown in my sporting career," he recalls.
It was in Australia where his love of sport, and passion for it, was rekindled.
"I was over there and had no friends. I was in a country which was really, really good at triathlon and it was a great opportunity. They have Olympic champions and I'm a competitive person and I looked at it and said that's where I want to be.
"I think if I had of started here in Ireland I don't think I would be in a similar position. I didn't know where I was in terms of my sporting career.
"In terms of running and cycling I probably thought yeah it is, I've achieved all I can achieve; I've represented my country in both sports and that was properly the pinnacle I was going to do, I wasn't getting to an Olympics in those sports."
But it was only the beginning. He was taken under the wing by a New Zealander living in Australia and the rest, as they say, is history.
"Jamie Turner took me in. He had a group of young guys and he allowed me to come in and took me in as one of his own. I was living with him too.
"He saw potential in me and said go for it. I returned home then to race in the European season and Triathlon Ireland had everything in place, the right people and it was at a point where there was just the perfect storm of people giving me everything I needed to achieve what I have.
"That said, I don't think I've ever really achieved my full racing potential, on my day I know I can finish in the top ten. I'm not going to the Olympics to be a number, I'm going there to be competitive."
18 August 2016.
The day Bryan Keane has been waiting for. Four, eight, thirty-five years in the making.
The42 is on Snapchat! Tap the button below on your phone to add!