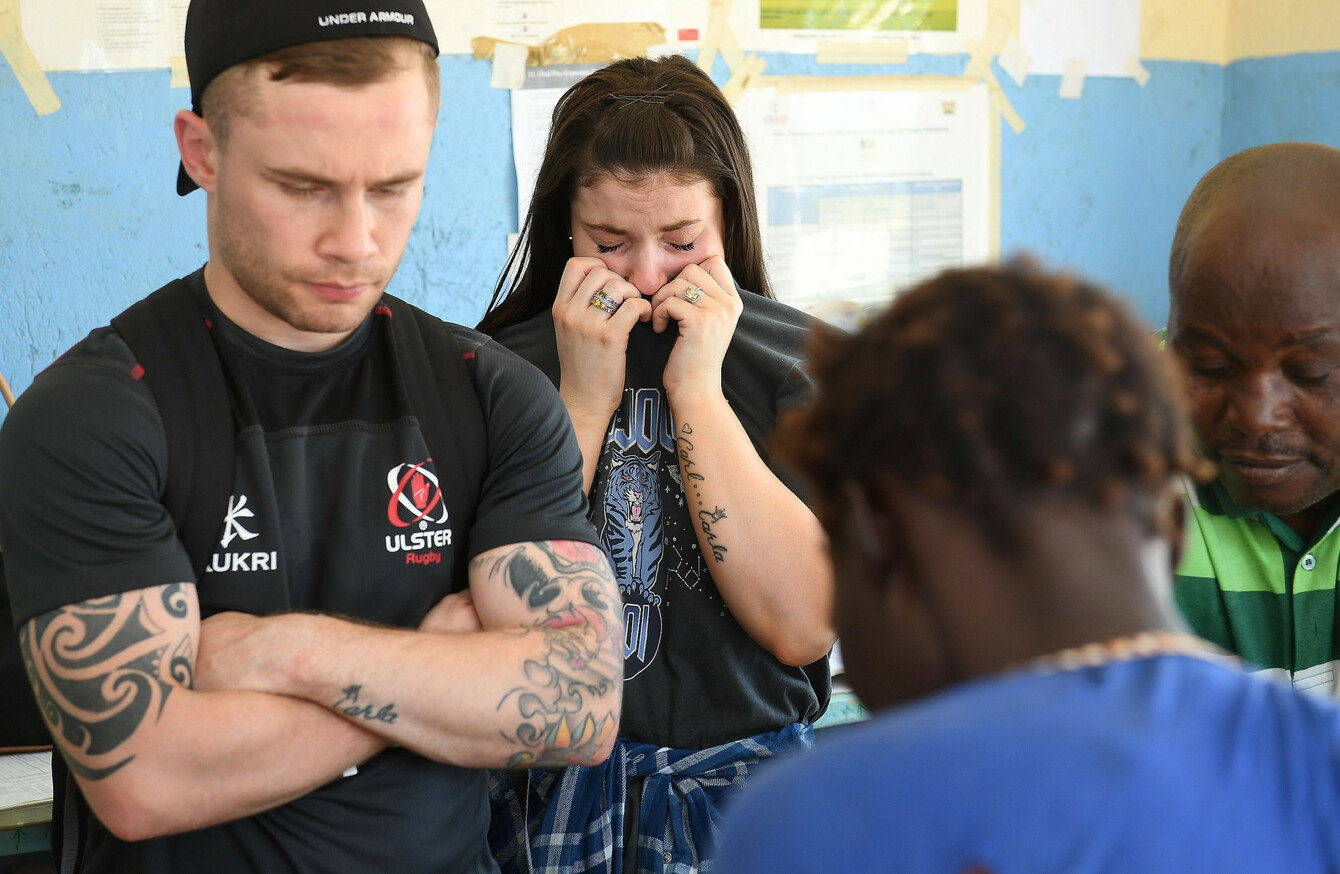 Image: Justin Kernoghan
Image: Justin Kernoghan
Updated at 0900
HAVING JUST four days ago returned from time spent on the plains which play host to his ring moniker in its physical form, Carl 'The Jackal' Frampton is both haunted and imbued by what he encountered.
The former two-weight world champion jetted off to east Africa with his wife, Christine, while still sporting war wounds from a pulsating scrap with Mexico's Horacio Garcia just over a week prior.
The bruises have since subsided, but the intangible scars from his Trócaire mission to Kenya, he admits, will last a lifetime.
"The second day we got up pretty early, flew to a town called Lodwar in Northern Kenya," Frampton tells The42. "It's in Turkana County. Beautiful place. It's desert, pretty much, but a lovely landscape.
"We drove to a place called Kalekol. It took us about 90 minutes to get there because the roads were non-existent: it was just mud-tracks, sand-tracks or whatever you want to call it. On a normal road over here you'd have done it in 20 minutes.
"We got to an emergency medical and food distribution centre.
"First thing we saw – which was one of the most shocking things I saw in the few days we were there – was a lady who was HIV positive, and she had two children: a toddler who was a similar age to my own son – maybe about three – who was also HIV positive. And then she was breastfeeding an infant, who was about eight months old I think.
It was hard-hitting. You know, you're looking at the kid, maybe eight months old, and he weighed nine pounds. Nine pounds at eight months of age. There's kids born at that weight over here.
"He was very, very, very small", Frampton adds, "and the doctor was telling us he couldn't start giving the baby his vaccinations until very recently – I think maybe a month or six weeks previous – because the baby had no muscle.
"He was pretty much just skin wrapped around bone. They had no way to vaccinate him before that.
"You think of these things and it's just…it's desperately sad.
"But because of the medical treatment the mother had been receiving, because of donations to Trócaire, I think the baby had a 99% chance of not contracting HIV, which is something to take from it."
The 30-year-old Belfast featherweight frequently stares into space as he recalls the journey, taken with Irish charity Trócaire in order to help raise awareness for its annual Christmas Appeal.
This year's campaign, entitled 'Until Love Conquers Fear', aims to raise well north of €1m to help support thousands of people in some of the world's most impoverished areas, including northern Kenya.
A father to Carla (7) and Rossa (3), Frampton is both conspicuously and audibly perturbed in his recital of the events to which he and Christine bore witness – most of which regard children in some shape or form.
He shifts in his chair, and there's a sincere sadness in his voice which he'll occasionally allow escape towards a cathartic exasperation at the sheer injustice facing those with whom he spent time.
In keeping with his Kenyan visit, however, there are also brief interludes where Frampton recalls fondly some of the work being done in the nation's poverty-stricken regions.
"To be honest, when we got up there, to me it looked like it was bleak," he says.
"I'm there thinking, 'gah, these people haven't got a chance', but the people on the ground were telling me things were improving: people were getting better up there, which is obviously through the help of Trócaire – and other charities too.
Another thing up at the centre was I noticed there was no men, only women and children. And I asked: 'where are all the men?' They had walked their cattle to Uganda, which is 200 kilometers away, to a watering hole – whatever you want to call it – so that they could keep the cattle alive and bring water back to their families.
"So this is the sort of stuff you have to do just to survive. You have to walk your cows 200 kilometers and leave your women and children behind, just for survival, you know?
"After that, we went to another place which kind of cheered us up a little bit. We went to see the kids in an 'exploited and street children centre', so a place that had taken in – I think it was 220 – kids off the street.
"Sometimes they're being pushed out – well, not pushed out, but their families are telling them to go because it's their last hope of survival: their mothers and fathers can't feed them at home, so they're sending them to the towns or cities for their last chance.
'Just go and get food for yourself' – that's how bad it is. So, it's not as if, you know, they're pushing the kids out to the city to work, or because it's bad parenting. They're pushing them out because it's their kids' last chance to survive.
"And this place", Frampton continues, "the centre, has taken them in, fed them, clothed them, and is educating them. That was nice to see after what we'd seen earlier in the day."
The Shore Road fighter also spent time in a boxing club in one of Kenya's most perilous areas, providing a masterclass of sorts for children raised on a wasteland within which crime, drug abuse, prostitution and domestic violence are rife.
Even such moments of relative respite weren't without their epiphanic pitfalls, however: this wasn't the type of boxing club to which Frampton might have grown accustomed as a child prodigy in his hometown, and the turnout for his arrival was decimated due to appalling circumstance.
"It was a tin hut on the edge of a slum in Mukuru – one of the biggest slums in the world, 900,000 people there.
"The coach – Eric was his name – rounded up 25 kids. That's all he could get because the rest were out working."
Frampton shakes his head.
Kids my daughter's age, seven years old, out working and can't even get time to get out to the gym for half an hour. There was 25 kids there from the ages of about six to maybe 14 or 15 – boys and girls. A bit of carpet on the floor was their ring, and they had two pairs of MMA gloves and a set of pads between them all. A rat ran past me and up the wall while I was there.
Be part
of the team
Access exclusive podcasts, interviews and analysis with a monthly or annual membership.
Become a Member
"They hadn't a clue who I was. Hadn't a clue. But that was nice, you know? When someone explained who I was or what I had done, they just kind of looked, a wee bit of shock on their faces. But to begin with they probably just thought I was some clown coming in," he laughs.
"Nah, it was nice: they were… They were… Aye, they were good kids.
"Maybe it [boxing] gives them a wee bit of optimism, you know? Just something. Another outlook on life, really – just something different to what they're used to."
Having so often credited his wife Christine for dragging him through the dark times which followed his career-first defeat to Leo Santa Cruz back in January, The Jackal expressed his relief that 'his rock' had accompanied him on his Trócaire journey, too.
With Carla and Rossa some 11,500 kilometers away, the Framptons were confronted by the noxious realities braved daily by their Kenyan equivalents and could at least split the psychological load through conversation.
The mind wandered home on occasion, naturally, and when they boarded their flight back from Nairobi, so too did their collective cognisance of the plight faced by parents and their children in some of the planet's most desolate living conditions.
"I suppose you relate to it a bit more because we are parents," says BT Sport's new face of boxing.
"Christine is a very strong person. It would take a lot to make her shed a tear. But she shed a few tears out there.
"It's like nothing… Like, I was warned about this going out, and people had told me – David O'Hare who traveled with us warned me that it was going to be like nothing I'd ever experienced before. And he was right.
"I think you need to see it to be able to comprehend how it is. You need to see it with your own eyes.
It was just shocking, really, to see, and you kind of try to think: 'why is this happening?' You know what I mean? Surely… Like, you think about the world powerhouses: the Americans, the UK, the big nations in the world. Why is it still going on?
"And when we got out there, the president was being inaugurated, or re-elected. They spent $3 million on his inauguration party and there's people starving in the north of the country. You'd imagine they should surely be prioritised, but this is just the way it is.
"It kind of changes your whole outlook on life, really," he adds.
"I remember when we came back and saw the kids when we got home. Obviously, they were delighted to see myself and Christine.
"That night, we sat in and watched a film together. And I remember I got a big bowl of chocolates – mixed chocolates like Maltesers and different things like that – and the wee boy and the wee girl were fighting with each other over the bowl. They didn't want to share.
"And I remember thinking, if they could just see what's going on elsewhere – but that's society, you know what I mean? That's not their fault. They're kids.
"But seeing that, you'd just appreciate what you have.
Like, everyone has problems. Everyone has their own little grievances and stuff. But most of them aren't real problems. Most of it is trivial when you think of what's going on in Kenya and other parts of the world.
Boxer Carl Frampton sees hope in the dangerous slums of Nairobi, #Kenya, where the love of boxing is bringing young people together. @RealCFrampton @XtineDorrian pic.twitter.com/DeZGirAF18

— Trócaire (@trocaire) December 5, 2017
Our conversation eventually deviates toward boxing, where over 25-or-so minutes an indisputably revived Frampton provides the latest on prospective opponents for 2018, including his suddenly renewed interest in a long-mooted showdown with Guillermo Rigondeaux – all of which will be published as part of a separate interview on The42 this coming Saturday morning.
As he prepares to head for the M1 once more, however, where the keys to his 'new gaff' await, Northern Ireland's first ever two-weight world champion – just the second ever from this island – stops in his tracks.
"Oh, just going back to Kenya for a second", he says, "I forgot to tell you about that first kid… There were these things called Plumpy'nuts.
"So, if you can imagine: you know the gels that the triathletes and all them would take for nutrition? It's like a kind of sludge, and you squirt it out? That's what it looks like. They're packaged like that.
"And the kid that I had first seen that I mentioned earlier, the toddler who had HIV, and whose mother had HIV also – again, she was about three, the same age as my own son… The doctor pulled out this Plumpy'nut stuff – it's high in calories and full of vitamins to try and make these malnourished kids gain weight.
And when the doctor pulled it out to show me, I've never seen anything like it: the toddler was crying for it, begging just for the bit of food. He gave it to her and she devoured it, every last bit. That will stay with me. Her reaching out just in hope – 'please give me that food' – that's an image I'll never forget.
"Ah, it was so sad," he adds. "Poor kid. And she was frightened of us when she first saw us. Petrified. Someone was saying it was probably the first time she'd seen a white person.
"She just clung on to her mother's leg, and her mother – HIV positive – just had no energy. She was breastfeeding the other kid.
"It's hard to say it but the mother looked like a zombie – not much emotion on her face. Just walked in, sat down. And the kid was frightened. She kind of came around and became our friend before we left.
"I went out there not expecting a lot", Frampton concludes as he heads for the door, "but it was worse than anything I could ever have imagined."