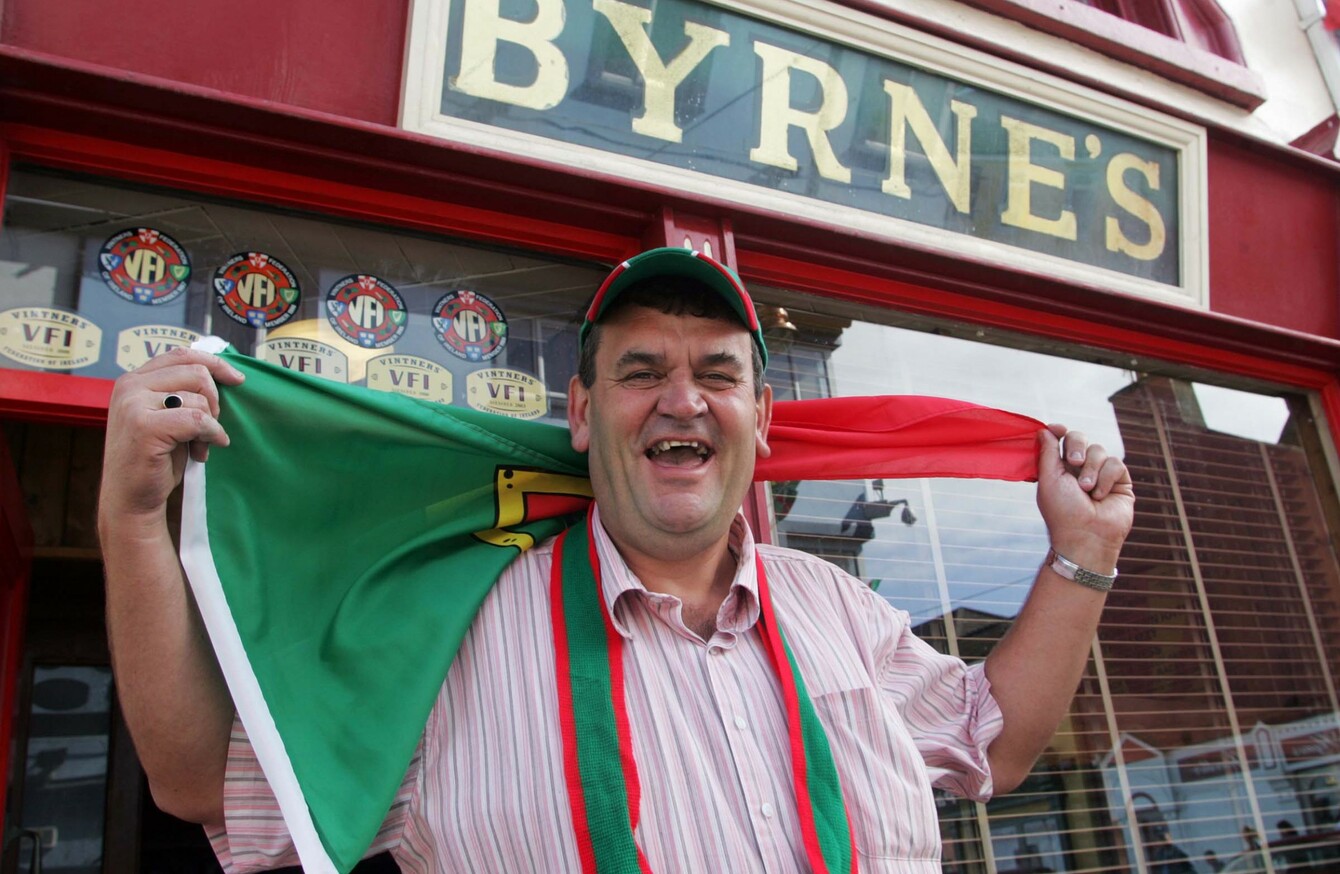 Mick Byrne in 2006.
Mick Byrne in 2006.
As part of our build-up towards this year's All-Ireland finals on St Patrick's Day, we take a closer look at the clubs involved. Here, we focus on Mayo and Connacht football champions Castlebar Mitchels.
EVERY GAA CLUB has characters in abundance but few can match the humour, dedication and love for football of Mick Byrne.
Byrne was the Mitchels' chairman for five years in the '90s and has been involved with the club for 50 of his 58 years.
His Byrne's Babes posse, a group of Mayo football fans who travelled across the country to support their side, became famous for their dedication to the Green and Red.
And that eventually forced open a five-minute fame window when 'The Mayo Anthem of '96′, by Tom Tom and Byrne's Babes, reached number five in the Irish charts 20 years ago.
Source: killianm2/YouTube
All-Ireland finals have been associated with sorrow for a long time in Mayo, with no inter-county title since 1951, despite appearing in seven finals since 1989.
Mitchels have had to deal with final heartache of their own, having lost to Dublin club St Vincent's in the decider just two years ago and Cork's Nemo Rangers 20 years before that.
Castlebar publican Byrne lives and breathes Mayo and Mitchels football. And as the owner of Mick Byrne's bar on the town's Main Street, he is right in the thick of the chat, and that's exactly where he wants to be.
"It'd be a big GAA pub," Byrne told The42.
"GAA would be my love; Castlebar Mitchels and Mayo, they're the two teams that I like. After that I couldn't care less.
"I know all the players personally and I've seen all the great teams of the sixties and seventies.
"I followed all the Mitchels teams throughout the years comprehensively and in depth.
"No more than Mayo football, there wouldn't be a lot that I haven't seen in the last 50 years. I've seen bad times, I've seen great times. Hopefully Paddy's Day will be another one of those great days."
Byrne became the club chairman after their gut-wrenching defeat to Nemo in 1994. And he admitted that it took quite a while for Mitchels to recover.
"It was a club in transition at the time because a lot of the senior players who played in 1994 had retired. It was a little bit hard to keep the standard high after the defeat in 1994."
It couldn't be more different this time around, he says. It was just two years ago that an inspired Diarmuid Connolly of St Vincent's tore them to shreds at GAA HQ in a 4-12 to 2-11 defeat.
Source: TG4/YouTube
But Mitchels have responded in style and now have an All-Ireland final against Dublin's Ballyboden St Enda's to look forward to on the day of Ireland's patron saint.
"The club is going from strength to strength. We're very happy with where we are at the moment.
"To think we're contesting another All-Ireland final at the moment, two years after we lost our last one, is a great achievement.
"Only three teams have done this before; Nemo Rangers, Crossmaglen Rangers (Armagh) and Clan na nGael (Roscommon). To be in that bracket of top teams is a great achievement for Castlebar."
That strength of character shown by this Mitchels side gives Byrne reason to believe that this time could be different, but after the number of disappointments he has had at GAA HQ, he knows better than to be anything more than quietly confident.
"We're hopeful; when you come from Mayo, like I do you, you have to be very apprehensive when you get to Croke Park because I've seen many, many good teams defeated down through the years.
We've gone to Dublin many a time only to come back with our tails between our legs.
"We're going with a lot of hope, we're certainly not going to be over-confident but we'd be hopeful that we can get a first All-Ireland win."
They have done it the hard way up to now, and that will stand to Mitchels on Thursday, Byrne hopes.
"The draw wasn't kind to us, after the county final we had to play the Roscommon champions and the Galway champions.
"We beat Breaffy, with the O'Shea brothers, in the county final, the famed Clan na nGael in the semi-final and then the best performance of the lot was probably beating the All-Ireland champions Corofin above in Tuam in the Connnacht final.
"The whole town was waiting over Christmas and winter to face Crossmaglen in the semi-final.
"We were lucky enough to beat them but I thought our performance in the second half was absolutely top class. To beat a club like Crossmaglen, a club that have won six All-Ireland titles, was a great achievement."
Local
The Mitchels footballers are the pride of the town and the fact that they are very much a local operation is something that's not lost on the residents of Castlebar.
"The beauty about Castlebar Mitchels at the moment is that every one of the 29 players that are on the panel has graduated out of local schools in Castlebar. Every one of the management and the backroom team are all Castlebar men.
"And this is what makes it very unique. And that's very special, and the support that we've seen from the people of Castlebar and the people of Mayo has been phenomenal."
The Byrne's Babes
The Byrne's Babes were known for travelling to support Mayo across Ireland in a Volkswagen Beetle they had painted green and red. And that enthusiasm still burns brightly at club and county level for the charming publican.
"We were a Motley Crue of men, there were four of us involved in the car," Byrne explained.
"Since 1981 I have been following Mayo matches with The Byrne's Babes. And there'd be a bus-load of 50 of us that would go to all the Mayo matches the width and breadth of the country.
Jack O'Shea's first league match in charge of Mayo was against Kilkenny in November 1993 and we beat them 4-23 to three or four points.
"And I remember going into a pub in Kilkenny and someone said they'd never seen a bunch of football supporters the like of it in their lives.
"We've gone from Wexford to Kilkenny to Belfast to Donegal to Kerry. There isn't a county in the country that we haven't followed Mayo to.
"It's been a privilege to follow Mayo for so long. We follow the Mitchels with the same intensity and delight."
Craic
There is possibly no other county in the country where an All-Ireland final is approached with such trepidation as Mayo. It's all hush, hush at the moment.
The St Patrick's Day parade in Castlebar has been pushed back to next weekend as they dare to dream.
"There is a great sense of anticipation in Mayo at the moment," Byrne said.
"The fact that Ardnaree and Hollymount-Carramore kept us going through as well with their runs to the All-Ireland junior and intermediate finals. To have three Mayo teams in All-Ireland finals in the one year at club level is certainly a great incentive for Mayo football.
The buzz, the atmosphere is very low-key at the moment.
"But we'll have the craic when it's all over. We don't want to be coming back from Dublin with our tails between our legs again.
"Hopefully, all going well, we'll have Andy Merrigan Cup leading the St Patrick's Day celebrations."
The42 is on Snapchat! Tap the button below on your phone to add!