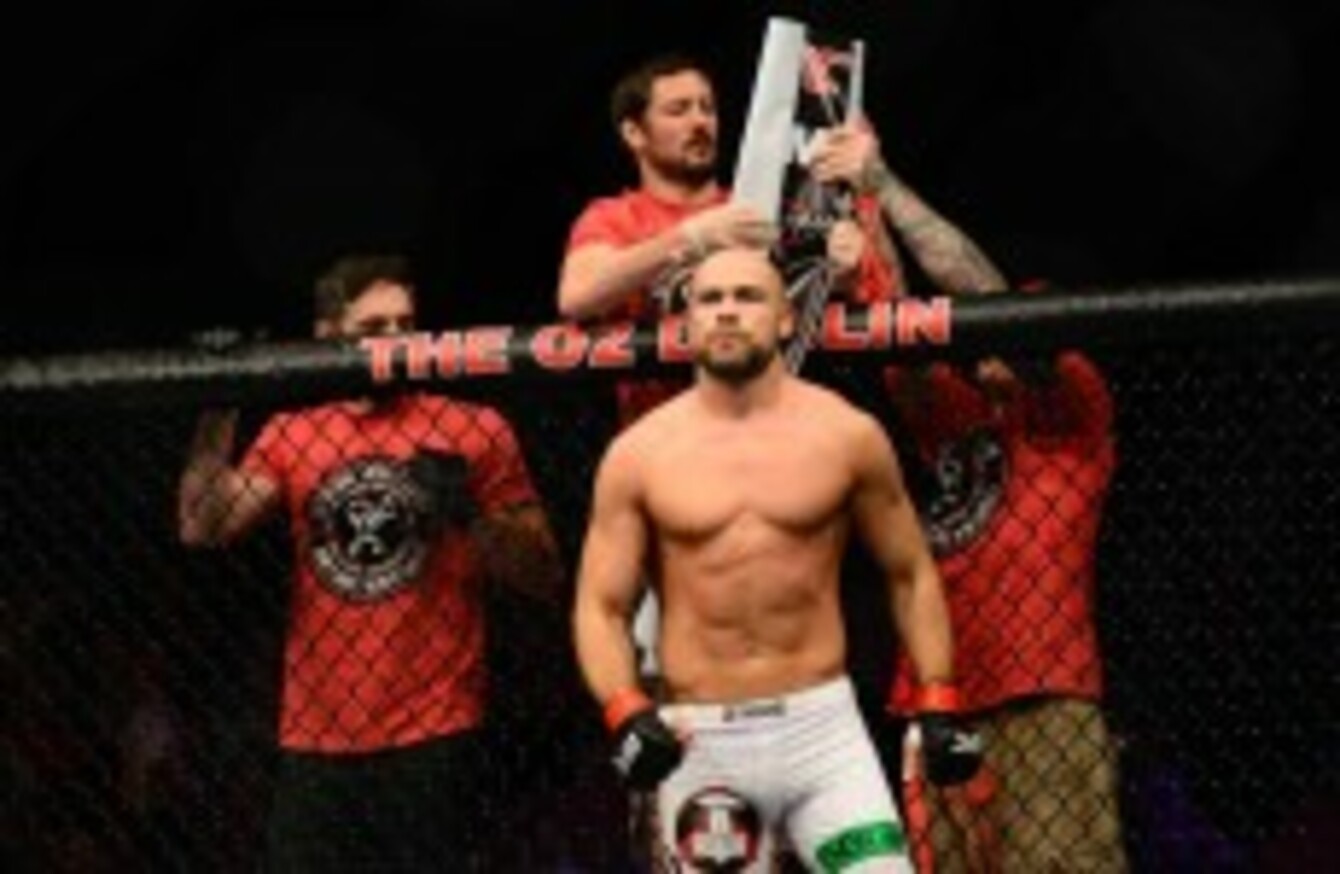 Pendred before his fight on Saturday.
Image: Rodrigo Romos/INPHO
Pendred before his fight on Saturday.
Image: Rodrigo Romos/INPHO
IRISH MIXED MARTIAL arts (MMA) fighter Cathal Pendred was forced to defend the sport after Ray D'Arcy called it "violent and disturbing".
The 26-year-old made an incredible comeback to claim victory against Mike King on his UFC debut at Dublin's O2 Arena on Saturday night and was invited on to Today FM for an interview this morning.
Instead of celebrating his win, however, D'Arcy was critical of MMA and revealed that he found it difficult to watch Conor McGregor's headline fight.
"How do you feel about people paying money and rich people sponsoring the sport to watch you and another man fight?" asked D'Arcy.
"You've not had injuries but you're wearing dark glasses, you've a big black eye, your nose looks like you've fallen off a bike at speed."
Pendred responded: "How do I feel about 22 guys running after a ball on a pitch? It's the same sort of thing. It's a sport. People pay and go to see a sport.
"With skiing and snowboarding, did you know that there are 40 deaths annually. Now I know that, in the hypothetical sense as it obviously will never happen, if the Winter Olympics were ever to be held here there would not be one negative thing spoken in the media about skiing or snowboarding because 40 people die annually.
In the 20-year history of the UFC, not one person has died. Not only has no one ever died in the UFC, not one person has been ever seriously hurt. The most serious injury that has ever occurred in the UFC is a leg break and that has only ever happened two or three times.
"You watch rugby every weekend and you will see a game where someone breaks a leg and unfortunately as well sometimes there are spinal injuries and neck injuries where people are paralysed. That has never happened in the history of the UFC.
"I've had no serious injuries through my MMA career," the former Leinster Schools Senior Cup winner added. "I played rugby all through my teenage years and I had more serious injuries playing rugby than I have had competing in MMA.
"I know there is a big of stigma about MMA. It is a relatively new sport and people are just getting to understand what the sport is. Some of the misconceptions are that it is a brutal and dangerous sport but it's actually not as bad as people realise.
"The number one thing you're told before a fight and the aim of the game is to keep yourself safe at all times. As soon as you don't keep yourself safe, the referee will stop the fight and that's what he tells every fighter before the fight."
Pendred, who earned a $50,000 bonus for Fight of the Night over the weekend, admitted that the win has changed his life.
"I made more money on Saturday night than I have in my whole life put together," he said. "It was the fruition of six or seven years hard work. It got to the biggest stage in the sport and came out with a big victory and a bonus as well.
I've been struggling for a long time to get to here. You don't make any money in this game outside the UFC. Making this has changed my life. I owed two months rent coming up to this fight and my landlord was chasing me for that.
"I owed nearly €2,000 to Airtricity. They kept calling me everyday telling me they were going to cut me off. Everyday I was driving home wondering if I was going to be able to turn my lights on.
"But I believed I was going to get to this point. I knew I would get to the top and I would be successful."
After the interview, he tweeted:
Listen to the full interview on the Today FM website here