CATHAL SHERIDAN HAS been having cravings lately for a game of five-a-side football. It'll be some time yet before he's able to satisfy them.
In the meantime he'd settle for a jog. But that too is currently beyond him. He tried to run on Christmas day and had to slow down to a walk after 50 metres — much to his dog's disappointment. Sixteen months since his last game of rugby, Sheridan is still dealing with the consequences of the injury which has ended his career.
A month before his 28th birthday, Sheridan found himself beginning another journey on the road to recovery, a route he was already familiar with. However, it soon became clear to the Munster scrum-half that there were too many obstacles in his way this time.
Cathal Sheridan has retired from professional rugby. He was a popular player among supporters of Munster, with whom he spent the best part of a decade following a switch from Connacht. He started in the Heineken Cup and featured in a Guinness Pro12 final. Nevertheless, with little fanfare, the Sligo native fell off the grid of his own accord.
"I remember my girlfriend asking me about that: am I going to tell people that I'm retiring? I suppose it never crossed my mind," Sheridan says.
"Maybe I just never felt that I was a public enough figure to write a statement on my iPhone, screenshot it and put it up on Twitter. All the people around me would know, for the most part. I just didn't feel there was any need to say anything publicly."
Spend time in Cathal Sheridan's company and you're likely to be enriched with an understanding of the importance of seeing the bigger picture in life — as well as a selection of decent quotes attributed to some of the most highly-regarded figures in basketball.
His jovial disposition isn't what you might expect from a professional sportsperson lamenting a career cut short. That's perhaps indicative of how well he's adjusting to life without rugby. It certainly hasn't been easy, Sheridan admits, but having one of his passions stifled has allowed him to make progress with another.
After making 35 appearances for Munster since his debut in February 2013, he was released at the end of the 2015-16 season. For many fans of the province, the news was somewhat surprising. Although he was unlikely to dislodge a player of Conor Murray's calibre, the general consensus was that Cathal Sheridan was a more than reliable deputy.
"I probably knew it was coming, being honest," Sheridan admits. "You get a good indication from your relationships with coaches. At the time, Duncan [Williams] and Tomás [O'Leary] both had years left on their contracts. My contract was up. Realistically they were only going to keep three scrum-halves, Conor Murray included.
"I think I was told at the end of February that my contract wasn't being renewed. At that point I'd been in the system with Munster for eight years. I made a decision then with the few months left on my contract: I could be bitter, start rocking up to training late and stuff like that. But who would I really be letting down there aside from myself?
"I just reminded myself that I love playing rugby, I love Munster, I love being here, so I'm going to give it everything I can for the next few months. I'm going to train the house down and do as many extras as I can until the very end of my contract. I did everything I could for those last few months and I actually enjoyed it so much.
"I wanted to put a question mark in their heads at the end of the season about whether or not they should have let me go. It's a professional organisation and they made a business decision, but that didn't mean I couldn't work my ass off to make them question that decision."
A month into the following season, Sheridan was back. Having just taken the reins at Munster, Rassie Erasmus offered him a short-term contract. Yet less than a week after his return, his prospects of impressing the new boss ended at Crowley Park in Galway.
While Munster were at the Aviva Stadium to take on Leinster, Sheridan was on club duty with UL Bohemians. In the second half of the Limerick side's 27-23 win over Galwegians in Division 1B of the All-Ireland League on 8 October, 2016, he sustained the injury he's still trying to recover from now.
"Character is so important with Munster," says Sheridan. "When Rassie spoke to me about coming back in, I think it was probably a reflection on my own character rather than anything physical that I might bring to the table. That was my feeling anyway.
"There's a great quote from John Wooden [former UCLA coach], who's someone I refer to quite a lot: 'Be more concerned with your character than your reputation, because your character is what you really are, while your reputation is merely what others think you are.'
"That doesn't mean you don't mistakes, because I know I've made plenty. But if you can look yourself in the mirror and know that you gave something your all, that's your character. I looked at it that way.
"When the injury happened, I've broken enough bones by now to know what the story was. I remember sitting on the pitch, looking down at my foot and it was facing the wrong way."
Munster supporters cursed his luck on his behalf, but Sheridan never adopted a 'why me?' outlook when it came to the frequency of his injury setbacks: "Honestly, on the pitch I think I actually laughed for a second."
Sheridan was forced to contend with several different injuries during his time with Munster. Until sixteen months ago, the most problematic stemmed from the forearm he broke on two separate occasions, both of which caused lengthy absences from the squad.
Four days after the game against Galwegians, Sheridan underwent surgery in Santry. Afterwards he discovered that it wasn't a simple fracture to his ankle. As well as breaking his fibula, he ruptured all the primary ligaments in the vicinity of the bone. Plates, wires and pins were inserted to repair the damage.
"Initially I was thinking I'd be back in about 12 weeks," he says. "The contract with Munster would have finished by then but I was thinking I'd hopefully renegotiate something and get back in with a view to getting a longer-term deal. I  just didn't realise the extent of it.
"It was only after the surgery that I found out how much damage there was. I'd say I was about two months or so down the line after that when I started to notice that the movement wasn't really coming back. A lot of the healing was done but the movement wasn't there.
"It just turned out to be a very significant injury — a tough one to come back from. I had to ask myself then how realistic a possibility it was to get back and play professional rugby again, and also what the potential risks and rewards would be if I did."
Having studied for a masters degree in sports psychology at the University of Limerick, Sheridan was working on his thesis when his latest injury struck. Little did he know when he chose his subject matter that he'd soon have personal experience to draw upon.
"I had decided to do it on the involuntarily transitions of rugby players in Ireland who move out of the game," he explains. "In essence I was kind of studying myself. General research suggests that it takes about a two-year period before you find out what you want to do next.
"One of the big things for sportspeople is being able to answer that question when someone asks you: what are you doing with yourself? For so long you've been able to identify with 'I'm a rugby player' or whatever it might be.
"It's like when you meet someone for the first time, you can say 'I'm a journalist' and it's a straightforward interaction. Not having a label, sometimes it's a challenge. But because I knew it was a challenge, I didn't mind it as much. I'm finding my feet with things I'm passionate about, which I'm very glad I've taken the time to do."
Sheridan's qualifications have helped to lay the foundations for what he now does for a living. In addition to coaching at Castletroy College and with UL Bohs, as well as seeing private clients, he serves as mental skills coach for the young players in the Munster academy.
"Everything I do now, for the most part, I really enjoy," he says. "I'm not doing it just to pay a bill at the end of the month. I'm doing it because I really enjoy it. I'm fortunate that the work I'm doing doesn't feel like work a lot of the time. I'm very thankful for that.
"A lot of it is about the players and what they're looking for. The way I see it is I'm just a resource for them. I'm not going to give them a timetable of what I want to do and force my opinions on someone else. That's not my take on how it should be done.
"The guys who are interested and feel it would be beneficial to them, I make myself available to them. The nuts and bolts of it is in one-on-one meetings where you really get to know a fella. There's no secret recipe to it. A lot of it is common sense but I suppose it's about finding a practical application for it.
"My focus would be on well-being. I'd be geared towards looking after the person first and then performance will come after that. An academy can be a tough place to be if things aren't going well for you. If I can be someone a fella can lean on, great. A lot of guys won't need it or want it, but the ones who do, hopefully I can help them somehow."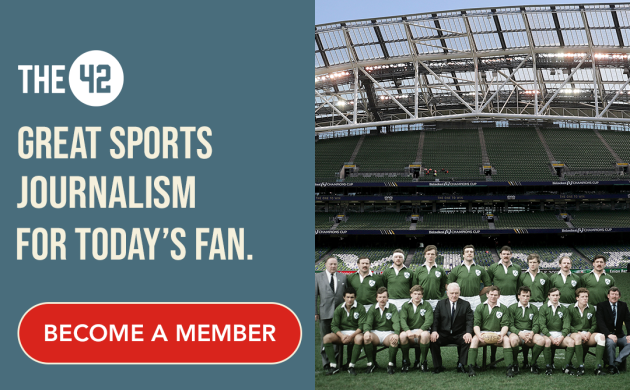 He adds: "I was thrilled that this role came up. It probably helped that when Munster initially didn't renew my contract, I was already starting to think that it might be time to make the transition out of the game. Ultimately the decision was taken out of my hands with the injury. Maybe that wasn't the worst thing.
"If I had been offered a contract with a big French club it might have been different, but that wasn't the reality for me at the time. The reality was that I was going on 28, I had a long history of injuries and I wasn't being selected. That's how I looked at it.
"I'm still probably growing into this role. But there's a buzz out of it. It's something I place value on. I placed value on the people who supported me when I was playing. The relationships you make in sport are very important to me, and I think they stand to you when you go through the good and bad times in life."
His passion for his current line of work appears to have made the transition out of professional rugby smoother than it might otherwise have been for Cathal Sheridan. In his role as an ambassador for 'Tackle Your Feelings', IRUPA's mental well-being campaign, he has spoken eloquently in the past to this website about the mental hurdles he encountered during his recovery from his second arm injury in 2014.
Sheridan admits that while his work now involves assisting others, the masters degree in sports psychology he attained in the meantime hasn't anaesthetised him against his own potential challenges. He's just as susceptible as the rest of us in that regard.
Having said that, progress with his ankle would certainly help. Shortly before Christmas, he went to London and was operated on by the same surgeon who put Real Madrid footballer Gareth Bale under the knife in 2016.
"I haven't been able to run for over 15 months now," Sheridan says. "It's been a long road. I've had five surgeries in that time. Hopefully I'm getting there now. The goal at the moment is just to be able to run. To get back and have something like that would be great. We'll see how the next while goes.
"Like a lot of players who leave the game, the one thing you do miss is competing. The primary work I can do at the moment in terms of exercise is mainly weights, and a little bit of flexibility and mobility. That's all well and good, but I don't think there's anything like getting out and being active in the fresh air; going for a run or whatever it might be. The difference that makes is phenomenal.
"In a weird way it's kind of nice to have that as a target. I'm looking forward to that. Like that short jog on Christmas day; it might not have been much, but it's just about the little victories and knowing that there's a goal in mind. If I can't do that I'll have to take up darts," he laughs. "I love sport pretty much across the board. I'll find something."
It's still too soon for Sheridan to have gone through the process of reflecting on his career, but there's no doubting that one highlight stands out above the rest. Stade Aime Giral, December 2013. With Cathal Sheridan starting in the number nine shirt, Munster overcame Perpignan in the Heineken Cup thanks to JJ Hanrahan's last-gasp try.
"I often find in these situations that athletes try to be cool and say 'yeah, that wasn't bad'. It was class," he insists. "Absolutely class. I played a European game for Munster in the south of France and we won with a try in the last minute. That's the kind of thing I dreamed of as a kid. There's no point in saying otherwise. Of course it was the highlight.
"I think my dad got the last ticket on one of the supporters' planes so he got to be there. That was very special. It's obviously all about the process and how you get to those moments, but it was great. My dad drove me left, right and centre to every game when I was a young fella. To have that kind of moment then years down the road was something special."
Instead of wondering what might have been, Cathal Sheridan now prefers to focus on what was. There may have been more memorable days ahead, but he's grateful for the ones he had. His ability to see the bigger picture is serving him well.
"The 'what might have been' route is a dangerous old rabbit hole for everyone," he says. "There's a whole load of maybes down there which won't do you any good.
"The game finishes for everyone at some point. Am I a better person now because of the things I had to face and adapt to? I'd like to think so. Am I a better rugby player? Obviously not. But I do feel like I am a better person. If I start to think of what might have been, that's basically what it comes down to.
"If I hadn't been injured so often and if I was playing all the time, maybe I wouldn't have focused so much on the mental side of the game or maybe I wouldn't have done any further studies. Then if a career-ending injury happened I'd be in a much more difficult position and I'd be wondering what the hell to do next.
"It's not the old cliché of 'everything happens for a reason', but you make the best of what does happen. Like Larry Bird [former Boston Celtics player and Indiana Pacers coach] said, if you give 100% all of the time, somehow things will work out in the end."