9. Juventus
THE ITALIAN SIDE got their Champions League campaign off to a positive start with a 2-0 victory over Malmo. With players of the calibre of Paul Pogba, Arturo Vidal and two-goal hero Carlos Tevez in their side, they can't be ruled out of contention for this year's Champions League
8. Manchester City
Manuel Pellegrini's side came agonisingly close to gaining a valuable point away to Bayern Munich, and the considerable talent they have at their disposal means they should trouble most teams this year.
7. Atletico Madrid
The La Liga champions remain a force to be reckoned with, as their victory over Real Madrid last weekend illustrated. Diego Simeone's side were moments away from winning the competition last year, but the loss of key players and a debilitating defeat to Olympiakos in week 1 has seen their stock fall.
6. Borussia Dortmund
Despite losing several top players in recent seasons including Mario Gotze and Robert Lewandlowski, Dortmund still somehow continue to punch above their weight, with an impressive 2-0 defeat of Arsenal on Tuesday, outlining their Champions League credentials in the process.
5. Paris St Germain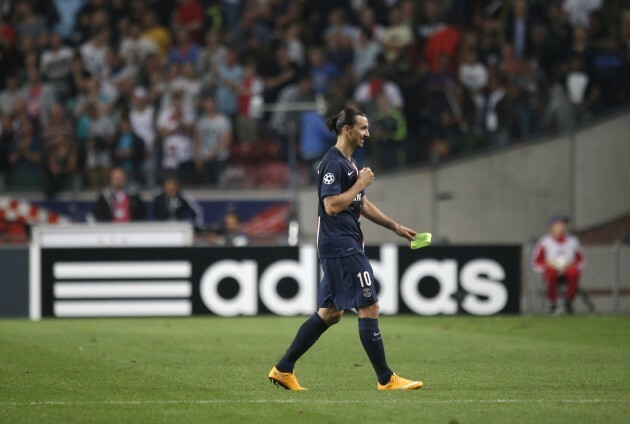 Peter Dejong Peter Dejong
(PSG's Zlatan Ibrahimovic had to be content with a draw against his former club)
The money that's been ploughed into PSG appears to be paying dividends, with the club reaching the quarters (and very nearly the semis) last year. The French champions remain an outside bet for the trophy, but their 1-1 draw with Ajax on Wednesday will do little to dissuade the doubters.
4. Chelsea
Jose Mourinho's men failed to get their Champions League campaign off to a good start with a 1-1 draw at home to Schalke. However, they were without their first-choice striker Diego Costa among others, and they undoubtedly possess a squad capable of winning the competition provided their best players remain fit.
3. Barcelona
The Catalan side have been at far from their vintage best both domestically and in Europe in recent seasons, and that was certainly the case as they secured an unconvincing victory over APOEL Nicosia last night. Nevertheless, any side with stars such as Neymar, Luis Suarez and Lionel Messi have to be considered serious contenders in any competition.
2. Bayern Munich
Another team who looked a little underwhelming in their opening match. Nevertheless, Bayern's credentials are impeccable, even if they failed to take full flight against City. They have a fine record in the competition in recent seasons, and the fact that several of their players won the World Cup during the summer will only boost their confidence ahead of this campaign.
1. Real Madrid
Although their league form has been poor by their standards, Madrid appeared to finally click as they beat Basel 5-1 last night. No team has ever won back-to-back Champions Leagues before, but then, it's also difficult to ever recall a side with the formidable individual talent of Madrid.
Near misses: Monaco, Liverpool, Roma, Arsenal.
Do you agree with out choices? Let us know in the comments section below.