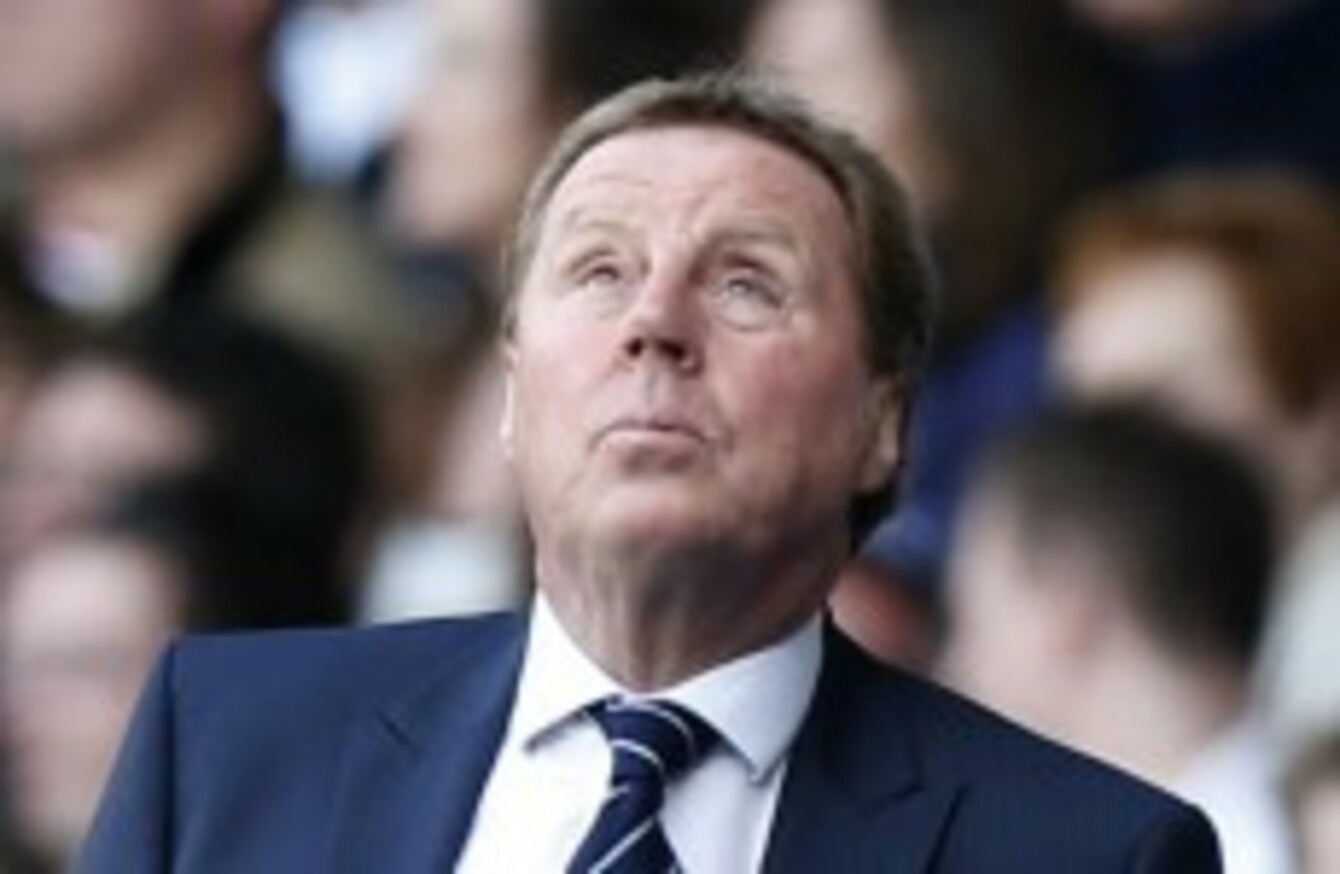 Harry Redknapp: "I'll keep going."
Image: Matt Dunham/AP/Press Association Images
Harry Redknapp: "I'll keep going."
Image: Matt Dunham/AP/Press Association Images
FORMER TOTTENHAM MANAGER Harry Redknapp believes he would have been sacked even if Spurs had qualified for next season's Champions League.
Redknapp's four-year spell at White Hart Lane, during which he took the club into Europe's premier club competition for the first time, came to an abrupt end early Thursday morning following a meeting with chairman Daniel Levy.
Spurs finished fourth in the English Premier League, but because Chelsea won the Champions League Redknapp's side lost out on qualifying for next year's competition. The 65-year-old, who still had a year left on his contract, said he doesn't believe that setback sealed his fate.
"We missed out on third place by one point in the end, but that is how it goes," Redknapp told reporters in an interview broadcast on the BBC. "I think the same outcome would have happened, the chairman would have gone down the same road.
"I had four great years at Spurs. All you can do is leave the club in a better state than you found it and I did that, for sure. I abide by their decision and don't hold grudges. That is life, we all move on."
Redknapp, who has also coached West Ham, Portsmouth and Southampton during his storied career, is adamant Spurs will not be his last job in football. He could now be set for a move overseas, with a long-standing offer of a coaching role in Dubai said to be on the table.
"I don't think I am coming towards the end of my career — Sir Alex Ferguson is in his seventies and he is not coming to the end of his, he is still the best manager in the world," Redknapp said.
"I am still fit as a fiddle. I feel great. I don't feel any different. I love football. That is what keeps me going really."
Redknapp's "only disappointment" is leaving behind a group of players he believes could have gone on to achieve great things.
"I leave behind some fantastic players. The only disappointment I have is that I think it was a team which could have gone on and eventually won the Premier League in the next year or two. I just wish I could have been able to see that through and be part of that because they have some fantastic players there."
Everton manager David Moyes has emerged as the odds-on favourite to replace Redknapp, who transformed the fortunes of the north London club after taking charge in October 2008 when Spurs were bottom of the league table. Levy had not taken the decision lightly.
"This is not a decision the board and I have taken lightly," Levy said in a statement. "Harry arrived at the club at a time when his experience and approach was exactly what was needed.
"This decision in no way detracts from the excellent work Harry has done during his time with the club and I should like to thank him for his achievements and contribution."
Redknapp indicated recently, however, that he would be uncomfortable heading into the new campaign without a longer deal. It has been claimed, however, that Levy was only willing to offer Redknapp a rolling 12-month contract whereas he is thought to have wanted a longer deal that would have made the London club his last job in management.
Redknapp said: "It was nothing to do with contracts or me asking for anything at all. I had a year left and that was fine. It was just a case that the club decided they wanted a change and that is their decision because they own the club."