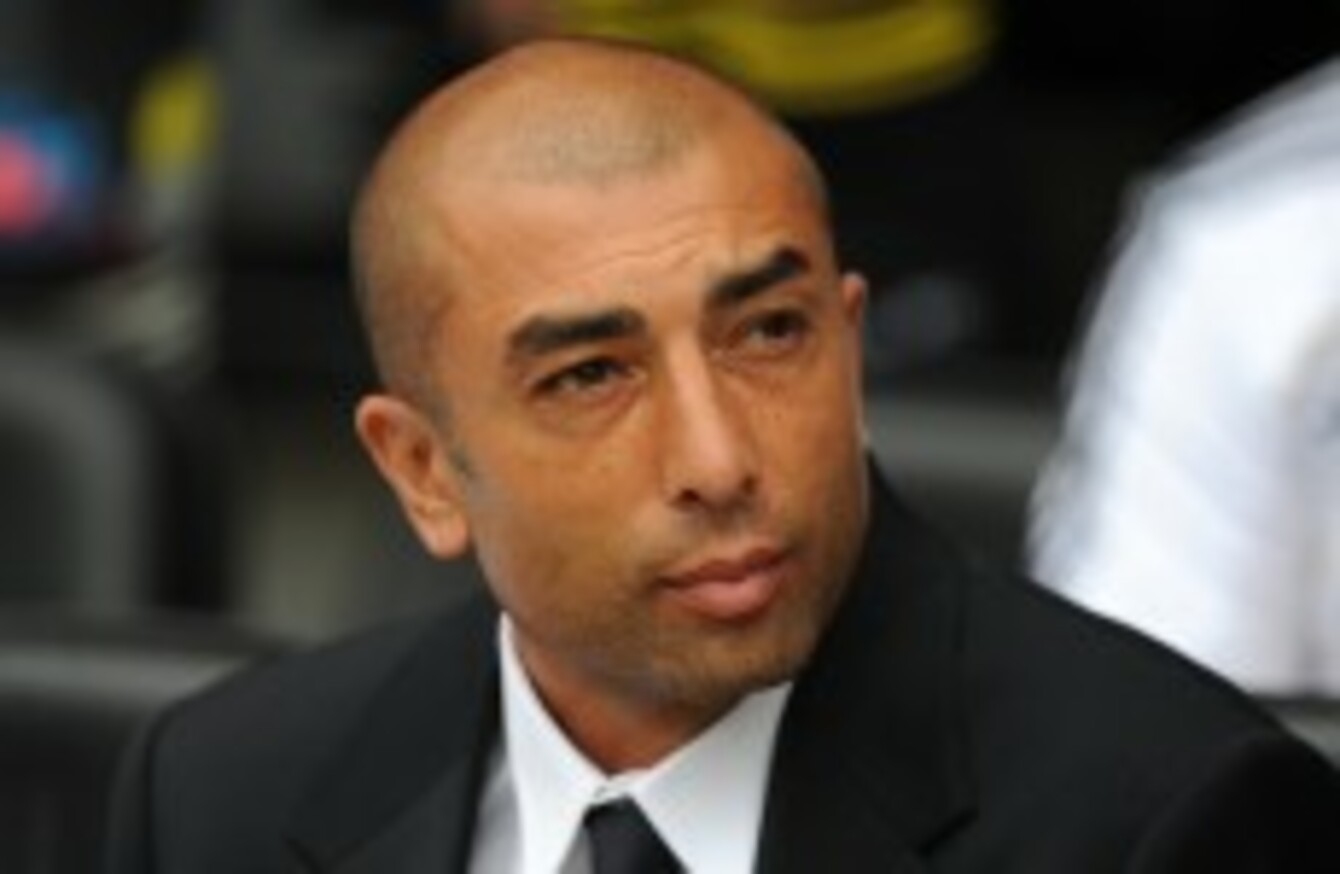 Di Matteo.
Image: Nigel French/EMPICS Sport
Di Matteo.
Image: Nigel French/EMPICS Sport
CHELSEA MANAGER ROBERTO Di Matteo believes the passionate atmosphere of the London derby against Tottenham on Saturday is the ideal stage for his players to focus on football in the wake of recent off-field scandals involving captain John Terry and Ashley Cole.
Terry will attend the match at White Hart Lane as a spectator as he serves the first match of his four-game ban after being found guilty of racist language toward QPR's Anton Ferdinand last season.
But it is the first time the Chelsea players face Tottenham boss Andre Villas-Boas since the former Stamford Bridge manager was sacked in March after a tormented nine-month reign.
Di Matteo worked under Villas-Boas at Stamford Bridge before replacing the 35-year-old former Porto manager as caretaker when he was sacked.
The European champions can expect a hostile reception in North London as the teams meet for the first time since Chelsea's FA Cup semi-final victory last season, while their Champions League triumph denied their opponents a place in this year's tournament.
A win would move fifth-placed Tottenham within two points of Chelsea and Villas-Boas said: "In the end there is one thing which has been to a certain extent blown out of proportion – this is certainly not a personal matter.
"But it is the team who took this club out of the Champions League, this is the team who prevented this team from playing in the FA Cup final last year.
In touch
Di Matteo revealed that he has stayed in touch with Villas-Boas during the past nine months, but insists that on the touchline they will be anything but friends.
"We have worked together and (Saturday) we will be competitors and opponents for the first time, but during the game there will not be any good feeling between us," said the Italian.
"But after the game there will be. We are in touch from time to time. Our relationship is good."
Di Matteo, refused to blame Villas-Boas for the early-season struggles last year which saw striker Fernando Torres, in particular, lose confidence.
"We had a difficult season last season," said Di Matteo. "Everyone was responsible for that, from the management to the players. That is part of the past. We have to look for the future."
Di Matteo welcomes back full-back Ryan Bertrand and midfielder Frank Lampard from injury after they both completed two full training sessions and the former West Brom boss reported no problems with players returning from the international break.
He also believes his players have demonstrated focus and character in dealing with the distractions surrounding Terry and the £90,000 fine imposed on Ashley Cole for his offensive tweet against the FA.
Di Matteo said: "The results tell us we have been able to focus on the football and not on the events outside the football and the team in general has been supportive. Tomorrow (Saturday), we will be focused. No Chelsea players have come personally to me (to say anything different)."