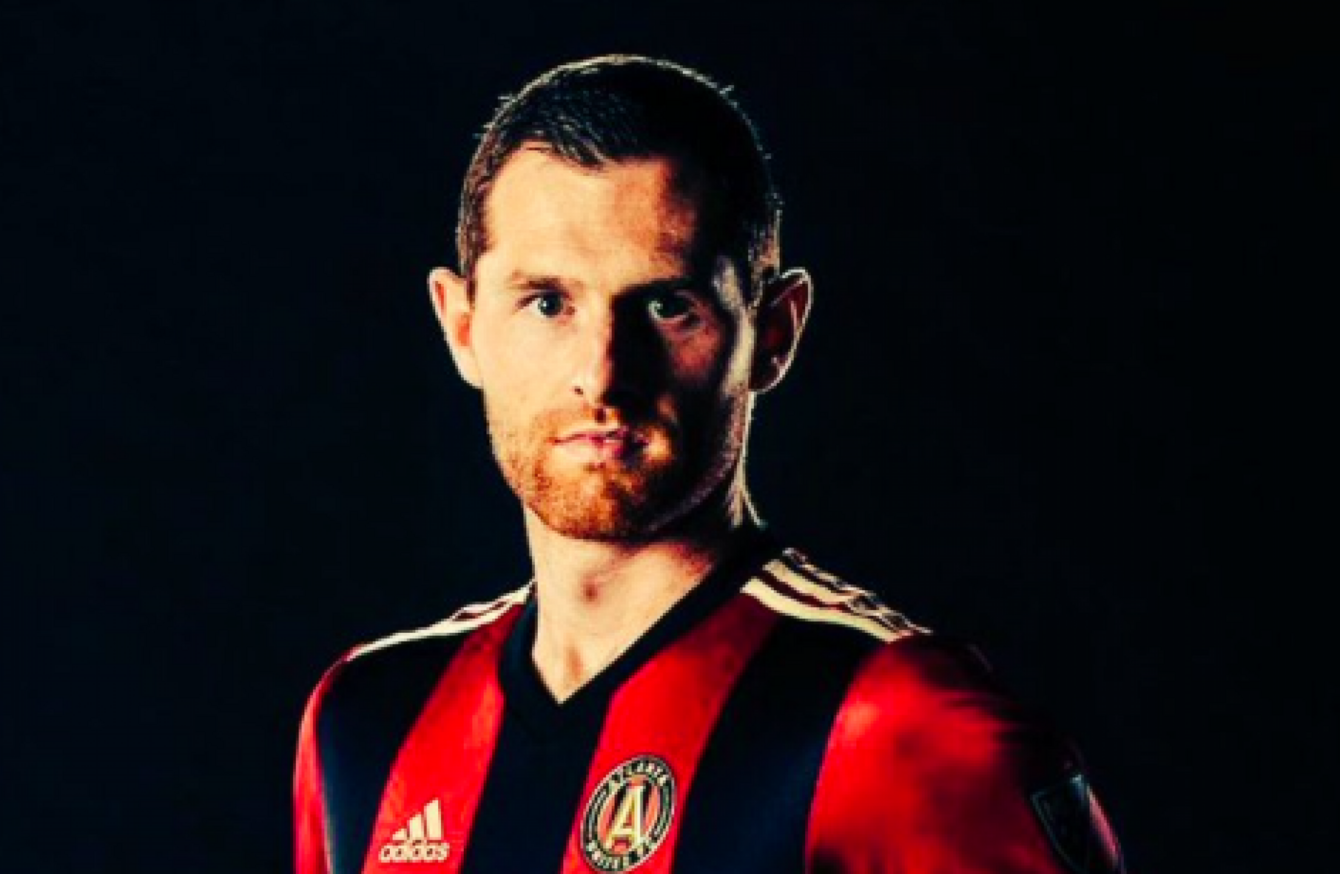 CHRIS MCCANN HAS about an hour to chat. It's mid-afternoon but he's got training at 4.30 local time.
"It's not something I've experienced before", admits the 29-year-old Dubliner.
"I think it's just about trying to maximise recovery and making sure you're in top condition to go out and play. Generally after a game we might have recovery, then a day off and then we're not back in until 4.30 on a Monday. It's just all down to the science these days".
But it's just the way Tata Martino likes it.
The former Barcelona and Argentina national team boss is currently in charge of Major League Soccer side Atlanta United. It's the club's debut campaign but with two wins from their opening three games, there's been quite the statement of intent.
So, the 4.30 training sessions seem to be working.
McCann has handled the transition well. Atlanta is only the fourth club he's ever played professional football for. With well over 300 league appearances in England spread over 11 seasons, that's saying something. He came through the Home Farm academy before a nine-year spell at Burnley, with whom he achieved promotion to the Premier League in 2009. There was another stint at Wigan between 2013 and 2016 before he officially announced his move to Atlanta last summer (a five-month loan deal with Coventry ensured he kept his fitness up ahead of the MLS capping getting underway earlier this month).
He had wrestled with whether to make the jump to the US or not. He had just picked up some rare silverware – the League One title – and enjoyed an injury-free campaign. He was playing well and a contract extension was on the table. But, he couldn't quite shake MLS from his mind.
"Last year was probably the best time I've had playing football in a long, long time", McCann says.
"Under Gary Caldwell, winning the league was outstanding. It was probably the best year of football I've had. But I was on holidays in America at the end of the season and Atlanta asked me to stop by and have a look. They brought me around the training ground and showed me the plans they had. They took me to the new stadium which is outrageous. It'll be like playing in front of 75,000 every week. And it looks immense. They allowed me some time to walk around the city with the wife and there was a great feel to it. But, initially, I went back home and had my doubts. It's such a big move and to drag a family all that way across the world…I didn't know if the missus wanted to do it, especially having a young boy as well. So it was all up in the air a bit. Wigan offered me a new contract and I was stuck between a rock and hard place, basically. I had to sit down and think long and hard about it.
But I had always wanted to play in a different league and MLS is growing – there's no doubt about that. There's some top players coming through and it's finally getting the proper recognition. So thinking about all that, I decided to have a go at it. And so far it's proven to be the right decision. I'm really enjoying my time here. I'm in a strong setup with a strong squad and a great manager".
Atlanta is an intriguing football market and has spent quite a few years trying to get a franchise up and running. United's owner Arthur Blank is also in charge of the Atlanta Falcons and one key element in the MLS proposal was the building of a new NFL stadium in the city – with a capacity of up to 83,000 – which could also host United home games, internationals and, potentially, World Cup fixtures too.
The Mercedes-Benz Stadium officially opens this summer and is a major coup for a club that has already had two sell-out home fixtures so far this season.
The other coup was securing the services of Martino, who quit as Argentina manager last June after his two-year spell in charge yielded both World Cup and Copa America final heartbreak. Within days, he had been announced as Atlanta's new coach – a move that certainly raised some eyebrows.
From Messi to McCann, then. But no pressure.
"When he got the job here, it sent shockwaves through MLS just because that's the calibre of coach the league attracts now because it's getting that big", the midfielder says.
"There were question marks over the language barrier but that's gone a lot smoother than what people would've thought. He's made a really big impact with the style of play he wants and it's been a real pleasure to be part of something like this and get to work with a guy like him. It's not every day it happens. He's implemented his ideas and is not one for backing down on it. He constantly wants us to play like this. When you see a manager believe that strongly in how he wants to play, it really spurs you on.
It's a challenge for him too. He wants to be a part of something and I'm sure he's enjoying every single day, testing himself in a different league – a different way of life, really. He's level-headed and calm and that comes across to the players really well. We just enjoy it. He's really down-to-earth, easy-going, reassuring. If you have a problem you can go and talk to him. Maybe looking in from the outside you don't get that vibe but he's a very open type of person. He's willing to take on your information and that allows his players feel comfortable.
And it's a really exciting time right now. We've had sell-out crowds so far so it seems to be rubbing off on the people of Atlanta."
An Irish player being coached by an Argentinian in America's deep south. A litany of culture clashes. So, which is it? 'Tata'? 'Mister'? 'Gaffer'?
"Whatever works, basically. Some of the South American boys call him 'Profe'. I tend to call him Gaffer. The rest of the American boys call him Coach".
It's a new challenge for McCann – which is what he wanted. It wasn't a case of growing weary with the daily grind of the UK goldfish bowl – he was perfectly content at Wigan – but there was an itch and when presented with a fork in the road, he didn't want to look back with regret. The road less travelled appealed to him.
"I always wanted to play abroad – just to try it out more than anything else, to experience a different style", he says.
"I was quite happy in the UK but if I had gone through all of my career playing there and had the opportunity to go abroad and not taken it, I'd probably always look back and say 'What if?' or 'I wonder what that would've been like?' I always said to my wife and my family – 'If worst comes to worst and I don't like it, at least I've given it a good go and I've put my all into it and tried my best to make it work – I can always go back home'. But from the moment I heard about it, I was really keen to knuckle down and try and make it work and test myself. It's a growing league and I didn't want any regrets when I finished playing – that was one of the main pulls".
Still, MLS is a peculiar environment. Comparisons to other leagues is a pretty redundant exercise owing to its uniqueness. There's no promotion/relegation. The league – not the clubs – owns player registrations and contracts. There are salary caps. 'Designated players' fall outside those restrictions. There's a post-season.
But McCann didn't come in cold. He did some research, got up to speed and feels certain quirks and idiosyncrasies have their benefits.
"It's a strange league but it's a very even league", he says.
"It's a bit like NFL. If you've come mid-table last year, you're generally getting first or second round draft picks which may thrust you into becoming a stronger team next year. Every year the league is pretty even and every team is capable of beating everyone else. It's not like the Premier League where you have a top-six always running away with it. MLS is geared towards balance. If you finish bottom one year, you get a couple of draft picks and you can be challenging for the title the year after.
People come over here thinking it's an easy league and that they're going to stroll through it. It's not the case. I've only played a few games so far but we have far more talent in this league than people give it credit for. There's a hell of a lot of young American boys that are really strong players here. The US players that are in Europe and the Premier League shows the type of player the country is producing.
It is a strange league to work out. Everything is a fight for the top-six to get to the playoffs. When I knew I was coming here, I'd sit down when there was a game on just to get a feel for the league and to get an understanding. It's an athletic league. Everyone's fit and strong. They run all day. Maybe back in the UK it's more football-based. Here it's really athletic. In the heat as well, you've got the different time zones – it takes its toll in different ways".
And McCann has already seen that up close.
Atlanta began their MLS campaign with a narrow defeat to New York Red Bulls in front of 55,297 at their temporary home of Georgia Tech's Bobby Dodd Stadium.
But their next assignment was in Minnesota, to take on their fellow 2017 expansion team. Temperatures dropped as low as minus-6 degrees before kick-off. There was heavy snowfall. The wind howled. The cold pierced the face. Atlanta racked up six goals in a brilliant display but McCann had never experienced anything like it.
"Never in me life have I played in conditions like that", he says.
"It was just crazy. The snow came out of nowhere. It was grand the day before and, all of a sudden, it started coming down. And it was so, so cold. It was between minus-7 and minus-10 at one stage, which is nuts playing a game in that. I hope it's an experience I won't have again but it's part and parcel of the league. In a place like Houston, it can be 30 degrees at night-time. And then minus-10 in Minnesota, possibly. It's just something you've got to deal with. It's probably why it's such an unpredictable league. The amount of travel, the different temperatures, the different altitudes".
On Saturday, conditions were a little milder back home as Atlanta put four past Chicago Fire to make it ten goals in two games and ensure back-to-back victories.
But next weekend sees the start of a month-long road-trip that will take in stops in Seattle, Toronto, Montreal and Salt Lake City. Settling in a new country with wife Gaynor and young son Jakob, the extended separations are tough but a necessary evil: a reflection of the enormity of the continent and another example of MLS uniqueness. Still, the transition has been relatively seamless – something that has surprised McCann.
"For an expansion club, the setup has been really, really good", he says.
"I've never experienced anything like this before. It's all gone pretty smooth. The way they accommodate players – it's like you've been here all the time.
My boy is probably still too young to realise what's going on – he thinks he's on a big holiday in a big city. He's been here less than a month but he's already taking up the American sports, which I'm not too happy about. He's loving it and my wife was really keen. She's never lived away from the UK before so it's an experience for her. The transition has been pretty smooth which I wasn't expecting".
So, Georgia certainly has its perks. And the climate is probably a tad more enjoyable than Greater Manchester's?
"The weather is a slight upgrade", McCann confirms.
"It was in the mid-2os the other day so if you're going to be having that every day, I'm not going to complain. I'm sure the missus won't either".