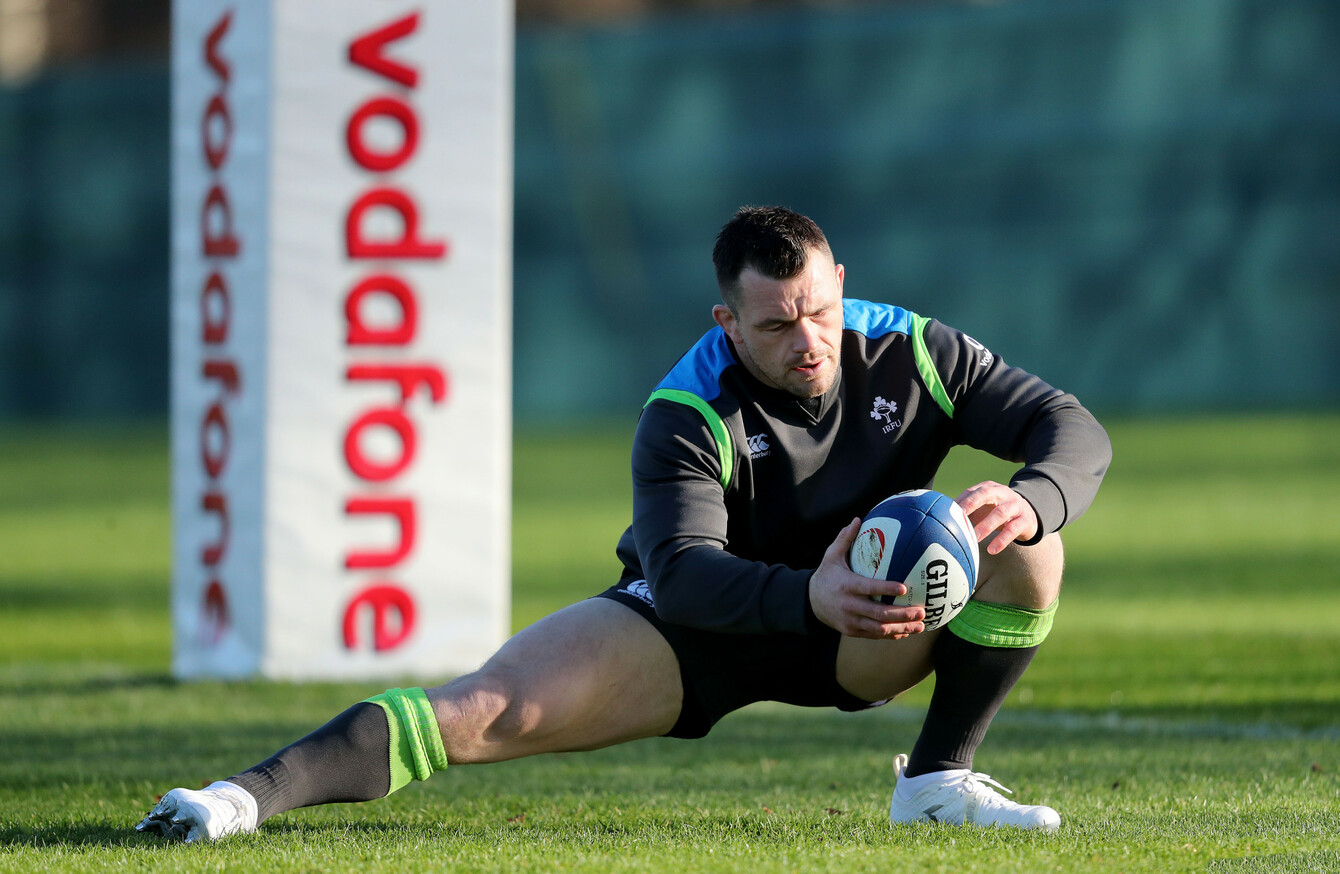 Image: Dan Sheridan/INPHO
Image: Dan Sheridan/INPHO
Sean Farrell reports from Carton House
CIAN HEALY ISN'T ordinarily a man who looks back for too long on deeds that are done and in the book.
He doesn't procrastinate on post-match analysis, he has the software on his laptop so as he can get through it soon after games. Take the lessons or affirmations and move on.
However, the fall-out from Leinster's December Champions Cup win over Exeter left him to ponder and consider his actions for a far longer than is usual or comfortable.
It was a personal nadir in what has been an otherwise vintage season for Healy. With Jonathan Sexton off the field after a failed HIA and the Chiefs already a try to the good at the Aviva Stadium, the hosts were seeking solidity. Instead, Healy barged into a static 17th minute ruck and caught Luke Cowan-Dickie in the head.
A three-week ban followed four days after a yellow card.
"I was pretty devastated, because it was positive intent and I just didn't do it right. That was a big let-down for me," Healy said after being named to start tomorrow's Six Nations opener against France.
The selection brought some relief to Healy. He had feared that three weeks ceded to Jack McGrath was three weeks too many, even accounting for the off-the-field effort he put in to making the most of his self-inflicted lay-off.
"You're on the back foot. You just have to do everything in your power to put yourself in the right position for the next inclusion.
Everything from fitness to knowledge work, to (recognising) the stupidity of what I did: it being a dead ruck… getting it into my head to only go for rucks that (can be competed for) and not waste your energy and time on something silly like that. Players are in good brace positions that you're not going to have a material effect."
Save for a quiet direction from Leo Cullen and Joe Schmidt, that introspection was driven by Healy himself. He has seen first-hand how quickly it's possible to slide down the depth chart when there are quality operators working hard to displace you at the top of the pile.
"Jack's come into real good form. Killer (Dave Kilcoyne) was pretty unlucky with his knee because he was going strong too.
"Jack and me have been battling. It didn't help, me getting myself out of the game for a few weeks. but I worked hard, treated that as a mini pre-season and flogged myself because I knew there would be a pretty big task at hand.
"I've seen it before, when Jack gets a jersey you've got to cut it off him to get him out of it.
"So there was no foot off the gas for that and it's been head down since."
"I was pretty gutted I let the lads down, so there was a bit of soul-searching afterwards and started thinking about how I can positively influence the team and not end up in a position like that again."
"I'm not someone who is going out to hurt people and have a negative impact on the game. It's poor accuracy there that let me down and, more so, let the lads down."