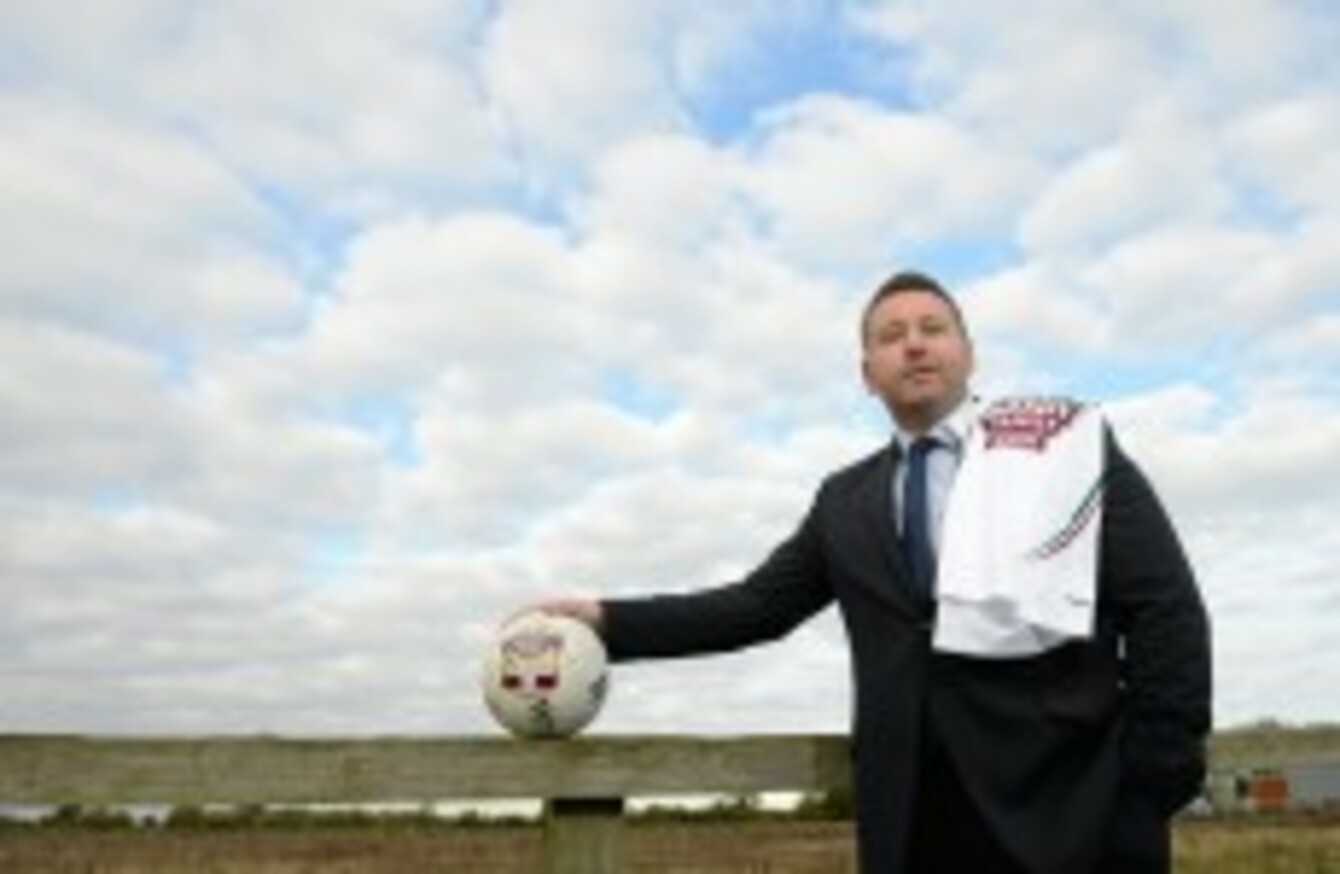 New Kildare boss Cian O'Neill was speaking yesterday at the announcement of a new three-year sponsorship deal with Brady's Family Ham.
Image: Cody Glenn/SPORTSFILE
New Kildare boss Cian O'Neill was speaking yesterday at the announcement of a new three-year sponsorship deal with Brady's Family Ham.
Image: Cody Glenn/SPORTSFILE
IT WASN'T THAT Cian O'Neill always wanted to be an inter-county manager; it was that when Kildare called, he knew it was a perfect fit.
O'Neill reputation as one of the GAA's elite coaches precedes him. His CV reads like a who's who of the cream of the modern game.
Since 2009 he has trained the Tipperary hurlers (All-Ireland winners 2010, beaten finalists 2009 and 2011), the Mayo footballers (beaten finalists 2012) and, most recently, the Kerry footballers (All-Ireland winners 2014, beaten finalists 2015).
He had no real intention of leaving Eamonn Fitzmaurice's backroom until Kildare called, anxious to sound him out as a replacement for Jason Ryan.
After years of saying no, O'Neill was finally ready.
"I always wanted to work with top players, top athletes, be that in GAA, basketball, or whatever sport," he explains. "I suppose it's easy to put two and two together when it's your home county and it comes along.
"I never woke up any day and said, 'God, I'd love to manage an inter-county team.' Obviously if the opportunity arose you'd have to think about it.
In the last four years — I left Tipp in 2011 — there has probably been anywhere from 10 to 15 inter-county jobs offered that I never even entertained because it just didn't feel right for me.
"I suppose going home to Kildare is the perfect fit and if this wasn't an option, you can be sure I would still be down with the management team in Kerry. There's no question about that, but I just felt going home, it was probably the right time for me."
O'Neill knows that he will have his work cut out for him. Even by their slightly diminished standards, 2015 was a tough year for Kildare's footballers.
A measly two wins in the league and relegation to Division Three was followed by an unmerciful championship walloping at Dublin's hands in the Leinster semi-final.
Their one sunny day of the summer, that magnificent qualifier win against Cork, was quickly forgotten when Kerry beat them by a demoralising 27 points in Croke Park.
As he watched from the Kerry sideline that day, Kildare never entered O'Neill's thinking. Now it is his job to repair the damage done.
"I'm sure there was a lot of soul-searching in that Kildare dressing room (after the Dublin defeat) but in fairness, they did come out and put in a huge performance against Cork.
When it happens in the last match of the season, be it the qualifiers or any other knockout stage, there's no comeback. There's no next big hurdle to look forward to. It's a long, lingering wait throughout the winter months.
"If it's the same management team the next year, that's quite a difficult challenge. I think it won't be quite as difficult for the players because there's going to be a lot of freshness to the setup this year."
O'Neill hasn't met the players yet but he insists there will be no squad clearout — "Everyone who is involved will still be involved until we cut the panel for the very first time."
He's determined too to leave no stone unturned in terms of strengthening his hand. Paul Cribbin and Daniel Flynn have both returned home following stints in the AFL and O'Neill intends to speak to two more of Kildare's Wild Geese, Sean Hurley and Paddy Brophy, to see if have any plans to do likewise.
Kevin Feely, the former Bohemians and Charlton Athletic defender who is bidding to win a county title with Athy this weekend, is also an option.
Be part
of the team
Access exclusive podcasts, interviews and analysis with a monthly or annual membership.
Become a Member
"It's really scouring the county for players who for whatever reason haven't played in recent years. That could be guys who've left the panel under previous management or it could just be looking at club games, scouring the junior and intermediate divisions for player that maybe we haven't been aware of.
You will have late developers, no more than Lar (Corbett) was and no more than Henry (Shefflin) was – guys who have come on to the scene relatively late. There's a couple of players out there who perhaps haven't been on the radar but who could contribute this year.
Promotion back to Division Two is the most obvious ambition, initially at least, although O'Neill inserts a caveat.
"It's obviously a target for the supporters and the players but the problem I see with targets is that you can't always control them, and if you don't meet them there's a level of blame or fault attached.
"I don't think that's the mindset you want going into a championship. What I will target is that we are competitive and set a high challenge in every one of the seven matches."
Challenging the Dubs' hegemony in Leinster is a different prospect altogether though he fully accepts that it's up to the rest of the counties to pull themselves up to the champions' level.
The big question is — how will a Cian O'Neill team play?
"Flexibly, fluidly, independently," he says, summing up in three words.
"I'd like to think that we can modify our game relative to the challenges that are imposed. For me to do that you need a natural skillset and that's something I'll put a huge importance on and have done with every team I have been involved with.
"As players see improvement in their own game, they grow in confidence so when you set tactical challenges and they feel they have the skillset to execute them, they will feel a lot more comfortable about that.
I'd be focused on setting up a culture where it is the players that drive things. Effectively once they cross the line, they become the architects of their own destiny on the pitch.
"Yes, they'll have a framework and they'll be fully aware of what that is, but I'd like to think they'll be making the real decisions on the pitch and they'll be the drivers.
"That won't happen overnight and I need to understand what type of system they are coming from because to try and impose a system that is clearly different from what they are involved in would be a disaster to try and do it too quick.
"By improving their technical standing early on it will develop their confidence to start looking at other ways to play the game.
"I want them to be flexible and fluid so they can interchange. I have a strong interest and background in basketball and for me it's the most fascinating sport insofar as you can transition from any one of five, 10 or 15 types of defence or offense in 10 or 15 seconds and yet every player still understands his role.
"I'd like to think the players will have that game intelligence where they understand what is asked of them going out but how they see the game in real time will be a more important thing."