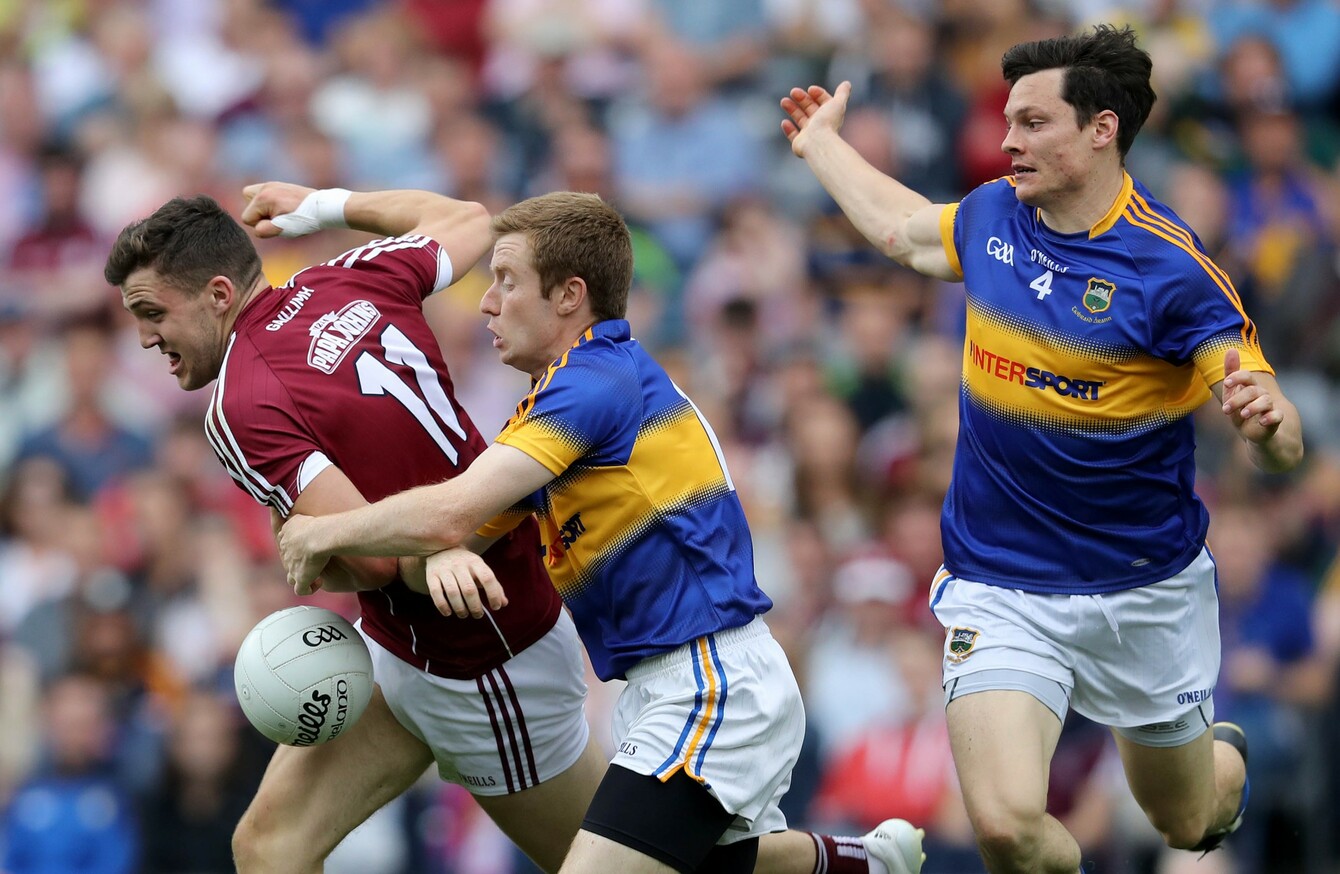 Image: Ryan Byrne/INPHO
Image: Ryan Byrne/INPHO
THE ODYSSEY OF the Tipperary footballers will continue well into August.
The Premier County swept aside Galway by nine points on Sunday and the final whistle brought about an outpouring of emotion from both the players and supporters.
The scenes at the end of the game were heart-warming, but it was notable at the end of the game just how small a band of followers they brought to Croke Park. They have a loyal football following and hundreds of faces that manager Liam Kearns probably recognises by now.
For corner-back Ciaran McDonald, who made his debut eight years ago, heady days like these have been a long time coming. The low turnout of Premier County supporters didn't matter to him.
"It doesn't bother me now in the slightest," said the International Rules defender. "All the people were there that wanted to be there so there's not much pressure on us in terms of performance. No one thinks we're going to win anyway.
"It's great not to have that pressure. The hurlers are under constant pressure. Wherever they go they're monitored, they're observed, they're well recognised. It's very difficult for them to have a normal life.
"For us, I think it's a lot easier and we're happy with our football supporters and fair play to them for coming all the way up here today because they've been coming to games for the last nine years while I've been playing. It's great to get them a result as well as for us."
The manner of their Munster final defeat to Kerry clearly rankled with this Tipperary team.
"The fact that we didn't play to our potential in the Munster final, that bogged a lot of us down. We were lucky that we had three weeks to recover from that mentally as well as physically.
"We just want to get to our full potential I suppose. I think that's what we're striving to do. No matter what the match is we just want to play.
"The Kerry game, we learned so much from a loss and, to be honest, maybe it was a good thing that we did lose in the way we did because we learned a lot in how to improve ourselves personally and team-wise."
McDonald praised the presence of Michael Quinlivan and Conor Sweeney in attack, while also pointing to the hard work of Tipperary's forwards when they didn't have the ball.
"I think it's just a belief in each other's abilities," McDonald continued. "Marking Mikey and Conor, I know what they're capable of doing. There's only a few forwards in Ireland that are capable of doing what they're able to do and they proved that again today.
"I think there was a few question marks over the defensive structure we had in place but I think the lads played very well today in terms of cutting out the ball coming in to us and made it easy for us. I didn't really have that much to do to be honest."
Tipperary will turn their attentions to the semi-final and watch Mayo and Tyrone tear strips off one another for the right to join them.
"I don't know could we call a winner in that. The Mayo lads have been going well, good momentum. Tyrone had a serious provincial final result as well. It'll be a great game. A testing challenge for us but we're well up to challenges at this stage so we'll just bring it on and see what happens."
The42 is on Snapchat! Tap the button below on your phone to add!