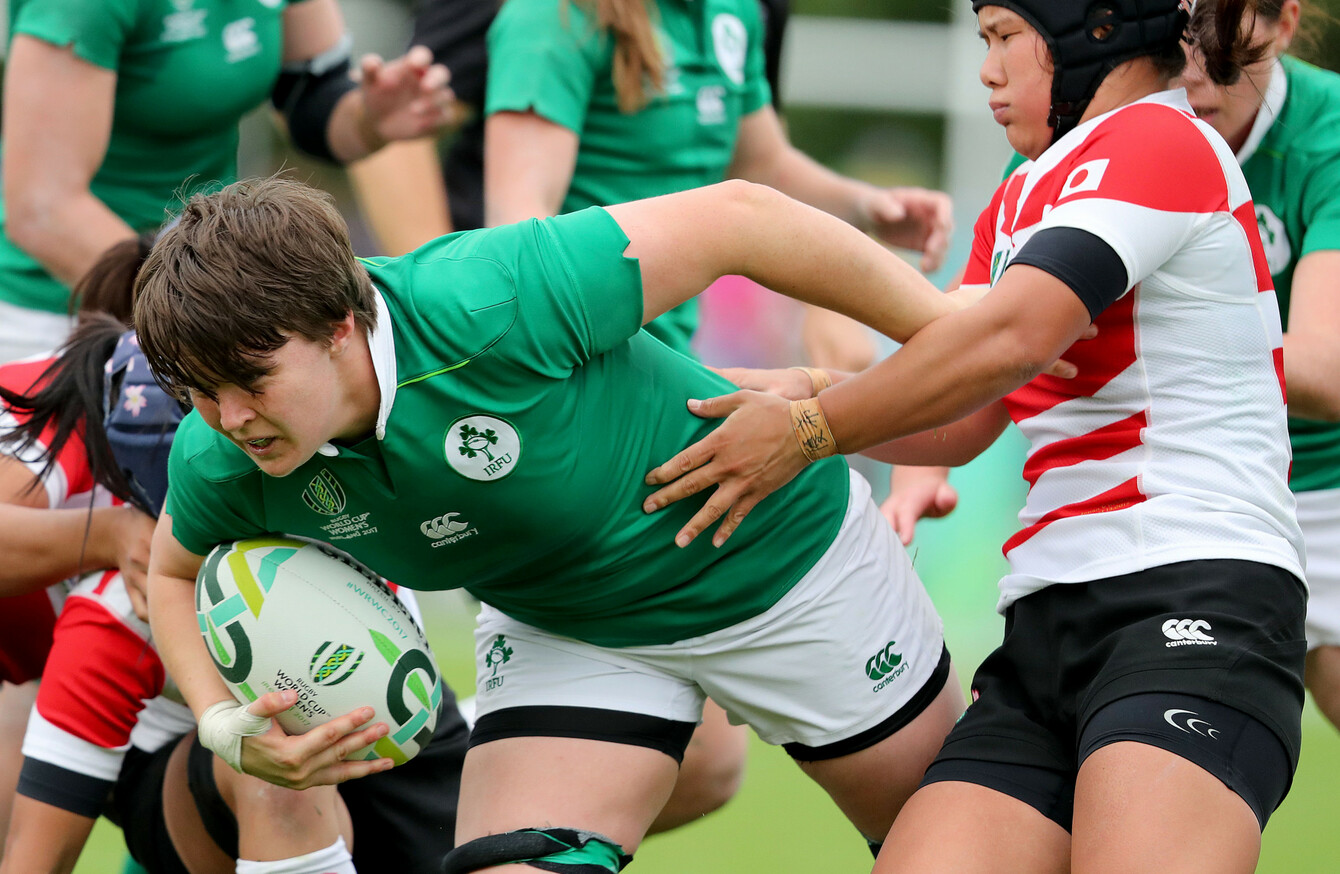 Image: Dan Sheridan/INPHO
Image: Dan Sheridan/INPHO
THROUGH TWO IRISH performances beset by problems, Kerrywoman Ciara Griffin has stood out as a gleaming silver lining as the pounding of French feet move closer to set up a tournament-defining clash on.
A replacement on opening night, Griffin and Sophie Spence took the field to inject the priceless commodity of go-forward ball to Ireland's cause – and grounded a try apiece in the process.
Against Japan on Sunday afternoon, the blindside was one of the few who looked fully dialled-in to the intensity that a World Cup clash demands. Griffin again carried with great purpose and made her presence felt at the breakdown with a handful of vital turnovers.
"I wouldn't see it as separate, we're all one team, we're a unit," Griffin says, shrugging off her personal display in a team that badly malfunctioned.
"If it happens to one person it happens to all of us, we don't see it as a single issue. Obviously it's frustrating when the ball doesn't go to hand, but it's up to us to calm down, to cool the head, regroup and work on it. You could see that happened in the second half, we regrouped after the half time, fire in the bellies, ice in the brain, and just work away. Thankfully we got the tries and the result."
There was no shortage of thankfulness going around after the 24 unanswered points pushed Ireland to a second win of the tournament. But there was absolutely no back-slapping after digging themselves a 14-point mountain to climb.
France will be a completely different animal, not quite as easily reeled-in as Australia and Japan proved. The 2016 Six Nations champions have looked an elite outfit with the credentials to challenge the duopoly of England and New Zealand on the world stage. Griffin started in Donnybrook in February when Ireland defeated Les Bleus and kept up the charge towards a Grand Slam decider with England. On Thursday, they will meet again in the same Dublin postcode, but in very different conditions and with much more at stake.
"That's the Six Nations, it's a totally different tournament, and it's up to us now to regroup, work on our accuracy, fix our mistakes and go hard at the French — they're very strong, they've a good pack, they're well able to ship it wide, so it's up to us to have good line speed, and just be physical."
Physicality and limiting mistakes will be a bear minimum if Ireland are to overcome the third and final hurdle of the pool stage.
Though Heather O'Brien and Maz Reilly are expected to come back into contention for a competitive second and back row, Griffin has laid the foundations to ensure she will have a big role to play to help Ireland drive over the line.
Another skin-of-the-teeth success would be perfect and, while Griffin's team-mates readily admit they have a plethora of work-ons, they will continue to back their fitness levels that have allowed them go to the well deep in second halves when their matches have been in the balance.
We are fitter and we are getting stronger. A win's a win, it mightn't be the prettiest, you can win by 10 points or 120 points, a win's a win. We'll take a lot of solace from that, focus on the positives, might be negatives to focus on but you have to look at the positives to build up a team.
"We've a lot of positives in terms of the turnaround at half time, we showed great unity, we showed we're a team, not individuals, that will be major for us against the French."
Subscribe to The42 podcasts here: