Liveblog
AFTER YESTERDAY'S SHOCK results at the semi-final stage, CIT and WIT came together for this afternoon's Fitzgibbon Cup final in Belfast.
As always, we'd love to hear your comments. Send them to fintan@thescore.ie, tweet them @TheScoreGAA, find us on Facebook, or leave a comment below.
Result: Waterford IT 0-17 Cork IT 0-12
The 2014 Fitzgibbon Cup crown is up for grabs in Belfast this afternoon. Will CIT win their first title or can WIT claim their ninth crown?
Here's the starting line-up's.
CORK IT (Cork unless stated): Stephen Nyhan; Stephen Murphy, Alan Dennehy, Tomás Lawrence; Eoin Keane, Mark Ellis, Pádraig Butler; Paul Virgo, Jamie Coughlan; John O'Dwyer (Tipperary), John Cronin, Conor Hammersley (Tipperary); Bill Cooper, Daniel Dooley, David Drake.
WATERFORD IT: Stephen O'Keeffe (Waterford); Ger Teehan (Kilkenny), Pauric Gahan (Kilkenny), Jerome Maher (Waterford); Thomas Hamill (Tipperary), Joe O'Dwyer (Tipperary), Jack Langton (Kilkenny); Stephen Roche (Waterford), Cathal Kenny (Kilkenny); Harry Kehoe (Wexford), Pauric Mahony (Waterford), Eoin Murphy (Kilkenny); Liam McGrath (Tipperary), Jake Dillon (Waterford), Gavin O'Brien (Waterford)
Changes on both sides with Jack Langton coming in to the WIT defence for Shaun Murphy while Paul Virgo replaces Michael O'Sullivan in the CIT midfield.
We're all set for throw-in here with James McGrath of Westmeath the referee for this game.
WIT 0-1 CIT 0-0: 1 min – Pauric Mahony on the mark with his first pointed free of the day after Jack Langton was fouled.
At the other end Bill Cooper is off target for CIT.
WIT 0-2 CIT 0-0: 4 mins – Mahony on target again, this time from a close-range free after Mark Ellis was penalised for over carrying.
WIT 0-3 CIT 0-0: 5 mins – The first point from play in the game is notched by Jake Dillon and it's a fine strike after he surged along the right wing before shaking off the defensive cover to point.
WIT 0-4 CIT 0-0: 6 mins – Eoin Murphy fires over a long-range point from play to stretch WIT's advantage. No doubt that they have settled the better.
WIT 0-4 CIT 0-1: 11 mins – CIT finally get off the mark courtesy of a John O'Dwyer free after David Drake was fouled.
WIT 0-5 CIT 0-1: 13 mins – But WIT respond swiftly with a fine point from midfielder Cathal Kenny.
Yellow card for CIT's Bill Cooper after his high tackle on WIT's Eoin Murphy.
WIT 0-5 CIT 0-2: 15 mins – Conor Hammersley picks off a good point for CIT after a well-worked team move.
WIT 0-5 CIT 0-3: 16 mins – John O'Dwyer notches a free for CIT to cut the gap again.
WIT 0-6 CIT 0-3: 18 mins – Mahony's accurate freetaking for WIT restores their three-point advantage.
WIT 0-6 CIT 0-4: 19 mins – Terrific play by Eoin Keane for CIT kickstarts a move that culminates in a good point from Bill Cooper.
WIT 0-7 CIT 0-4: 20 mins – WIT hit back immediately through a Cathal Kenny point from play.
Yellow card for WIT's Liam McGrath.
Substitute: Kevin O'Connor on for CIT for Jamie Coughlan.
WIT 0-8 CIT 0-4: 24 mins – Chance for a goal from Liam McGrath for WIT but his rasping shot from a tight angle sees the ball fly over the bar.
WIT 0-8 CIT 0-5: 25 mins – Bill Cooper on the mark for CIT as they cut the gap to three points.
WIT 0-8 CIT 0-6: 27 mins – John O'Dwyer converts a tricky free from the right wing after centre-back Mark Ellis did well to win a free.
WIT 0-8 CIT 0-7: 28 mins – Now it's just the minimum between the teams as O'Dwyer lifts over a point from play.
WIT 0-9 CIT 0-7: 28 mins – Kenny again raises a white flag for WIT to put them two points ahead.
WIT 0-10 CIT 0-7: 29 mins – The standard has really improved here in the point scoring with Jake Dillon splitting the posts with a quality effort.
Half-Time: WIT 0-10 CIT 0-7
It's back underway for the second-half in Belfast.
WIT 0-10 CIT 0-8: 31 mins – Conor Hammersley gets CIT off to a great start to the second-half with his second point from play in the game.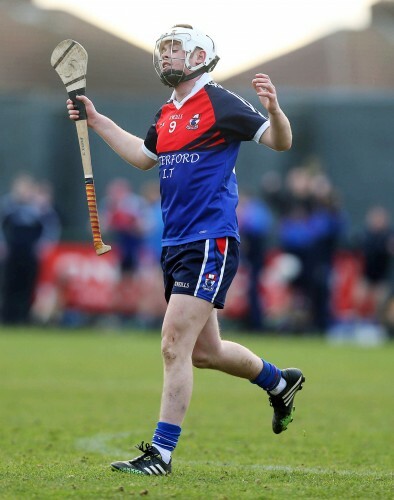 WIT's Cathal Kenny. Source: ©INPHO/Donall Farmer
WIT 0-10 CIT 0-9: 32 mins – John O'Dwyer knocks over a long-range free to see CIT now only a single point adrift.
WIT 0-10 CIT 0-10: 37 mins – Mark Ellis brings CIT level with a terrific run forward as he lands a fine point.
WIT 0-11 CIT 0-10: 41 mins – First point of the day for Wexford's Harry Kehoe for WIT. Brilliantly created by centre-back Joe O'Dwyer.
WIT 0-12 CIT 0-10: 43 mins – Pauric Mahony extends WIT's advantage as he smacks over a free from the left wing.
WIT 0-12 CIT 0-11: 44 mins – Good work by Daniel Dooley and a neat pass releases captain John Cronin who splits the posts for CIT.
WIT 0-13 CIT 0-11: 45 mins – Magnificent point by Jake Dillon from the right sideline, while under sever pressure from the CIT rearguard, puts WIT two points ahead.
WIT 0-13 CIT 0-12: 46 mins – John Cronin hits back with an excellent point for CIT after tremendous work by half-back Eoin Keane.
Substitute: Kevin Hallissey replaces David Drake in the CIT attack. While Johnny Hayes is into the WIT forward line instead of Liam McGrath.
Half a goal chance for CIT but Daniel Dooley's whip from a tight angle goes into the side-netting. CIT follow that up with a wide from John Cronin from a good scoring position.
WIT 0-14 CIT 0-12: 51 mins – Substitute Johnny Hayes clips over a point after good work by Jake Dillon for WIT.
Substitute: Andrew Kenny into the WIT defence for Joe O'Dwyer.
WIT 0-15 CIT 0-12: 52 mins – Harry Kehoe sends WIT three points clear.
WIT 0-16 CIT 0-12: 53 mins – Kehoe on the mark again with another point for WIT.
WIT 0-17 CIT 0-12: 54 mins – WIT looking very good now with Jake Dillon striking a brilliant point.
Substitute: Jason Lonergan on for CIT instead of David Corbett, who goes off injured after earlier coming on for Paul Virgo.
Substitute: Stephen Murray in for CIT for Bill Cooper.
Jake Dillon gets the man-of-the-match award.
Full-Time: Waterford IT 0-17 Cork IT 0-12
A ninth Fitzgibbon Cup title for WIT, their first victory since 2008.
Huge disappointment against for CIT as their wait for a first Fitzgibbon Cup crown goes on. They suffer a second final loss in three years.
A stronger showing in the last ten minutes was central to WIT's victory. It was 0-13 to 0-12 for WIT with ten minutes remaining and they then shot four points in quick succession to create an insurmountable advantage.
That's all from us, thanks for joining in this afternoon.
Contribute to this story: