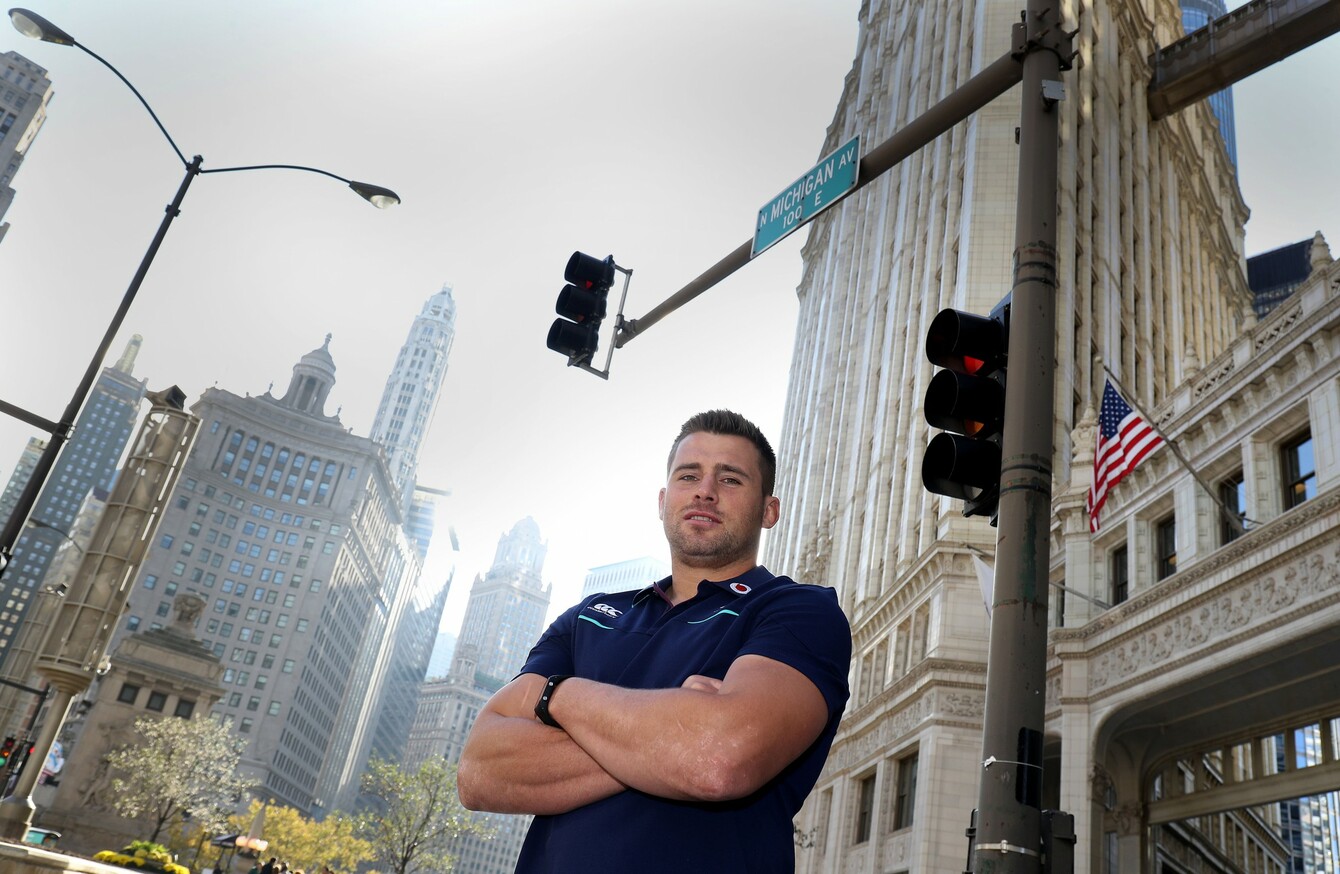 Bright lights, big city: Not where CJ Stander feels at home.
Image: Dan Sheridan/INPHO
Bright lights, big city: Not where CJ Stander feels at home.
Image: Dan Sheridan/INPHO
Sean Farrell reports from Chicago
YOU'LL NEVER CATCH CJ Stander being anything other than genuine.
He's as straight forward and to-the-point off the field as he is when given the ball on it.
"I'm only a small city guy," says the George man when quizzed about his experience in Chicago so far this week.
He's been impressed, despite some original skepticism.
"You hear people talk about Chicago being amazing. I was originally like: 'well it's just a city' but when I left the hotel on Tuesday morning and saw all these big buildings, the great people, how clean it is and the layout, it's like 'woah' it's world class. I'm looking forward to coming back on vacation'."
Making sure he has happy memories of the lakeside city will depend a lot on how he and his fellow back-rowers Jordi Murphy and Jamie Heaslip can impact New Zealand on Saturday.
Murphy is adaptable, but far from a natural openside. His presence in the starting line-up underlines the physicality Ireland will aim to bring to a contest in the hope of putting the All Blacks on their heels.
"He brings 80 minutes of hard work and smashing the other team," says Stander.
"He brings ball-carrying and it's a good mix between me and Jamie. We know what we can all do and we play off him."
Another gear
As Stander mentions the necessity to go 80 minutes, it brings to mind Ireland's late suffering at the hands of these opponents as well as South Africa during the second test of the summer tour. If Ireland are going to make history it's absolutely essential that energy levels aren't allowed to drop around the hour mark. Quite the opposite, Stander says:
"You have to go up another gear. We've had the opportunity to see (New Zealand) play week in week out.
Teams start well against them, but then dip in the last 20 and that's when the All Blacks score their tries. We need to keep going up another gear and we're looking forward to that. You have to play almost 90 minutes against them as there'll be added time. You have to look after the ball."
Stander feels for his Munster captain Peter O'Mahony after the Corkman missed out on this tour, but in his absence another go in green is only fuelling Stander with more confidence to go out and be himself.
Asked how he would psyche himself up to face the world's best team, Stander's answer was simple, straightforward and to the point.
"Just be me.
"I want to get my hands on the ball and get some carries in in the first few minutes and make some big hits in defence. I just want to get into the game – it's another game of rugby and you don't want that to change."
Never change, CJ.