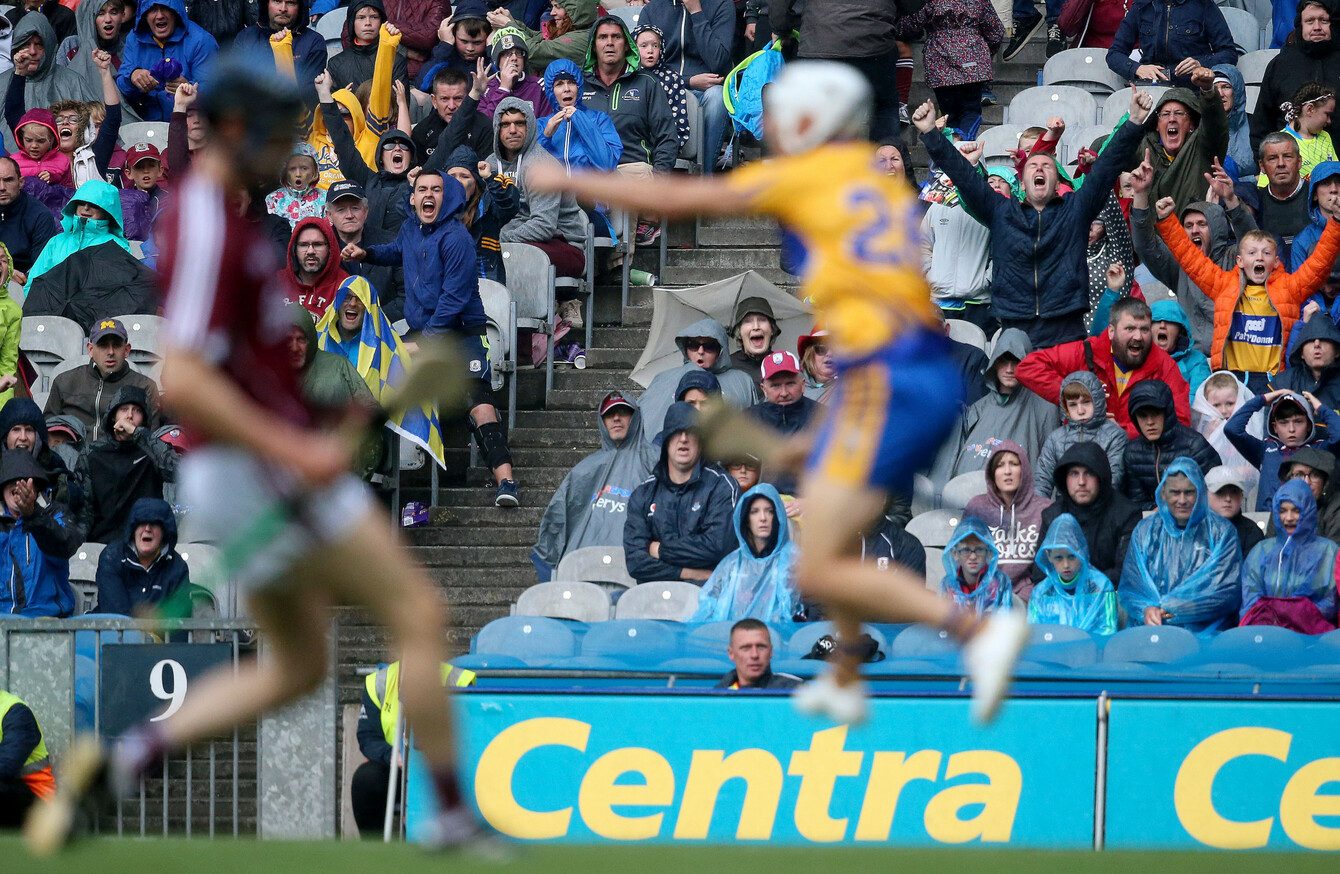 Image: Tommy Dickson/INPHO
Image: Tommy Dickson/INPHO
CLARE COUNTY BOARD chairman Joe Cooney is among those to have labelled the ticketing system for The Banner's All-Ireland semi-final replay with Galway "a joke" after the GAA decided not to distribute tickets through clubs, instead selling them via official shop outlets throughout the country as well as on tickets.ie.
All three ticketing avenues experienced severe congestion from early this afternoon, with some users reporting backlogs of up to two hours online, while queues in Centra and SuperValu stores in Clare in particular spilt well outside their respective doors.
"We found out this morning at about half-10 in an email from Croke Park," Cooney told RTÉ regarding the release of tickets for Sunday's Thurles replay.
It is a joke, there are a lot of genuine supporters out there especially elderly people who can't go online to order their tickets. I believe there are big queues [at official outlets like Centra], I was talking to a man who had to wait two hours online before his turn came around.
A friend just sent this from Ryan's Centra in Ennis. This is the queue for All-Ireland semi final replay tickets at 12:15pm. Safe to say there'll be a LOT of saffron & blue in Thurles on Sunday! #honthebanner (photo credit: Garry Bell)

Update; it's getting longer! pic.twitter.com/1HxW7hzYqa

— Eoin Neylon (@eoinneylon) July 30, 2018
It's all happening at Fitzpatrick's SuperValu!! Crowds going mental for the All Ireland Hurling replay tickets! Buy early, buy often @ClareSenHurlers #clarehurling #hurlingtothecore pic.twitter.com/Xhm6oESxsk

— Cara (@lennonsghirl) July 30, 2018
Yikes. Queues of two hours in Clare for Clare V Galway replay tickets. Hopefully they all end up in the hands of real fans and not the touts!

(Pic via Cathal Crowe) pic.twitter.com/FxHCg3YqQ0

— Noel Rock (@NoelRock) July 30, 2018
The capacity at Semple Stadium is in the region of 46,000, while the attendance at Galway and Clare's original clash at Croke Park last Saturday was about 8,000 higher.
Stand tickets for Sunday's replay reportedly sold out around lunchtime, while tickets.ie's allocation – for all stands – is completely sold out.
Croke Park was unavailable to host the all-western small-ball clash due to the Dublin footballers' Super-8s dead rubber with Roscommon, which throws in at 3:30 – an hour and a half after Galway-Clare gets underway in Thurles.
Fans were left frustrated by the mad scramble to get tickets which was caused, in part, by the lack of prior notice. One woman told Clare FM from a shop queue:
You just wonder what club membership is about when we're standing in the rain with, probably, people who aren't members of clubs.
The GAA's decision not to distribute the tickets through local clubs was due to the short turnaround between each game, and in part because the Galway footballers are also in action on Saturday.
They also told Clare FM that, because next Monday is not a Bank Holiday in Northern Ireland, the replay couldn't be fixed for Croke Park on that day.
Some supporters, however – many of whom were in attendance last Saturday but this afternoon had a battle on their hands to get to Thurles, and many of who were working today – were less than impressed by today's arrangement.
GAA have made a serious balls up of this replay.

1: Dublin v Roscommon should have been moved to Parnell Park & Clare v Galway fixed for Croke Park.

2: Tickets should have gone to clubs to facilitate members.

3: No notice given for online/shop allocation.

— Derrick Lynch (@DLynchSport) July 30, 2018
#GAA It is a absolute disgrace that the majority of the tickets for Clare/Galway replay are not available through the clubs. Most people were working today with no opportunity to go online or wait in queues at the shops. What about the club members?

— adrian casey (@adocasey) July 30, 2018
@tickets_ie your service literally could not be worse. After an hour in the queue, I endured the most stressful 10 minutes of my life trying to get tickets for #CLAvGAL replay. Have ye any idea what it feels like to be a real #GAA person faced with this? pic.twitter.com/RSoH0X9csS

— Stephanie O'Connell (@stephanie_corry) July 30, 2018
Fantastic weekend in Croaker and now the Gaa go and shoot themselves in the foot by selling tickets only online for replay, people queue for over an hour no regard for supporters many people can't go on line or get to centra shame on the Gaa.

— Clare TV Live (@RynneNicholas) July 30, 2018
@officialgaa lads, is there any chance you might see the light and just fix the Clare v Galway replay for Croker next Monday? Would accommodate everyone rather than having people queueing outside Centra shops for hours and not getting a ticket.

— Brian Doohan (@bdoozie86) July 30, 2018
The42 is on Instagram! Tap the button below on your phone to follow us!