YOU KNOW THE Irish provinces [Ulster aside] are in a tight spot when talk begins about four tries and bonus points with two rounds of matches still to play.
Connacht need two wins to reach the Amlin Challenge Cup but bonus points and fortuitous results could see them sneak in the quarter-finals of the main draw.
Munster and Leinster have spoken about their opponents, Edinburgh and Scarlets, in respectful tones but if the words bonus and point were not mentioned at least once in training this week, someone is not doing their job.
To get you into the 'can-do' spirit, here are four matches when teams scored four tries to progress to the knock-out stages:
Munster v Gloucester, Jan 2003
Perpignan had the group wrapped up but Munster, if they beat Gloucester by 27 points AND got four tries, could capture second place and a quarter-final spot. Forward power ruled but winger John Kelly got the glory.
YouTube credit: Conor Ryan
Munster v Bourgoin, Jan 2004
Gloucester were involved again as they kicked off their Pool 5 match against Treviso at the same time as Munster got underway at Thomond Park. The English side set the tempo by winning 42-11 and getting the bonus point.
Munster knew that a fourth try was needed otherwise Gloucester would pip them to the pool winners' spot. Peter Stringer gave the home fans hope with a 62nd minute try before the ball was placed in the care of the Munster forwards. The pressure paid-off with a penalty try on 76 minutes.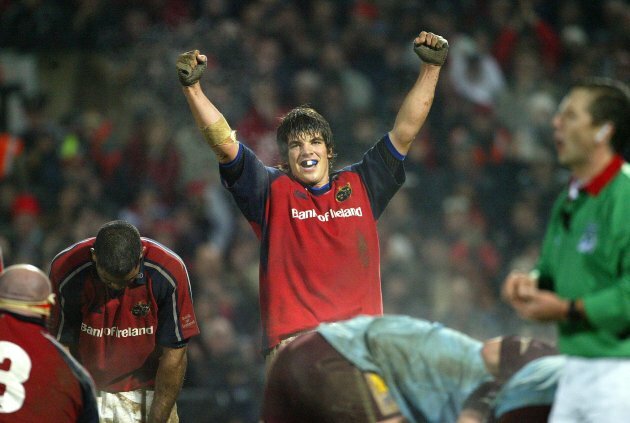 'We did it… again' – Donncha celebrates. (©INPHO/Patrick Bolger)
As it turned out, both sides went through as their bonus point wins saw them finish on 24 points.
Leinster v Bath, Jan 2006
Leinster had to win at The Rec to clinch second place in the pool. A bonus point would seal their qualification but Bath were after a home quarter-final. Shane Horgan starred with two tries but that man Brian O'Driscoll popped up with 12 minutes to go to put Leinster through.
YouTube credit: RoryBellows
Munster v Sale Sharks, Jan 2006
For the third time in four seasons, Munster found themselves back at the well and needing to draw up another huge performance and, with it, a bonus point win.
Anthony 'Axel' Foley got the Thomond party started but the epic victory was not secured until David Wallace crashed over two minutes into injury time.
YouTube credit: Conor Ryan
Bonus material: Biarritz v Leinster, 2004
Leinster led Pool 3 going into the final round of matches against a Biarritz side hell-bent on capturing a Heineken Cup. A win would see the French side leap-frog Gary Ella's side. The bonus point triumph would just be a cherry on top.
Leinster's Keith Gleeson clashes with Martin Gaitan. (©INPHO/Billy Stickland)
Nicolas Brusque set the French cat amongst the Leinster pigeons with two tries and Dimitri Yachvilli took over from there.
*What are your favourite memories from bonus point epics?