Despite year's of promise, prolonged success eluded Clermont.
Image: Associated Press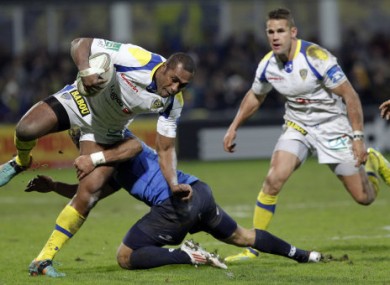 Despite year's of promise, prolonged success eluded Clermont.
Image: Associated Press
NEVER HAS SO little, been done by so many with so much. Clermont Auvergne were given the crown but instead of using it wisely they behaved like a boy king; all pumped up chest and bluster until it finally came time to get things done, then it was as all finger pointing and cowardice.
They wanted to be Robert Baratheon but they ended up like Joffrey.
Vern Cotter's Clermont were the best side to watch in Europe for large parts of his eight-year reign and only have one Top 14 title and a European Challenge Cup to show for it.
(My personal theory is that they never recovered, karma-wise, from Clermont –then known as Montferrand — winger David Bory kneeing Gordon D'Arcy in the back in a Heineken Cup match down there in 2002. If I recall, D'Arcy came back into Dublin Airport in a wheelchair.)
Toulouse invested a fortune and won it all back. Toulon have won more in two years than New Zealander Cotter managed in eight with Clermont. Clermont never won much of anything when they were playing great rugby so does the manner that last season ended- losing their home record to Castres in the Top 14 quarter final and getting skewered by Saracens in Europe- signal the end of an era?
Rather than go for a clean break, Clermont's owner installed backs coach Frank Azema as head coach with former Leinster forwards coach Jono Gibbes overseeing the pack. They have also brought in even more big names in Zac Guildford, Nick Abendanon and Jonathan Davies.
With the squad that Azema has, Clermont will once again compete in knockout rugby at the season's end, but judging by the last two seasons, eight years of consistently falling at the last hurdle has left the team emotionally crippled.
Part of the reason for that is that they have consistently relied on a number ten who folds under pressure faster than an umbrella. Exhibit A.
Source: Ruddy Darter/YouTube
But it is too simple to blame Brock James and it is too simple to point to one game. Under Cotter, Clermont routinely loved going away from home in Europe and the Top 14, taking an early lead and then eventually being content with a losing bonus point rather than hammer down on their opponent's throat. The inconsistent manner in which they killed off the opposition usually manifested itself at the worst possible times as a result.
The year where they really bucked that trend was when they steamrolled their way to the Heineken Cup final in Dublin back in 2013. That team is a top 3 Heineken Cup team of all time, even having not won it. Just look at this rugby.
Source: gorpitsen junior/YouTube
But of course, they eventually succumbed to their worst impulses against Toulon in the final, blowing a nine point second half lead in rapid quick time. They should hire Matthew McConaughey to play Rougerie and call the movie "How to lose a game in 10 minutes".
Source: Rugby Highlights/YouTube
They did show flashes of true grit, most noticeably when down to 14 men against Munster in an eventual losing effort at Thomond Park in 2008 (Jamie Cudmore got sent off for doing Jamie Cudmore things).
Source: munstersabu/YouTube
And that is just in Europe. Clermont lost three straight Top 14 finals before their only triumph under Cotter in 2010, and even then, they didn't make another final despite all of their talent and power.
But that is all in the past. Can Azema breath a level of calmness into Brock James and the rest that wasn't there in the past? It seems unlikely given that he couldn't do it over the last few years. Clermont have also lost winger Sitiveni Sivivatu to Castres, which is a monumental loss given how influential he has been to them since his signing.
There is one theory as to why Clermont never kicked on after winning the Top 14 final in 2010. It also coincided with another European club side's rise to dominance. Clermont haven't won a single trophy since Joe Schmidt left in 2010.
Looks like they kept the wrong kiwi around.