CLINT DEMPSEY IS happy to be back home in the United States and banking $5m a year with the Seattle Sounders.
One Sounders fan was also chuffed to welcome the former Fulham and Tottenham Hotspur attacker to his new, MLS home. What better way to display one's joy that getting some fresh ink of a footballing hero?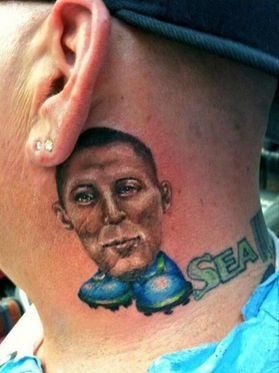 Credit: @TerraceLife_
Dempsey told Sky Sports, soon after he was presented to his new fans in Seattle, that he wanted to return to the USA to play while he was at the peak of his footballing powers.
He was, inevitably, asked about the impending future of former Spurs teammate Gareth Bale. Dempsey said the Welsh attacker hadbeen invaluable for the Londoners in recent seasons but he could not speculate as to where he will be come the start of the new season.
Join TheScore.ie's Premier League Fantasy Football League using this code: 800052-191374
http://fantasy.premierleague.com