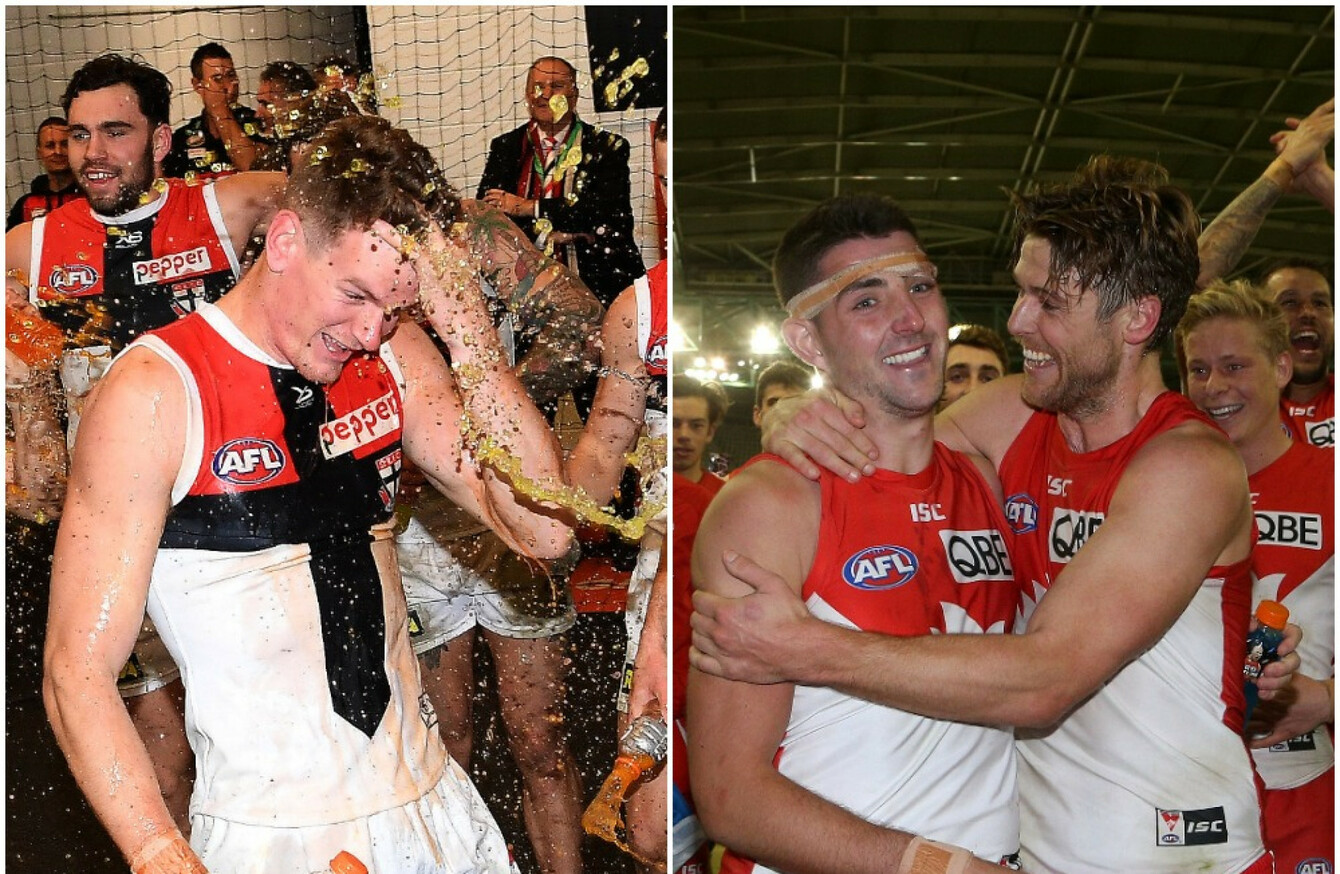 Darragh Joyce and Colin O'Riordan have both made their AFL bows in recent weeks.
Image: PA
Darragh Joyce and Colin O'Riordan have both made their AFL bows in recent weeks.
Image: PA
THE FIRST THOUGHT was to phone home.
Darragh Joyce found out three weeks ago in Melbourne that he made the cut, Colin O'Riordan discovered last week in Sydney that he had reached the elite stage.
When you've jetted across the world to pursue your sporting dreams, the natural inclination when you hit the milestone you have craved, is to reach out to those closest to you.
The calls were put in to the Joyce family in Inistioge in south Kilkenny and the O'Riordan family in Templemore in mid Tipperary.
The clubs would organise the flights, it was just a matter of those at home clearing their diaries and getting on that plane to witness landmark Aussie Rules appearances.
Joyce's mother Kathleen made the journey to see her son help St Kilda triumph against Melbourne at the MCG on 1 July.
When O'Riordan and his Sydney Swans team-mates prevailed against North Melbourne last Sunday, his parents Mick and Imelda were at the Etihad Stadium to witness it.
"I found out on the Thursday, I rang my Mam, it was about six o'clock Irish time," recalls Joyce.
"There was no pressure but the option was there because they'd pay for the flight down. She was mad eager to come. My father works in London so he wasn't able to make it back to Ireland and go from there.
"So Mam decided to make the trek on her own, it was a fair effort by her. It was fantastic to have her there. She got to stay to the Wednesday as well so she'd a few days to take it all in."
"My Mum and Dad made it over," says O'Riordan.
"I'm living with my brother and my girlfriend is over as well at the time. I found out Tuesday morning, it was Monday night back home, so I gave them a call.
"Told them the news, the club sorted everything out, they were unbelievable. Mum and Dad were on a plane Thursday morning and arrived here Friday night. There was no hassle, no need to persuade them or anything. They were gone."
Joyce did not lack visitors of late. His parents came over in April for his 21st, his brother Conor touched down in May for a two-week holiday to see what life as a professional sportsman entailed.
His other brother Kieran, who brought a decorated Kilkenny hurling career to a close last winter, had remained at home but with good reason. On the weekend of the AFL debut, Kieran and his partner Lorna's first child arrived.
"The minute Mam hopped on the flight, the baby arrived," says Darragh.
"First grandchild for the family, a little niece. Absolutely hectic, it was a crazy weekend for the family.
"I enjoyed it now. Myself and Mam went for dinner that night after the game, had a pretty low-key night that night because I was wrecked from it.
"The phone went mad, that weekend especially. A lot of people say don't turn on the phone but it's nice to soak it in and take it all in. A lot of people did get in touch, it was fantastic.
"We get to the rooms two hours before the game. Before the team meeting then, a player comes up and presents you with your jumper for your debut. Mam was there then so for that, that was great."
For O'Riordan the emotion of being part of a successful opener was heightened by the presence of his family.
"To see them then in the rooms after was something else. It's a memory I'll never forget, I'll savour it for a long time. Even after the game on Saturday, it was an emotional game, you come in after and you see your family there. It does get to you.
"It's more satisfaction for them watching on, realising how far you've come and what you've sacrificed."
AFL debuts are hard-earned. For Irish players grappling with an alien game, it requires plenty sacrifice to reach this level. O'Riordan joined the Sydney Swans in October 2015, Joyce made the move twelve months later to St Kilda.
When the news that a debut was in the offing drifted through, there was an onus to savour those few days building up to the game and reflect on the strides that had been made.
"It was an amazing feeling, one of those weeks you'll never forget," reckons O'Riordan.
"You only make your debut for an AFL team once. The whole week, you just try to savour it in and take it in as much as you can.
"I felt my form was good. I thought I'd a chance, we'd a few injuries and that. I'd been playing pretty consistent football in the reserve side. When the opportunity came, I just had to take it."
Joyce had been knocking on the door for a time. He was told to be ready a fortnight before as there was a chance he would be utilised against the Gold Coast Suns, while he filled an emergency role on a couple of other occasions.
"I was emergency in Perth one weekend and for the previous game (to debut) against Richmond in MCG.
"You warm up with the team, do everything with the team and basically don't run out with them on the field. You just stay in the dressing-room, watch the TV, until the bounce is made and then no one is injured, so you can go watch the game."
Of all the paths taken to the AFL, Joyce's is one of the more curious and novel. O'Riordan was a marquee Gaelic footballer with Tipperary. In 2015 alone before he left, he had spearheaded Tipperary's charge to an All-Ireland U21 final as captain and locked down a berth as a mainstay of the senior side.
Joyce's sporting upbringing revolved around hurling in the heartland of the game in Kilkenny, captaining the county to the 2014 All-Ireland minor title. Gaelic football school outings with Good Counsel in New Ross put him on the radar of AFL scouts, there was no club or county platforms available for him to audition. His rise has been rapid.
"Even the coach there when he took me into his office and when he was announcing that I was going to play, he said, 'When you first came over, you were probably one of the greenest lads I've ever seen to pick up the game.'
"I was a long way back last year and I was actually playing in the second reserves team pretty much. A couple of the coaches pulled me aside and said it was one of the biggest highlights of their career. Some of them have played in massive game and been all-Australians and all that.
"To hear different things like that, it's crazy. But when you first come over, that was the goal in mind. You shouldn't be too excited because that was the aim coming over here to play the game."
The pace and intensity of the encounters struck both players, yet adapted swiftly.
"The pace is obviously different but then again you're surrounded by players who are older and more experienced," says O'Riordan.
"They guide you around the field as well. They understand it's your first game as well, you're not going to get everything right. They're very good in guiding you around the field and looking after you.
"The game itself, it sounds crazy, but I don't actually remember much of it all. One of the lads on the team kicked five goals and I actually didn't even realise he had.
"It kind of goes past you in a blink. You're so focused on your game, you kind of forget what's after happening with the other boys."
"It wasn't a particularly big crowd, it's just the size of the stadium is massive," recalls Joyce.
"It's a spectacular stadium. Once you're in the middle of it and you get your first touch of the ball or first tackle, that all goes out the window.
"The pace obviously lifted, lads are so clean with their hands. VFL grounds are kind of small and tight, especially our home ground with Sandringham is a small, tight field. The MCG is huge and just so much running up and back.
"I started on the interchange, you're on after four minutes. One of our main defenders Nathan Brown actually went down injured so I got the job on one of their main go-to forwards. It was a great experience."
Almost a month before he made his AFL bow, O'Riordan had another sporting experience that he savoured. The Irish rugby squad were touring Australia and before the series decider, a group of them landed at the Sydney Cricket Ground one morning.
The Tipperary native and Tadhg Kennelly were there to welcome them, providing an insight into the world of Australian Rules for the likes of Rob Kearney, Robbie Henshaw and Tadhg Furlong.
"They're absolute animals of lads, they're unbelievable," laughs O'Riordan.
"At the end of the day, they're professional athletes as well and they're just trying to succeed at the highest level. You learn a few things from them, ask them a few questions and see the way they operate. It's an amazing experience to be able to do these things and I'm in such a privileged position.
"You can learn a lot from other sports. I think if you're solely focused on one sport, you'll never learn what you're capable of doing. It's just about popping questions off each other and trying to learn different things. Even the smallest thing could be a massive difference."
For Joyce, sporting interests at home never stray too far from his thoughts. Last Sunday he took in Kilkenny's thrilling clash with Limerick, watching a bunch of his comrades from the 2014 All-Ireland minor hurling triumph bounding on to the senior stage.
"It was a fantastic game. Absolutely I keep a keen eye on all the lads, especially the two club boys, Pat and Richie. We were all on the same teams growing up from U10′s and the Kilkenny minor team together.
"To see the lads kick on is great. You'd love to be there at the time watching it but you can't have everything. Hurling has gone to a new level at home I think. A lot of them are after growing into the role now and Brian Cody is doing it again."
When the euphoria died down after the maiden appearances, the focus shifted to pushing on. Joyce lined out the following weekend for St Kilda in Adelaide but has been in action for their VFL outfit Sandringham since then. O'Riordan is included in the interchange list for the Sydney Swans for their fixture against Gold Coast Suns on Saturday.
A desire to push on fuels both of them.
"I'm actually back in the reserve side now at the moment, it's just about working your way back up again," says Joyce.
"The coach said just use those two games as massive experience, go back to reserves and dominate. I was a bit disappointed but you look at Mark O'Connor in Geelong, he had a similar thing. That's the way it is, it's not going to be plain sailing. It's a tough game and it's a ruthless industry. You just got to keep going and keep fighting."
"It's a case of pushing on now, there's a jersey there and it's up to you if you want to give it back or not," remarks O'Riordan.
"It's a ruthless industry and sport is like that over here. You have to keep plodding away and if you let your guard down for one second, it'll be taken off you. You just can't afford to.
"I said from day one since I came here, I came to the best club in Australia. I firmly believe that, they've looked after me. I'd love to stay in Sydney for as long as I can. It's up to me I guess."
They've hit milestones in recent weeks, achieving prized goals. Now the next chapter awaits miles from home.
The42 is on Instagram! Tap the button below on your phone to follow us!