COLM COOPER HAS been labelled as the mentally toughest player Paul Galvin soldiered alongside and has been backed to recover after tearing his cruciate ligament.
Galvin described it as 'sad' that his former teammate is set for a long period on the sidelines but is not downcast about Kerry's prospects in 2014.
"I got in touch with him briefly. Ah, it was sad. I think everyone was disappointed. The last guy who would be feeling sorry for himself or too down about it will be Colm. He'd be of the view 'Kerry have to get on with it and I've to get on with it'.
"Mentally, he's probably the toughest player I ever played with. So that alone means he will make a strong return. The other thing about him is you mightn't realise but he's very strong legs, which is very important for that kind of injury.
"It's obviously a blow, you're talking about probably the best player to have ever played the game. I think Kerry can't afford to be as down in the mouth as has been portrayed since Colm's injury.
"The group have to come alive now and get better themselves. Kerry are still going to be knocking around come late August or early September. I wouldn't be as negative as it might appear."
Galvin reckons Declan and Darran O'Sullivan are both live options to slot into the centre-forward role. While after a weekend where Conor Cox and Paul Geaney helped inspire UCC to Sigerson Cup glory, the 2009 Footballer of the Year is confident that there is a deep well of attacking talent in the Kerry squad.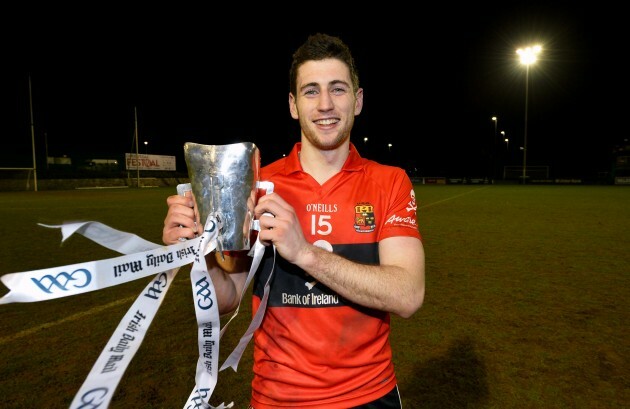 ©INPHO / Presseye/Russell Pritchard UCC Sigerson Cup winning captain Paul Geaney. ©INPHO / Presseye/Russell Pritchard / Presseye/Russell Pritchard
"You're talking about a player maybe of the calibre of Declan or Darran O'Sullivan going onto the '40. Declan played there for years and Darran won an All Star playing out there. There are some really good players there, and that s why they just need to create their own identity now. I would have a lot of faith in them.
"Conor Cox from the club, next door to me, a fine player. James O Donoghue obviously is there. Jonathan Lyne has huge potential, if he can stay fit. 
"Mikey Geaney is a guy who can do a certain job for Kerry, that break-winning, hard-working role at wing forward. Paul Geaney is talented. So there's lots of talent there. It s just about grabbing a hold of it now."