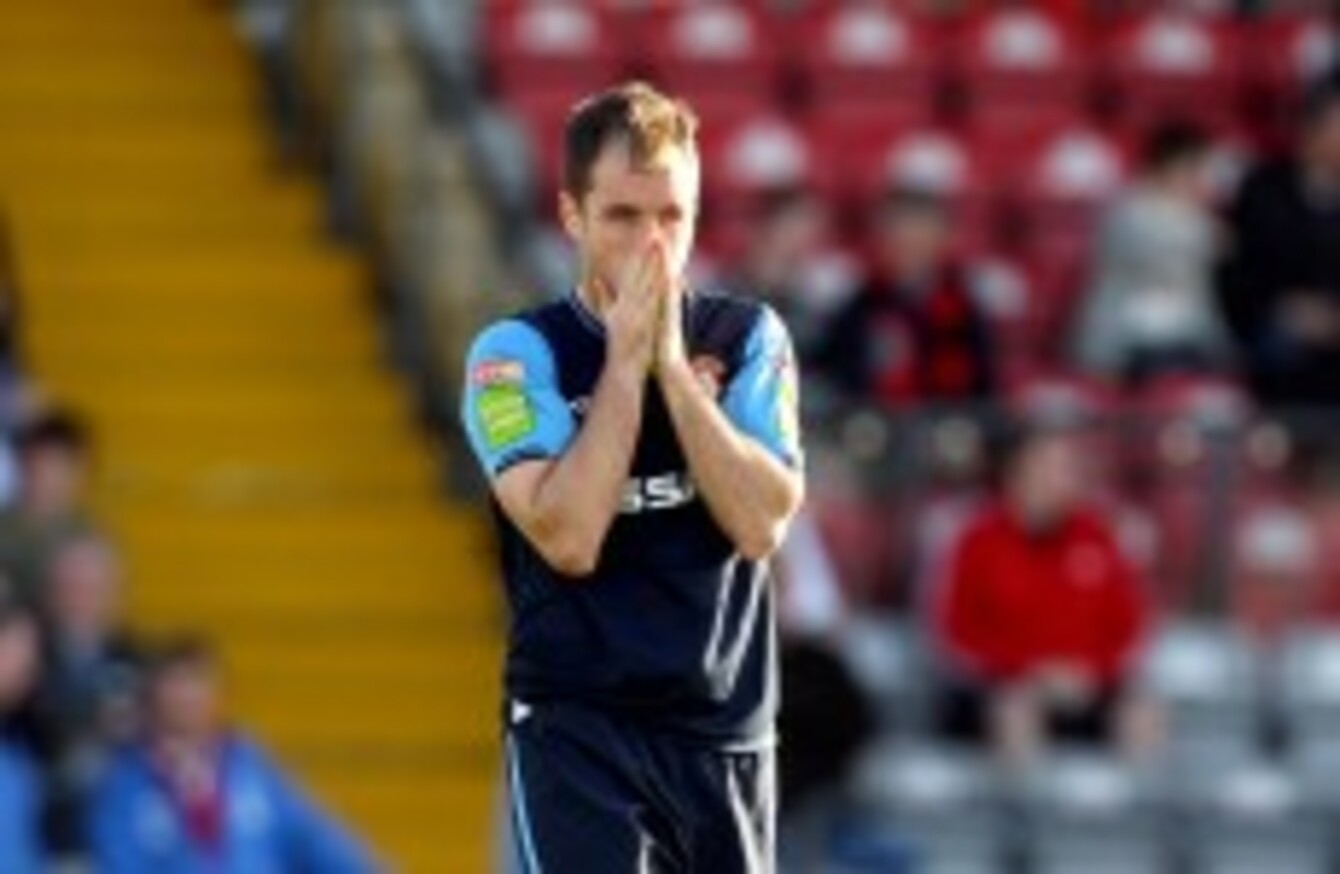 Sean O'Connor and St Patrick's Athletic will be in Tolka Park tonight for a Dublin derby against Shelbourne.
Image: ©INPHO/Ryan Byrne
Sean O'Connor and St Patrick's Athletic will be in Tolka Park tonight for a Dublin derby against Shelbourne.
Image: ©INPHO/Ryan Byrne
IT SEEMS ALMOST heretical to think it, let alone write it, but here we go anyway: is there such a thing as Dublin derby overkill?
The question is one borne of something approximating fatigue following an early-season glut of all-capital clashes, tipped over the edge by the mind-numbing tedium of last Sunday's snoozefest in the sun at Dalymount Park.
The 2012 season isn't a calendar month old yet and we have already had three Dublin derbies, with two more to come tonight and another to follow in Inchicore next week.
It's not going to stop any time soon, either. By the season's end, each of Dublin's five clubs — Shamrock Rovers, St Patrick's Athletic, Bohemians, Shelbourne and UCD — will have played 12 of their 33 league games against one city neighbour or another.
This is hardly a new phenomenon — although it has been increased again by Shelbourne's return to the top flight for the first time since 2006 — and it will remain a fact of life unless the FAI rehash proposals for an expanded Premier Division and flesh it out with the Limericks and Waterfords of this world.
Of course, not all derbies are created equal. For most of the 2000s, Shels v Bohs held pride of place among the derbies because that was the one most likely to decide the destination of the season's silverware. The fractious north/south enmity between Rovers and Bohs usually leads to a uniquely fiery atmosphere. Now, in footballing terms if nothing else, Pat's v Rovers is probably the pick of the bunch.
But setting aside the 0-0 draw between Pat's and Bohs last Sunday (which can hardly be debased any further), does the huge amount of Dublin derbies devalue the supporter experience for regular League of Ireland attendees?
Think of the world's most famous derbies. The vast majority, though not all of them, are prized because there are only two of the city's clubs competing at the same level on a regular basis. Fans of Dublin's "Big Four" clubs will always emphasise one rivalry above others, but the glamour of the other affairs is still unavoidably diluted. Opportunities for lengthy away trips, the bread and butter of the league's remaining die-hards and "superfans", are dramatically reduced.
The flip side of that coin is that a capital-centric league and Friday night football complement each other nicely from an attendance (and financial) perspective. Dublin is the country's biggest urban centre, and if a large swathe of the league is played there, those with office-based jobs can get out of work by 5pm and still make it to their local ground for a 7.45pm kick-off.
A numbers game, or so it seems.
Of course, the losers in all this are those who support clubs outside of Dublin — those who rarely get the derby experience, and at the same time, who often need to take days off or half-days from work if they want to follow their team on the road. It's a fact that has been reflected in the televised games from the league's opening weeks; three of RTÉ's first five matches have been Dublin derbies.
Last season's league table, with Sligo and Derry chasing home Shamrock Rovers, gives lie to the argument that all-Dublin affairs are the league's most entertaining or competitive clashes. But sadly, for the moment anyway, Dublin's dominance of the Airtricity League narrative looks set to continue.
Airtricity League fixtures (Friday, 7.45pm unless stated)
Premier Division
Shamrock Rovers v Bohemian FC (Friday, 7.05pm)
Cork City v Bray Wanderers
Drogheda United v Derry City
UCD v Monaghan United
Shelbourne v St Patrick's Athletic (Friday, 8pm)
Sligo Rovers v Dundalk (Saturday, 7.45pm)
First Division
Athlone Town v Limerick
SD Galway v Longford Town
Wexford Youths v Mervue United (Friday, 8pm)
Waterford United v Finn Harps (Saturday, 2.30pm)