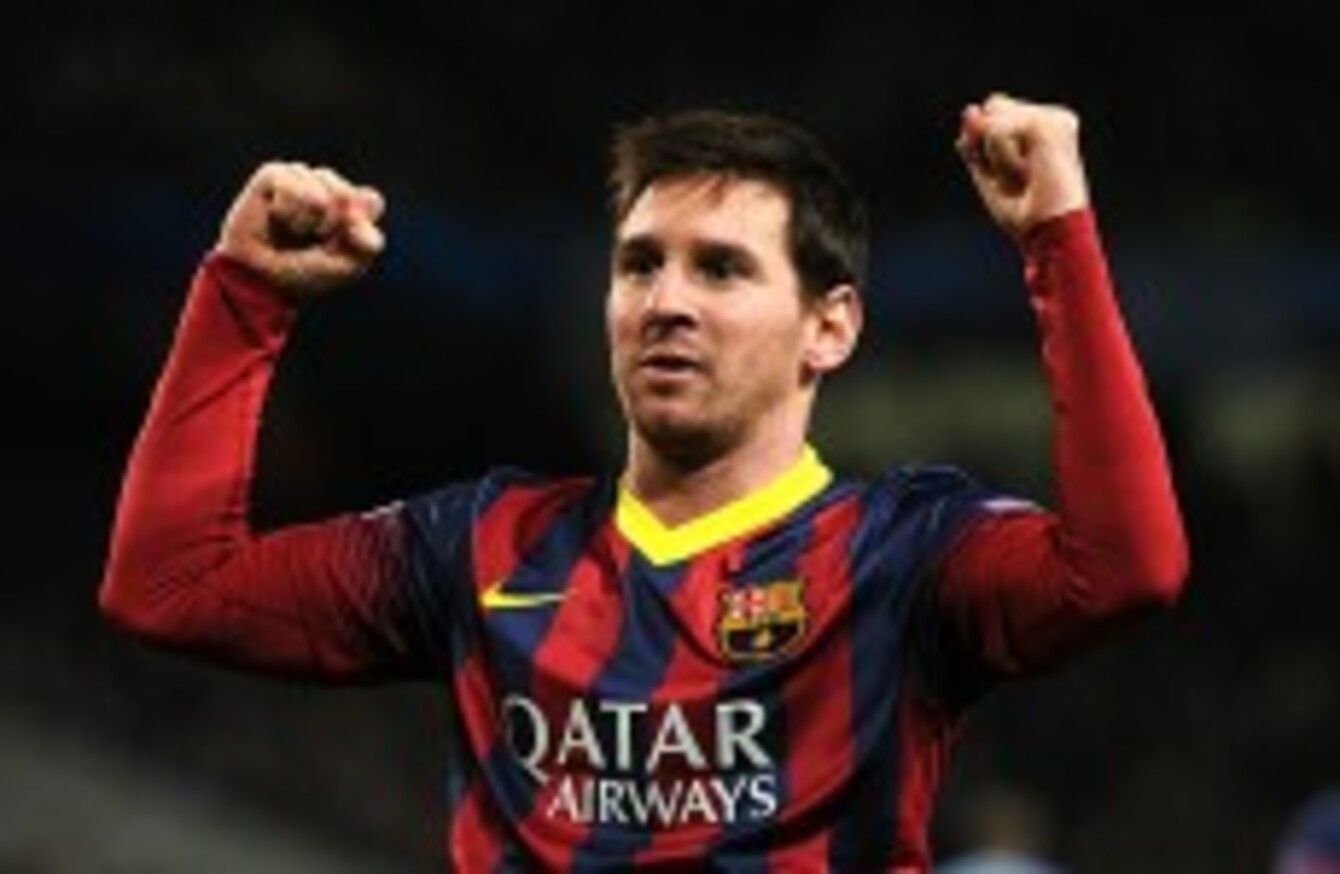 He's buying: Lionel Messi.
Image: PA Wire/Press Association Images
He's buying: Lionel Messi.
Image: PA Wire/Press Association Images
HERE ARE THE sharpest, wittiest, strangest and most memorable comments from you this week, dear readers. If they're not sharp, witty, strange or memorable enough for you, you know who to blame!
As always, thank you for your contributions.
Willie Harpur tells the story of his childhood football sticker albums and a happy ending.  
"I completed the 1986 World Cup album pretty easily so I decided to start the 1987 English league one. Lennie Lawrence, the then-Charlton Athletic manager was the one sticker I needed for months I remember. I found it thrown on the road just after going to the shop to buy thousands more in swaps. It was the happiest day of my life then :)"
We're looking forward to seeing this on show at Goodison Park next season: 
"An Everton fan had a banner made for McCarthy last week:
"71% of Earth is covered by water, the rest is covered by James McCarthy."
Fran Heavey believes the recently-departed Derry City boss could do a job with Spain's star-studded World Cup selection. 
Roddy Collins would win the World Cup with that squad…..
Toddler Maggie O'Dwyer starred in our Pic of the Week as she "led the Giro peloton coming through Malahide. James Brown has his suspicions, however: 
"She needs to be drug tested. She wasn't even heard of 3 years ago, now she's leading the race. Very suspicious."
Like the majority of our commenters, Eoghan Moore would love to see Bath scrum-half Peter Stringer reach a century of caps with Ireland.
"Feel that he deserves his 100th cap for Ireland if he's still going for Argentina in the summer."
We very much doubt this is true, but it made us smile on the piece about Gavin Duffy and 12 other rugby players with GAA links: 
"Devin Toner once played as a goalpost for Moynalvey."
What Lionel Messi could (and should) but with his new wage package: 
"400k a week! That is some amount of fredos and loop de loops."