Ann and Conor after last weekend's win.
Image: Conor Grassick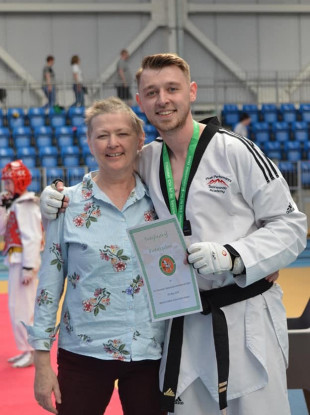 Ann and Conor after last weekend's win.
Image: Conor Grassick
IN APRIL 2017 Ann Grassick had reached her wits' end.
Having been diagnosed with Leukaemia, she appeared on RTÉ's Liveline program to appeal for help caring for her son Colin who has Prader-Willi Syndrome, a condition which means he requires 24-hour care.
In the end, as Ann dealt with her own illness, it was her other son, Conor, who took over Colin's care.
But not only did the 24-year-old have to take a leave of absence from work, he also had to put on hold his dreams of representing Ireland at the Olympic Games in Taekwondo.
It is a decision he'd take again in a heartbeat if he had to.
"I was training for the World Championships in Korea last year," Conor told The42 this week.
"But on 9 April mam was taken into hospital and had one of the lowest blood counts they'd ever seen in Beaumont. It took us about four or five weeks to get that back up and, for a while, they didn't think she'd come out of being so low.
"She was diagnosed with Acute Myeloid Leukaemia (AML) and had a transplant last September before three goes of chemotherapy, but it was the transplant that really saved her life.
"She had just been told she would be released for Christmas when, three days before Christmas, she was diagnosed with breast cancer.
We just thought: 'Jesus Christ'.
"I mean, it's hard enough to deal with one cancer, but to deal with two just seemed impossible. However, she's managed it very well and we're all coping.
"While she was sick, I had to pack up the Taekwondo to take care of my brother but I would do it again.
"My coach told me that I might win 101 gold medals but I only had one mam and, to me, keeping the whole family together and making sure my brother was okay and my mam could focus on getting better, that was more important than any gold medal I'll ever win."
It is thanks to Ann — and the Power Rangers — that Conor took up Taekwondo in the first place.
"I was four [when I first started]," he says.
"I'm from Drumcondra but I actually ended up training out in Baldoyle. My mam thought it would be good for me because I was lacking in confidence as a child. I haven't really looked back since.
"I made the Irish team when I was 11 and I said to myself: 'Maybe I could actually go somewhere with this.'
"At that stage I was playing Gaelic football with St Vincent's and on the Dublin development squad and so I was left with a choice between playing for my county or fighting for my country.
"I was winning medals left, right and centre at Taekwondo and everyone kept telling me that I had a natural talent for the sport so I knew that I had to step-up and commit to it then. There was also the chance to travel all around the world with the sport, which I wouldn't have had if I'd stayed playing football.
"I suffer from ADHD and dyslexia and was a very hyper kid and just mad to kick stuff. I don't know what is was, but I'd just be going around the house kicking the couch or heading to the shops and seeing how high up the telephone pole I could reach with a kick.
"Mam would be shouting at me to stop but it was just a habit.
Some of it might have come from how much I loved watching the Power Rangers and Ninja Turtles and those shows and I wanted to be a Power Ranger when I grew up. That was really the natural way into the sport for me," he jokes.
Conor was nine when he first realised that he could make a real fist of the sport.
"I still remember it so clearly. I was in Baldoyle Badminton Centre and had five fights in one day. I ended up winning them all and became an All-Ireland champion for the first time.
"That was the first time people started to talk about me maybe being a star when I was older and it just helped my confidence grow so much.
"I've now won 11 on the trot since and have never been beaten in an All-Ireland. It becomes harder and harder every year but it's a record I don't want to lose."
Source: claude wynne/YouTube
Conor made his return to competitive action last weekend, winning the Champions International Open in Dublin after a year out.
And he did so with him mother's blessing.
"While she was sick, I didn't think too much about the sport but sometimes it would come into the back of my mind that I might never get back to my best.
"But they say everything happens for a reason and maybe what happened helped me remember what was really important.
"Two or three weeks ago I decided — because there was an international competition in Ireland — that I needed to get back fighting. Not just for me either, but for my mam too, to give her something else to focus on other than cancer.
And last weekend she was able to come and see me fight again and, let me tell you, that was absolutely amazing.
"I ended up in the last fight of the day and it was gas. I remember looking up at her once or twice and, before I went on, I was in tears looking at her. At one stage I wasn't sure I could actually fight.
"But I pulled myself together and I said to myself: 'Look at what Mam has been through. If she can do that, you can do this.'
"I ended up winning the final and just ran over to her and the two of us were in tears, it was such a special moment.
"The whole crowd, it's a tight-knit community so everyone knew the story, and everyone was delighted for her to be able to be there and for me to come back and win after 11 months out too.
"My only training over that time was kicking a bag for two weeks and then I went down to my coach for a day or two. Just being around him brought everything back."
With that competition out of the way, and his mother in recovery, Conor can once again focus on Tokyo.
"The Olympics has always been the goal," he says.
"Mam finished radiation this week, hopefully that's it all done now. She's really happy with how things have gone since being diagnosed and she's so mentally resilient.
"The next competition is in September and then, all going well, I'll be back looking towards Tokyo."
The42 is on Instagram! Tap the button below on your phone to follow us!