IT WAS OVER four years ago when I chatted to Conor Lyne for the first time. We met on a cold, damp and miserable evening in Dublin. The rain lashed and the wind whipped. Still, his effusive demeanour and personality proved a sharp contrast to the extremities outside.
While he was back in the country, he was picking up as much media exposure as possible. There were newspaper features, the exciting allure of TV studios.
He was energised. For an Irish winter athlete, there was finally some attention. People, he felt, were taking an interest.
A few weeks after, he was carrying the tricolour and parading proudly through the Fisht Olympic Stadium in Sochi. He was ready to take on the world and do his country proud on the slopes.
But, just before competing, he picked up a stress fracture in his shoulder. He struggled to shake it off but managed as best he could. Far from full fitness, he finished 40th in the Slalom final, an excellent result in the circumstances.
But there was a rapid and unexpected comedown.
"It was the one thing I wasn't prepared for," he says.
You're on such a high as an athlete. The Olympics is the pinnacle, the childhood dream. It's an incredible moment. But the day after it finished, the media coverage just completely dropped. We're a very small winter delegation. We're not bringing back medals and being welcomed home. It definitely doesn't take away from the glory of being at the Olympics. But hopefully, in time, that will come and there will be more coverage afterwards. I think, maybe, that's the life-cycle of news generally. Things come and go. Athletes that are in Korea right now should enjoy every second of it but maybe be prepared for the drop after the peak.
"When I first heard I was going to carry the flag, I was speechless. The joy and pride I had. Stepping out in front of 3 billion who were watching around the world. At that point, there was so much emotion I'm not sure if I felt anything because it was so overwhelming. Then, the day after, that feeling of hope and passion was crushed with the injury. And from there, the rest of the Olympics was just a fight. A mental and physical fight to get my body and mind ready to compete. The one time I shouldn't have been injured, I was. So it was a mental battle. Sometimes I look back with disappointment for not performing at my best but I have to remind myself that it was an achievement in itself that I came back from injury and pushed out of that starting gate when not a lot of people thought I could."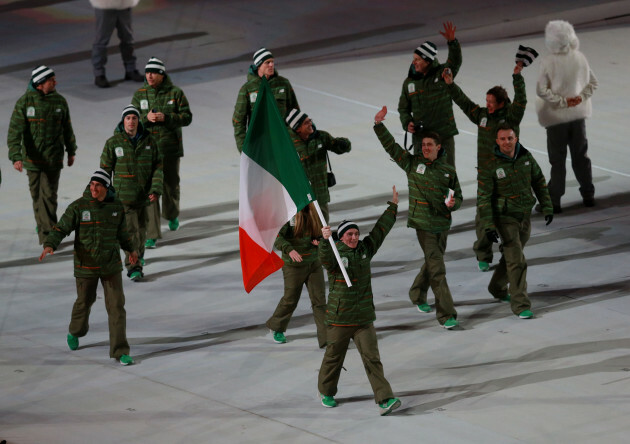 David Davies David Davies
Lyne didn't just fade into obscurity.
After the Winter Olympics in 2014, there was the World Championships early the following year. But, rather inevitably, it slipped through the cracks. There was another injury – this time to his back after a very nasty fall – but more grit and determination and fight. And a 41st place in the Slalom. Again, it was incredibly admirable.
Yet, the media coverage wasn't there anymore. Nobody was interested. And just a few short months after being in Sochi, Lyne was working in a bookies in Dublin.
"I definitely struggled with that," he says.
"But it goes for the whole Olympic cycle in general. Regardless of whether you're from Ireland or from the US, you have this ultimate Olympic year and you have the media interest but there are all those years in between too. Like, after Korea, the focus just shifts to the 2020 Olympics. And that's where the majority of athletes like myself, struggle. It's that gap. If you don't have coverage, media, support, then sponsors don't have an upside to cover you the whole time because they're not getting a piece of the action."
As an Irish winter athlete, Lyne was an oddity for potential sponsorship deals. Representing Ireland (born in the UK to Irish parents but with a thick Kerry accent due to regular trips home to spend time with family), he lived the majority of his life in Utah. He went to school there. He trained there. So, he had no presence or imprint on the country he skied for.
It meant that he was tough to promote and market.
"There was that disconnect," he admits.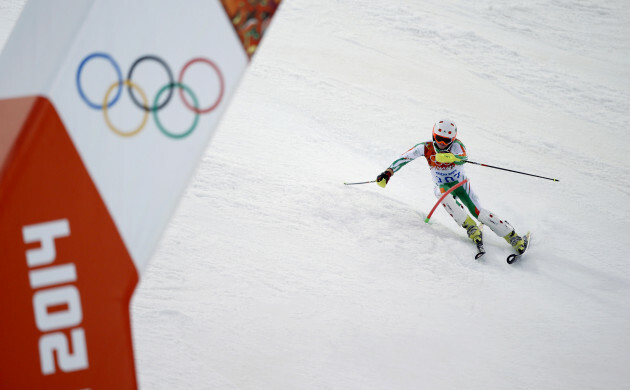 Ian McNicol / INPHO Ian McNicol / INPHO / INPHO
"I was in Utah for most of my life, and in the build up to the  Olympics. And it was difficult for potential sponsors. For them it was a case of, 'As an Irish company, nobody really knows your name back home yet'. And then the companies back in Utah were supporting American skiers.
And from an organisational level, it would be a lot easier to work with the federation or the Olympic Council on a progressive basis if we were all based at home. And that's the major difference between the Summer and Winter Olympics. The boxing, Athletics Ireland – they're all within range of the Olympic House in Howth or the National Sports Campus so you can do some training and maybe get a more structured program. But because we have to go abroad for that, it can, at times, be disconnected. Also, most of the delegation from Snowsports Association of Ireland are volunteers. They have other priorities but are doing the best they can to support their athletes."
For Irish winter athletes, there's a big emphasis on self-promotion. In Lyne's case, he quickly became aware that the only way he was going to get his story out there was by doing it himself. So, his social media presence became crucial. Maybe, just maybe, his Instagram photos would be seen by a potential sponsor and he could pick up some crucial extra cash?
In terms of exposure and promotion, Lyne was pretty isolated.
"The OCI or the association members have full-time jobs and other priorities elsewhere," he says.
"So maybe we could get the athletes more involved with new idea generation. I'm sure the guys in Korea right now would have no problem in starting a campaign for themselves and connecting their accounts to a wider network and promoting themselves through that. You have younger athletes and older organisational figures and sometimes there's a disconnect there in terms of ideas and vision. And maybe a bridge needs to be built there for the future.
The support was there from my association, the OCI, my friends and family but being an athlete from a developing country in terms of winter sports, we're not ever going to be on the front of KerryGold or a Tayto packet. It's limited in terms of visibility. The hype just isn't there in Ireland yet. I think it's going to grow as the years go on – we're seeing a lot more interest now – but we're not there yet. At this Olympics we have a freestyle skier competing for Ireland. That's how far we've come and it speaks volumes for the hard work put in by the athletes and their associations and their families. That's what I love about Ireland. We put everything into an idea and a passion and it doesn't matter how long it takes to get there, we will get there eventually.
And I am proud of myself for what I did, in terms of breaking a little bit of that and getting the media more involved. Afterwards, it was difficult and demotivating. But you just had to get on with it.
"That's life."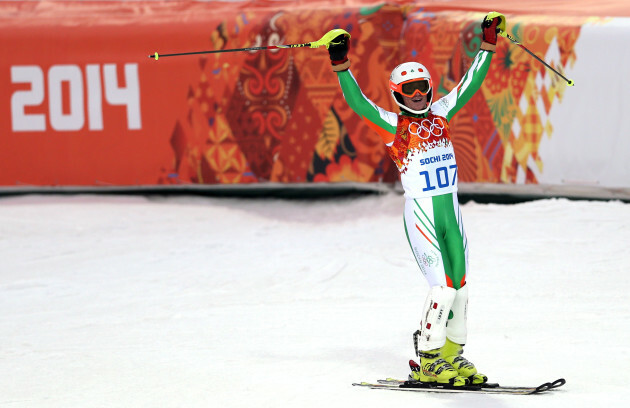 Ian McNicol / INPHO Ian McNicol / INPHO / INPHO
Lyne took two years out of his degree at the University of Utah to move to Europe full-time and concentrate on skiing and his Olympic dream.
But he had a decision to make: try, somehow, to keep a professional sports career going. Or raise the white flag and admit, however frustrating, that it was time to walk away.
"The money had ran out," he says.
"The OCI and the Snowsport Association supported me in a huge way but that money had gone. My family's personal funds were spent. My savings were spent. A two-year campaign to make the Olympics cost a substantial amount of money. So to continue was going to be difficult. And the other priority was college. I had get my life in order and decide what I was going to do. And the other thing was that the sudden drop in coverage – from the peak to that dip – was mentally difficult for me. I wasn't expecting it and it de-motivated me from racing in a lot of ways and it was something I could've been better prepared for.
"I couldn't commit to being a full-time pro athlete because the resources weren't there because of funding or big sponsorships but, then again, I wasn't at that level to provide that kind of benefit to the sponsors. So you're trying to find that balance. Trying to excel as much as possible in your sport but trying to look out for your future career too. You can't ski race forever. Very few make it to the top and after that, there aren't many avenues – outside of coaching – once the 'athletic life' finishes. And I think all athletes – not just Irish – struggle with that deeply."
Ultimately, it was a reality check. The sobering moment of clarity; that he'd probably already reached the highest point possible. For various reasons he couldn't sustain another shot.
He finished his degree in Utah and has recently started working for Microsoft in Seattle and enjoys the city's relative similarities to Ireland ('It's wet. It's cold. It's much like Kerry, actually').
Ian McNicol / INPHO Ian McNicol / INPHO / INPHO
He's been keeping a keen eye on the events in Pyeongchang. He's been messaging Irish snowboarder Seamus O'Connor (a team-mate from four years ago) about flag-bearing duties. He's been gazing at friends as they power down the slopes. Understandably, his mind wanders occasionally.
"I'm sure it's very similar for another athletes as well, those who have stepped away from the sport and have gone into careers or back to study," he says.
"It's bittersweet when I look back. It was one of the best and proudest moments of my life but you're also pretty sad that you're not there again. You ask yourself, 'What could I have done differently?' or 'If only I kept going, would I have been there again?'
But half of why you do it is because of the dream you had as a child. The other half is because you're so proud to be selected for Ireland and that you get to represent the country. Regardless of the results or the injury or whatever, it was still all about putting on that green, white and gold suit and skiing down for Ireland in front of millions of people worldwide. You're not looking for thanks. You do it for your country and the passion you have for the sport. But sometimes there are situations where people sometimes don't get recognised and that's the way the world works. If there's not a value for you in terms of sponsorship then it's not going to happen. And that's another mental battle you have to have with yourself: was it worth it? And if I had to do it again and deal with the ups and downs and the successes, I'd obviously do it all again.
"In a heartbeat."
The42 is on Instagram! Tap the button below on your phone to follow us!