CONOR MCGREGOR WAS in bullish form today as he promoted this weekend's UFC bout with Max Holloway.
The Dubliner sat at the extreme end of the press conference table behind shades, a bow tie and a baseball cap.
Despite the attire and the presence of superstars of the sport, Chael Sonnen and Shogun Rua, McGregor managed to command more than his fair share of attention. Albeit many of the the questions related to the hype which surrounds him on the circuit.
"I don't really care about people say. Good or bad," McGregor says forthrightly. "When the door shuts, I'm going to go forward. I'm gonna go at my opponent and we're gonna exchange.
"The result is not in my thoughts, I'm just gonna go out and do what I do every day and have fun.  I'm living the dream right now, so I'm a happy man."
Asked what was going through his mind, he added: "Not much, you know. There's two things I really like to do and that's whoop ass and look good. I'm doing one of them right now. Saturday night, I'm gonna do the other."
His opponent will be Max Holloway and, far from resenting the attention afforded to the Irishman, the 21-year-old feels McGregor is fully deserving of his status in the build-up.
"It is what it is. He's got hype, man, and I just can't wait until Saturday night when we get to mix it up," Holloway says.
Holloway was also keen to downplay talk of this being a short-notice fight for him, saying he tries to stay in fighting shape.
"It wasn't really short notice I had a little over a month. That's more than enough if you stay ready. I like to stay in shape. I can't wait to fight this guy. He brings a lot of tools to the table and we have the tools to make it the fight of the night."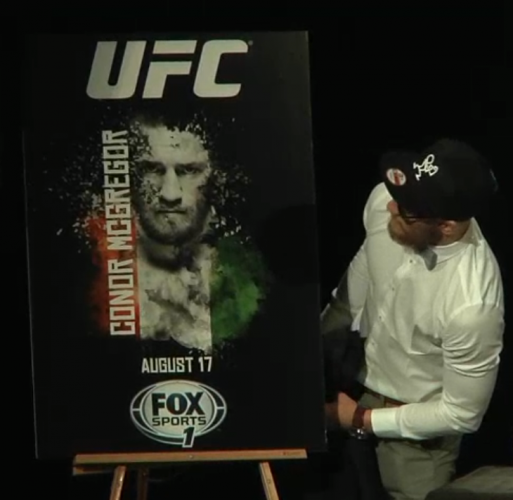 McGregor unveils a fan-designed poster which will be distributed this week to promote the fight.
By this stage the Hawaiian  surely realises that McGregor will be counted as a hometown fighter in Boston, and the Dubliner is certainly not backing down from  city's Irish links.
"I honestly feel at home here. I can't go anywhere without seeing an Irish flag and I had that media day at Peter Welch's gym. I was in taking a shower and a little guy came in from a little Irish town called Connemara, a town where they speak our native tongue, and he came in and started speaking as gaeilge.
"Here I am taking a shower and this little aul' fella comes in and starts speaking fluent gaelic. I feel at home here. I'm happy and looking forward to going out and putting on a show for these people."
McGregor played coy with rumours that Steve Collins would be part of his corner team this weekend, but smiled as he looked around and put the mic down with a "who knows, tune in Saturday and you'll find out."