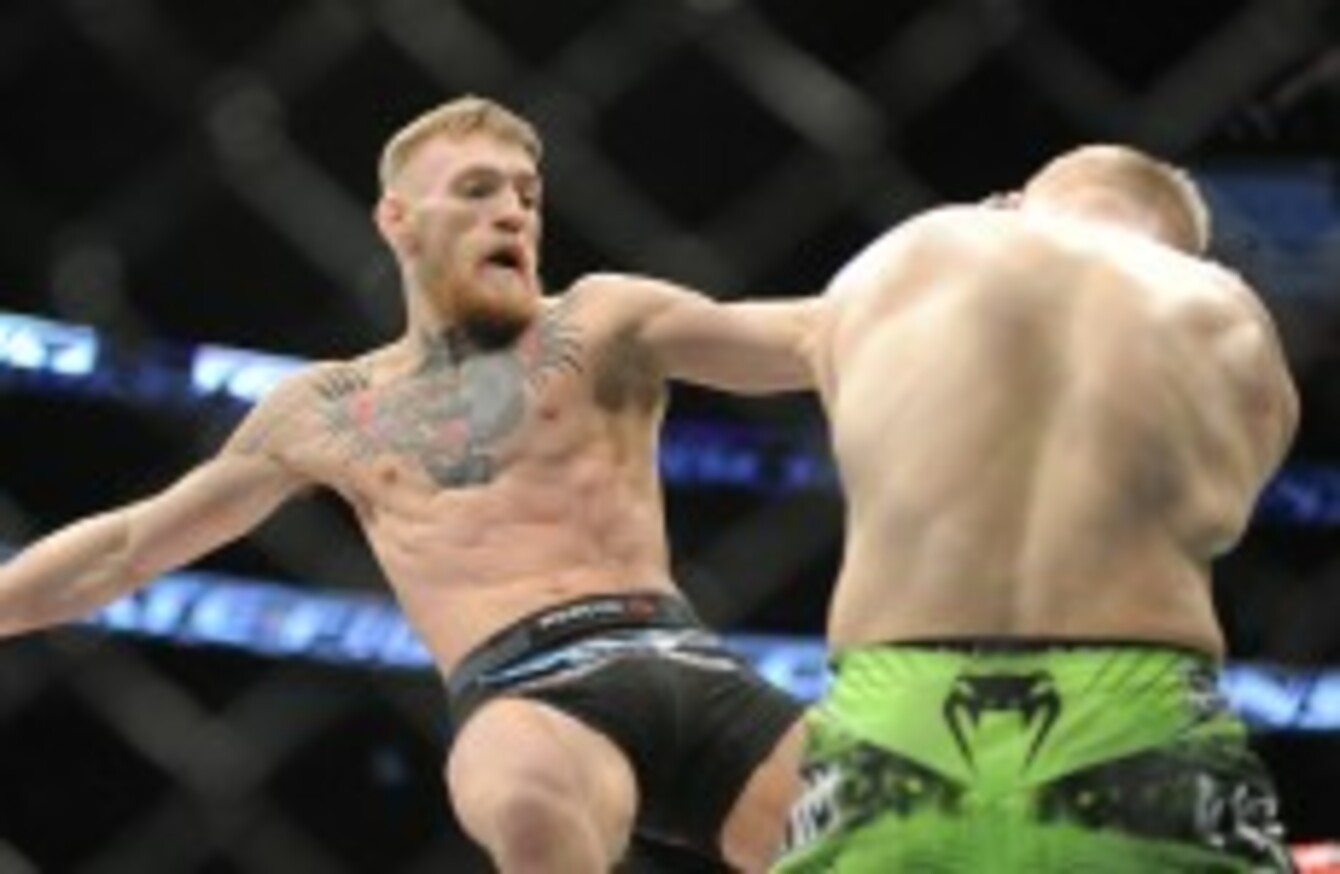 UFC featherweight title challenger Conor McGregor.
Image: Emily Harney/INPHO
UFC featherweight title challenger Conor McGregor.
Image: Emily Harney/INPHO
THEY'VE HAD SOME heated verbal exchanges in the past, but Diego Sanchez insists that he's 'not a Conor McGregor hater'.
In fact, Sanchez is now full of admiration for McGregor; so much so that the Irish featherweight appears to have helped Sanchez to rediscover his appetite for Ultimate Fighting Championship success.
Sanchez, a 21-fight UFC veteran who was the very first winner of The Ultimate Fighter back in 2005, is currently recovering from a fractured collarbone and hasn't fought since last June.
But the 33-year-old, who has competed mostly in the lightweight and welterweight divisions, is currently on the comeback trail and has set his sights on a run at the UFC's featherweight (145lbs) belt — which McGregor will compete for this July when he takes on defending champion Jose Aldo in Las Vegas.
"I've never really thought about going down to [145lbs], but then of course this guy Conor McGregor, he came around and had great, tremendous success. I'm not a Conor McGregor hater, I'm actually a fan of the guy," Sanchez told The MMA Road Show with John Morgan.
"There were a couple of things that I saw that attributed to his success. The first thing was his size; I saw that he had a very big size advantage and reach advantage, and the guy was able to make weight and keep his strength. He's about my size, and it kind of struck me that maybe I could do this. Maybe I could make [145lbs]."
Sanchez added: "I'm going for the belt. I'm eyeing that 145lbs belt. I do want the fight with Conor McGregor. This guy, he drives me to be a better mixed martial artist. He drives me to evolve. This guy drives me in a positive way, so that's a fight that I think is going to happen. I'm looking for that fight."
Last October, McGregor claimed via social media that he had agreed to step in to fight Sanchez at UFC 180. The Dubliner had hoped to replace the injured Norman Parke to take on Sanchez in Mexico, but he was booked to face Dennis Siver in January instead.