IRELAND'S GREAT UFC hope Conor McGregor takes on Max Holloway at Boston's TD Garden later tonight.
We will be taking you through the build-up, the fight itself, as well as bringing reaction afterwards.
So kick back and prepare for some action as 'The Notorious' aims to earn his second victory in the Octagon.
As always, we'd love to hear your comments. Send them to ben@thescore.ie, tweet them, find us on Facebook, or leave a comment below.
Good evening and welcome along, sports fans. He may have been steadily climbing the ladder since finding MMA as a teenager, but the hype surrounding Dublin fighter Conor McGregor has exploded in the past six months.
Back in April, he turned more than a few heads with a first round TKO in his UFC debut against Marcus Brimage in Sweden. Since then, the 25-year-old has been gaining new fans at a phenomenal rate with his charismatic personality and devastating ability.
Tonight, he faces Hawaiian opponent Max Holloway in Boston – where the main event is Shogun Rua v Chael Sonnen.
The prelims began at 9.3opm and we're told McGregor is due out sometime between 11pm and 12.30am.
In need of some pre-fight reading? You came to the right place…
We got to meet Conor for a lengthy chat a couple of weeks ago, where he talked about cruising down the Las Vegas strip with UFC president Dana White and his gameplan for this latest bout. Earlier this week, SBG Ireland founder and Conor's coach John Kavanagh was nice enough to take a call from us in his Boston hotel. He revealed that former team-mate and UFC 93 fighter Tom Egan would be cornering on the night and insisted that Conor has improved immensely in the past four months.
Not enough?
We also managed to track down the last man to beat McGregor – pro boxer Joseph Duffy, there's quotes from the pre-fight press conference, a preview of the whole card from our MMA expert Brian Kirk and we even came up with 10 simple steps to hosting a party for fight night.
Oh, and here's a picture of McGregor from his school Sports Day: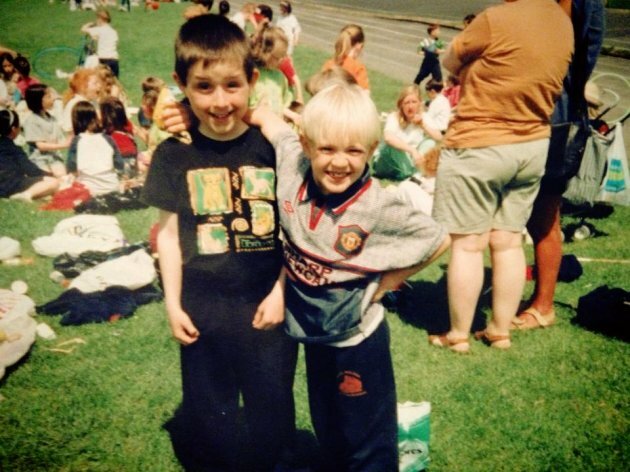 Credit: Robert Hamilton via SetantaMMAShow
Here's Conor, John and Tom. The calm before the storm.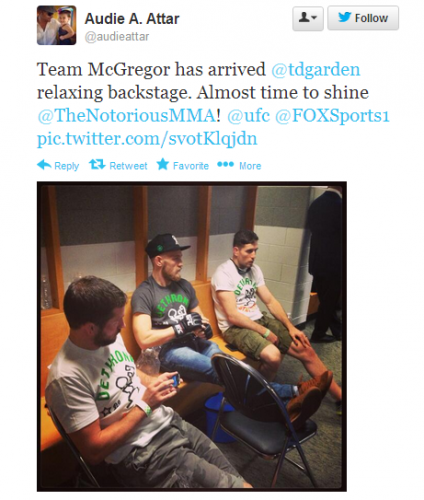 Credit: Twitter
For those of you who have yet to see Conor fight, check out his impressive highlights reel:
YouTube credit: Bloodstream MMA
All you lucky sods who've got BT Sports 2 can tune in in a couple of minutes with Conor scheduled to fight between 11.30pm and 12.30am depending on how the fights before his go.
SUPER NEWS! There are tonnes of people asking for a stream and, guess what, we've got one. Thanks to the good people at UFC Ireland, we've learned that you can watch the fight at: http://www.ufc.tv/video/prelims-ufc-on-fox-sports-1-1. Simply sign up or log in through Facebook. Do it!
Steven Siler v Mike Brown is just about to begin with McGregor v Holloway up next. Not long to go now.
That didn't last long. Siler wins by first round TKO. Popcorn at the ready, folks. Our boy is about to get started.
McGregor gets a huge applause while walking towards the Octagon to this:
Really impressive opening round from McGregor. He begins on the offensive and catches Holloway with a few nice punches. He looks so unfazed.
Stikes landed so far:
McGregor – 60
Holloway – 20
"I feel great," Conor tells coach John Kavanagh after round 2, during which large parts were spent grappling on the ground.
It's all over. No knockout this time but there's little doubt that McGregor was the more dominant of the two fighters. Official decision on the way.
By unanimous decision, CONOR MCGREGOR DEFEATS MAX HOLLOWAY.
McGregor is announced victorious.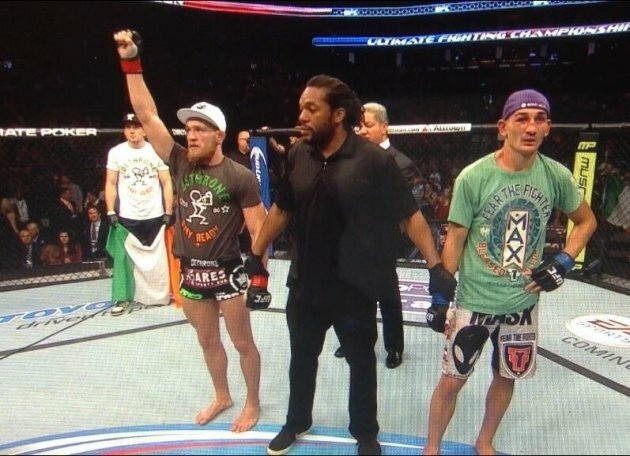 That's now 2-0 in the UFC for featherweight McGregor and although he didn't finish the fight in such spectacular style this time around it was an assured performance against what proved to be a tough opponent in Holloway.
I'm lost for words, McGregor tells Joe Rogan. "The support was unreal. Max gave me great exchanges."
He adds that he suffered a knee injury in the second round.
That's about it for this liveblog but we'll be back with post-fight reaction in a bit. Thanks as always for the company.