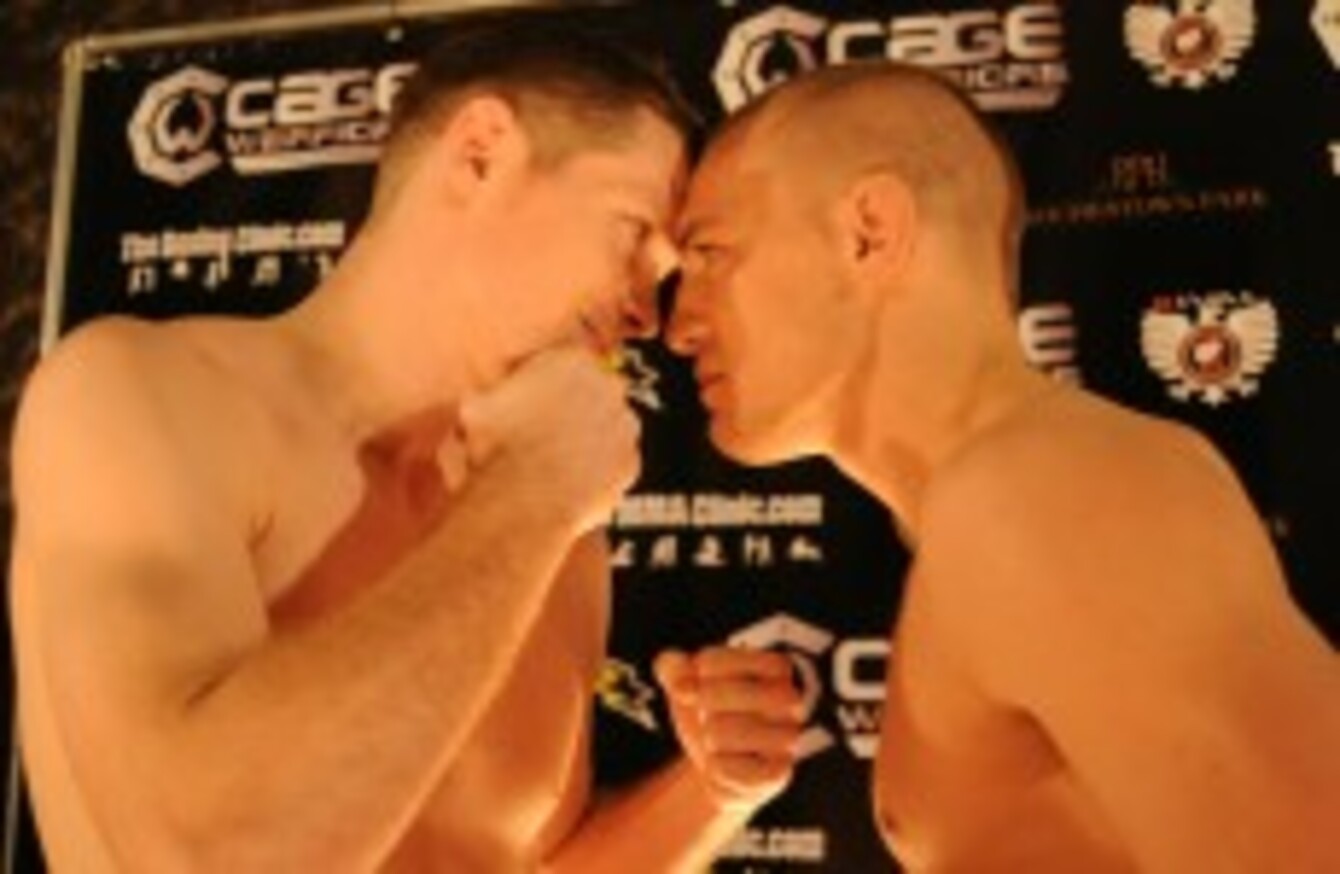 Joseph Duffy and Conor McGregor square off at the weigh-ins before their Cage Warriors bout in Cork in November 2010.
Joseph Duffy and Conor McGregor square off at the weigh-ins before their Cage Warriors bout in Cork in November 2010.
THE COLD WAR between Conor McGregor and Joseph Duffy is officially over.
The pair fought at Cage Warriors 39 in Cork back in November 2010, when Duffy defeated McGregor via first-round submission.
Duffy went on to fight for the Cage Warriors lightweight title the following October but was defeated by Ivan Musardo in a bout during which he sustained a broken hand.
The Donegal native then swapped mixed martial arts for boxing and embarked on an undefeated 7-0 run in the ring, before returning to MMA last year.
Duffy was born in Donegal, raised in Wales and spent three years training in London. The 27-year-old is now based in Montreal, where he's a member of the Tristar team.
Duffy was signed by the UFC earlier this year and after impressive wins in his first two outings in the octagon, he'll face Dustin Poirier in the main event at UFC Fight Night 76 in Dublin on 24 October.
Despite their history as former opponents, McGregor and Duffy have had a mostly cordial relationship since their 2010 bout, but that now appears to have changed – something which may have been sparked by Duffy's social media offer to 'step in and beat Conor McGregor again' after news emerged of an injury to Jose Aldo, which ultimately forced the Brazilian to withdraw from his scheduled contest against McGregor in July.
Speaking to reporters in Los Angeles last night, McGregor was asked about next month's meeting of Duffy and Poirier. The UFC interim featherweight champion didn't pass up the opportunity to let his true feelings be known when it comes to Duffy.
McGregor expressed his belief that Duffy and Poirier earned their headline slot due to their status as former opponents of his, before questioning Duffy's nationality and his potential to join him at the top in the UFC.
"I'm happy to be bringing in extra revenue for the company," said McGregor, a former Cage Warriors featherweight and lightweight champion. "I'd love to see Duffy climb that rank. Do I think he has it in him? I don't. I think he's a journeyman.
"When I look at his career, he lost the Cage Warriors lightweight title, the title that I won; he was submitted in the fourth round. And he filled his shit with excuses; he had a sore hand or he had this. He quit the sport, he moved country, he changed teams. He was Welsh Joe, then he was London Joe, now he's Canadian Joe. Then he sees my success and all of a sudden he's Irish Joe.
"I'd love to see him climb up and I would KO him stiff, just for the way this has all panned out. But I see him as a journeyman, I don't see him making that climb.
"But we'll see. It'll be interesting. This is a nice opportunity for him to go and get up there. Let's see how he handles Dustin. Dustin's no slouch, Dustin comes to fight, Dustin is experienced.
"A lot of people think they can do what I do until it's time to do what I do. It's a completely different animal with all the media obligations, all the stress. It's not just showing up at the gym no more. So I'm interested to see how it goes, I wish him well.
"If the opportunity presents itself I will KO him stiff, or if Dustin comes in and makes a climb, because I know Dustin is looking at it again; Dustin wants another crack as well. It's an interesting fight. We'll see how it plays out. We'll make decisions and we'll make talks then after the contest."
Earlier in the conversation, McGregor reiterated his desire to move up to lightweight after his featherweight title unification bout against Jose Aldo on 12 December. As for a rematch with Joseph Dufy when he gets to the 155lbs division?
McGregor: "He loses the Cage Warriors belt and quits the sport, blames a broken hand, moves country, changes teams, changes sports, then sees my success and my hard work.
"When I faced defeat, I put my head down, I grinded and I rose up and became a two-weight world champion in Cage Warriors and a UFC featherweight world champion. When he faced defeat he quit the sport and ran.
"And then he sees my success, my hard work, my drive and my dedication, he decides to shave a shamrock in his head and call himself Irish Joe and come back. I definitely have my eyes on ol' Joe.
"So we'll see how he goes but I would love nothing more than to KO him stiff and put him in the ground or send him back to his other sport that he ran to after he lost."
McGregor and Duffy are likely to cross paths in Las Vegas tomorrow, with both fighters scheduled to attend the UFC's #GoBig press event at the MGM Grand.
Watch Conor McGregor's full media scrum in LA below…
Source: MMAFightingonSBN/YouTube
Video: MMAFighting.com