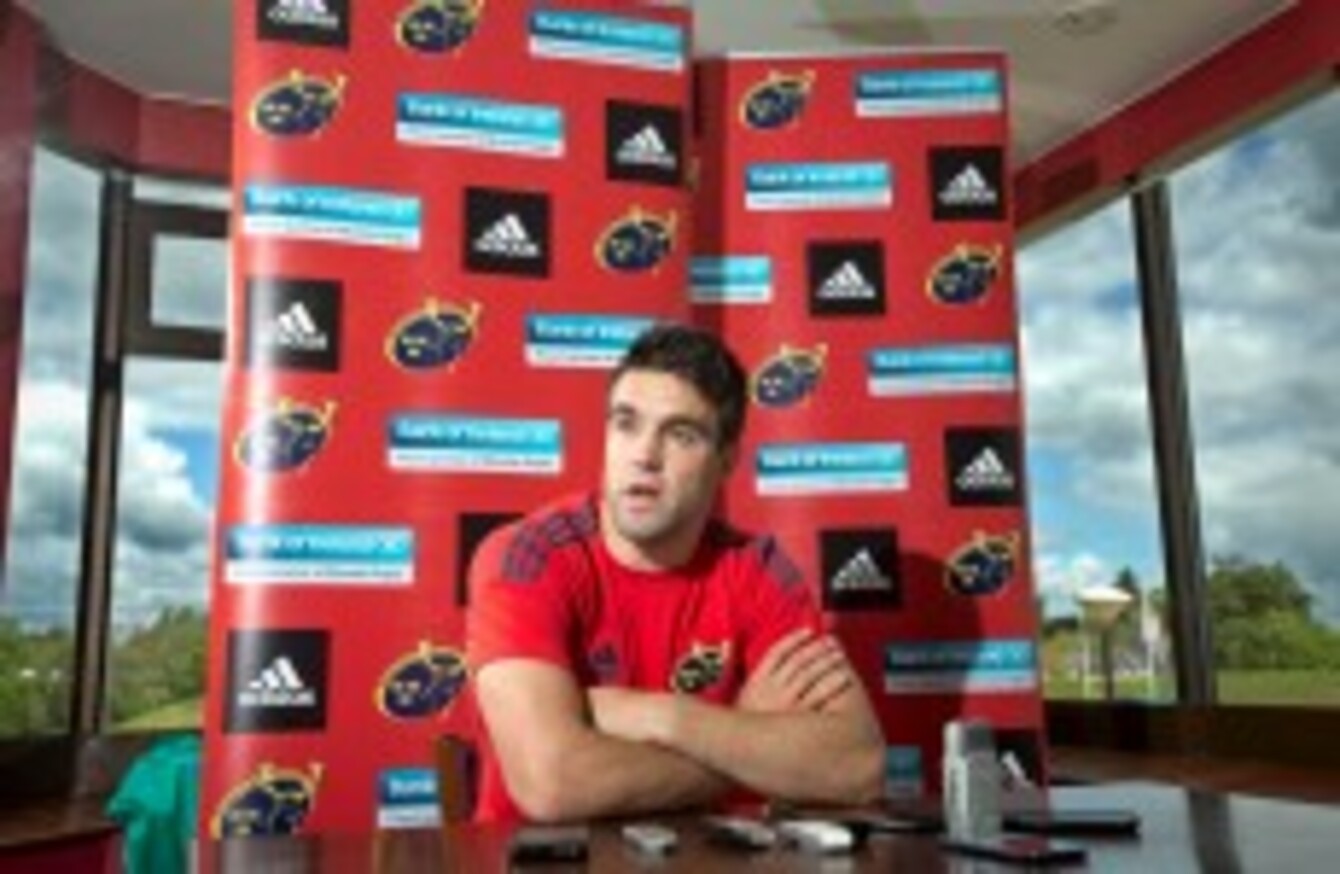 Image: Morgan Treacy/INPHO
Image: Morgan Treacy/INPHO
WHY DOES THIS seem like such a familiar build-up for Munster?
Perhaps it's because they've done it time and again around their big games this season.
Before beating Gloucester in October, they were losing in Edinburgh. Before thumping Toulouse, they were in the Aviva and a fortnight before taking on Toulon, they were getting shunted around Thomond Park by Glasgow.
Last weekend, they were in the doldrums against a suped-up Ulster Ravens XV.
What next? Well, the hope is that one poor showing will yet again prove to be the wind-up to a performance of a suitable standard.
"I am, completely sick of it," agreed Conor Murray before he and Ian Keatley took in some kicking practice at the University of Limerick yesterday.
"We'll fix that within our squad. That's up to us, but we do have had good performances and then we come and don't turn up at all.
"It's absolutely not good enough, we all know that within the squad. We all are disappointed with the way it happened last weekend, but we've got a semi-final and potentially a final to look ahead to."
Murray's first word into the microphone had been "embarrassed" in relation to Saturday's error-ridden display at Thomond Park. This Munster team take pride in their work, but pride has too often come after the fall.
"Within the squad, all the players knew how poorly we performed and we all took responsibility ourselves. It's us out there on the pitch. The coaching staff did more than enough to get us ready for that game and we can't just turn around and say it was their fault. It was completely our fault.
"It's a player-led squad. We don't need Rob or Simon or Axel or Cossie telling us how poorly we've played. We can gauge that ourselves and they help us to get over that."
Getting over the hump satisfactorily will mean extending the season by fortnight and one more big game. Away venues have so far proved to be unhappy hunting grounds in Pro12 semi-finals with all eight going the way of the hosts. And, in Glasgow, Munster have been presented with one of the continent's in-form teams having won each of their eight games since March 1.
"They're just playing a really good brand of rugby at the moment. They've got game-breakers throughout their back-line that aren't afraid to have a cut and they seem to have a structure that suits the type of players they have in their squad. They all believe in that structure and they're pretty dangerous within it."
Ready
With a six-day turnaround between fixtures – the same inconvenience for both sides – Munster have slightly amended this week's training schedule so that tomorrow will be their only big hit-out in between games.
There are benefits of having 24 fewer hours of preparation time too, of course. Any good professional is left craving the next fixture after a game in which they felt they didn't live up to their own standards. And Munster will have some bodies refreshed and ready to add to those who want to right the wrongs of Thomond Park. Not only this weekend, but in the fixture they hope will follow too.
"We're highly motivated to win something with this squad. Over the last few years, Rob, Simon and this group of players have worked really hard and we've no silverware to show. That's a huge motivating factor going into this weekend."
Time to deliver again.