FIREFIGHTER ALEX O'SHEA smashed a crazy Guinness World Record to become the fastest person ever to complete a marathon in his full work rig-out.
O'Shea set the milestone for running 26.2 miles in full firefighting attire, including steel-toed reinforced firefighting boots, fire-retardant pants and jacket, as well as his 3lb firefighters helmet and visor. In doing so, during the Cork City Marathon, he smashed the previous record by 58 minutes.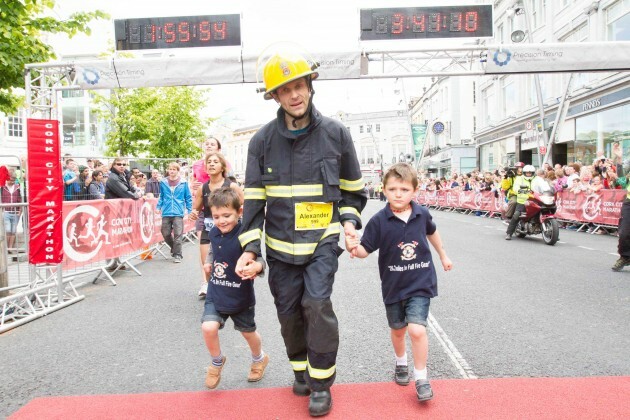 Darragh Kane Alex O'Shea crosses the finish line with the help of his sons, Leon and Noah. Darragh Kane
O'Shea was running to raise funds for his charities, the Irish Guide Dogs for the Blind and his local Ballineen Enniskeane District Association Playground Development Fund (BEDA). He was accompanied over the course by two work colleagues, who ensured he kept hydrated throughout the gruelling run.
Race director Jim O'Donovan said, "Congratulations all the winners of marathon and to each and everyone that crossed the finish line.  We are particularly thrilled that Alex O'Shea has set a new record here in Cork today through his extraordinary feat of endurance and perseverance.  He truly is a hero, and has raised both awareness and funds for his charity and local playground."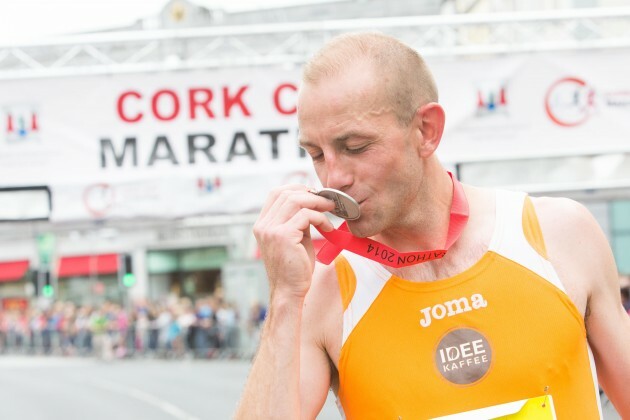 Darragh Kane Bartosz Muzerski won the men's race for the second year in a row. Darragh Kane
Irish Olympian Pauline Curley set another record this afternoon as she set a new course best of 2:43.47 to retain her women's title. Bartosz Muzerki also retained his crown as he led the men's race home in a time of 2:28.38. More than 7,500 runners, professional and amateur, took part in the marathon.