I FEEL LIKE I ought to tread carefully here. It doesn't take too much for a former Cork goalkeeper to be deemed a raging hurling snob. So maybe it's wise not to praise too extravagantly the Munster hurling championship. But, seriously folks, has it not been something else? And there's the last round of games and a final to come yet. 
Almost six months into the year, the Munster hurling championship has been the only truly compelling event in the county calendar so far. The only high-octane fare, the only competition where analysis is not qualified by ifs, buts, and it's only Aprils. 
The challenge for the GAA is not in identifying the formula, but in replicating it at all levels of county competition and in both codes. 
The recipe itself is easily recognisable: teams of a similar level set against each other, with real peril resting on every result.  
Nobody loses a Munster championship game and talks of 'learnings'. The only fitting response is 'oh shit.' 
Come Sunday evening one of either Cork or Limerick will likely be gone from the championship before June, with Waterford already searching their souls. 
Cork made the league semi-finals, have made discernible progress under Pat Ryan, have an abundance of talent in their ranks and are staring down the barrel after a one-point loss in Ennis. 
Limerick, chasing four All-Irelands in a row, are in the same spot. 
James Crombie / INPHO Things get heated after Tipp and Limerick's draw. James Crombie / INPHO / INPHO
Is this cruel, ruthless? Absolutely. Is it fair? Yes, I would argue. Does it make for a more compelling championship? No doubt at all.       
You can't have this amount of thrilling games without this level of jeopardy. In the Leinster championship, Galway or Kilkenny could lose to each other and know that realistically they'll both make the top three — although Wexford have gone some way to making the Leinster championship appear precipitous with their shock loss to Westmeath. 
Yet while Leinster has teams in it the equal of those in Munster, at least, the presence of tier two sides reduces peril. 
This is a conundrum. Counties need to have the prospect of promotion to face Liam MacCarthy contenders, but then lopsided contests can and do ensue. The overall spectacle of the Leinster championship is lacking.    
In football, it's worse. When asked last weekend had I seen Kerry's loss to Mayo, I admitted to not even knowing the group system had started yet. Before I'm charged with hurling snobbery in the first degree, I'll state that I'm well able to plan my day around a game of football – when it matters.  
I know enough about the sport to know that Kerry will most probably beat Louth and Cork and advance, intact with their 'learnings'. 
I also know enough to realise that Kildare and Sligo's draw means one of them could well progress with two losses and a draw. It's a knockout competition in all but knockouts, with the element of competition compromised too. 
What will we see at the Gaelic Grounds on Sunday? Stands and terraces thronged. Players on edge. Supporters pensive and raucous. Win or die. 
This is the kind of game where emigrants in San Diego will pay the €12 for GAAGO and then curse themselves for not finding the two grand for flights home. These are the days of our lives, but they don't come cheap, financially, emotionally, any which way you go at it. 
If I'm betting the house on Sunday's outcome then I'd go with Limerick, despite my obvious hope for Cork to prevail. 
There are a few factors in play here. Limerick simply have a stronger panel than their rivals at this time, Cork included. They are misfiring by their own standards, but still managing to draw with Tipp and beat Waterford and lose by a single score to Clare. You get the feeling they could be one performance away from scaring the rest of the country rigid. 
If players such as Gearóid Hegarty and Cian Lynch rediscover their rhythm and a little of the joy in their hurling, the picture looks different. I find it hard to get away from the rudimentary point that class is permanent and this run of form is not.   
The last two times Cork and Limerick met in the championship, Limerick won heavily: by 11 points last year, and 16 in the All-Ireland final of 2021. 
The issues to overcome here are as much psychological as they are technical. 
Limerick will look to hit Cork with a sledgehammer from the first minutes, seeking to impose themselves physically and race into an early lead, hopeful Cork will wilt in the furnace. 
It's well and good saying previous games count for nothing and this is a new day and a new team, but that's not accurate. Previous games matter, as does history. 
Cork have had bad days against Limerick, but these days happened in the context of a rivalry that goes back well over 100 years. If Cork hurling stands for anything, and I would say it stands for a hell of a lot, it's a capacity for coming back. 
Had a bad day? A bad decade? No matter, we'll go again and again until we return, and over the course of history Cork always find a way. 
Intrinsic to that is a certain mindset. Some would call it arrogance, I'd say it's belief. The belief is if we do the right thing, moment to moment, one season to the next, then it will come good. Cork have won 30 All-Ireland titles, and that was the result of a lot of smart people doing the right thing at different times. It culminates in a tradition. 
That's what the current team looks to defend. Cork supporters like myself have no place demanding wins in any game. It doesn't work like that. Some days you're strong enough and some days you aren't. 
What I wish for them is confidence, purpose and the ability to stay in the moment. Doing your best at all times, plainly. Should Cork find themselves five points up on Sunday, keep going and focus on the next ball, intent on making it a six- or eight-point game. Should they fall eight points behind early on, then the focus is on cutting the gap to seven or four. Stay hurling, be relentless. 
I think Cork under Pat Ryan will have this approach. They'll be honest, skilful and it would be no harm if they played with their shoulders back. Limerick are the game's powerhouse now, but Cork didn't rack up those All-Irelands by being deferential.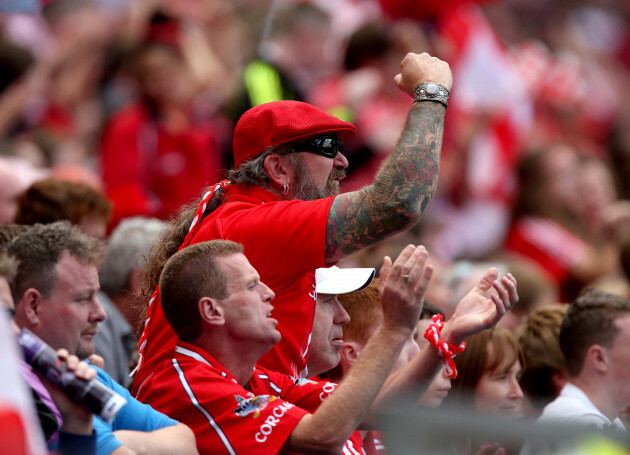 Ryan Byrne / INPHO Ryan Byrne / INPHO / INPHO
Tradition is a funny thing. It can inhibit or inspire. The trick, if you can pull it off, is to relax and let it do the latter. You're not duty bound to be Christy Ring or JBM every time you pull on the jersey, but there's no harm in letting a bit of that magic rub off.
The lore around the red jersey is what keeps the Cork supporters coming back, even in times when they've been starved of the kind of success that built the legend. 
They're unreal supporters, to be fair. You give them any bit of hope at all, they'll follow in their tens of thousands. Throw yourself into the contest and they'll back you with everything, no matter the score or the eventual outcome. 
Do they want to win? Yeah they do – who doesn't? Most important though is to be yourself: a Cork hurler.