Cork won the first big battle of 2012 with a convincing five-point win over Kerry in the Munster semi -final. Emmet Ryan breaks down a solid tactical display from Conor  Counihan's charges.
Deep defence vs lanes to run
Cork played a deliberately deep full back line, usually deploying a fourth man in support. This role rotated between Graham Canty and Alan O'Connor.
The deep defence eliminated Kerry's threat of a deep high ball at a target man, an issue Kerry have suffered with for months. The decision to drop back however opened up lanes for Kerry to run and create goal chances. On 16 minutes Declan O'Sullivan charged forward through space from midfield before passing to Kieran Donaghy on the 13 who immediately moved the ball to Colm Cooper inside the large square. Cooper however was crowded out and his shot was deflected out for a 45.
The Kingdom's second goal chance would come in similar circumstances. Kerry once again began the move with a direct run, this time it was Darran O'Sullivan who found acres to accelerate on the half hour mark. He found Cooper who delivered to Donaghy. Once again he was crowded out when making the final effort on goal.
The sacrifice Cork made in terms of surrendering room to run gave them the bodies to close down close to goal but Kerry never ran out of room to run at the Cork goal. Even substitute Johnny Buckley, nowhere near the pace threat of either O'Sullivan, found room to advance and set up Cooper for a point chance which went wide on 48 minutes. Kerry's ability to threaten with the run instead ran out as they ran low on fuel and lacked the reserves to compensate.
Distribution favours both attacks
Starting with the Kingdom, Kerry's issues with passing have long been a concern of this column but the decision making going forward was far-improved today. Paul Galvin had a clanger on 7 minutes when he sent a long ball into traffic, with three Cork players competing with one Kerry jersey for possession, but by and large his middle and long range balls were on song. His best move came on 37 minutes when he hit a long ball to Donaghy who was in a one-on-one position, the big man then fed Declan O'Sullivan open and he finished from 30m. Kerry's best moves began with targeted one-on-one balls. On nine minutes Seamus Scanlon hit a long ball in to Kieran O'Leary who played a one-two with Donaghy before passing to Cooper who passed back to O'Leary again for the finish.
Cork's passing at the start of the game was different to what we expected but proved effective. The Rebels opted for more low and chest height balls rather than focusing on an aerial attack early. This approach aided Counihan's charges in creating early scoring chances and the more mixed approach also opened up other angles for attack. Paul Kerrigan found room on both flanks to score 0-2 on the day and create scoring chances inside. High balls however were not the order of the day early. Cork's early approach with route one targeted areas well out from goal and Kerry were able to shut them down, stopping three high balls in a row at one stage. The Rebels however changed the point of attack after the break, targeting high balls much closer to goal, with three second half scores coming off high balls won or broken down inside the Kerry 21.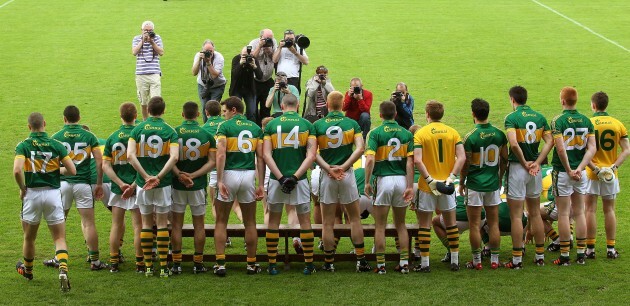 INPHO/Lorraine O'Sullivan
Cork's forwards use size to win frees
Kerry's defence held their own with Cork's inside game for the first 20 minutes but from there on out Counihan's charges found plenty of opportunities to win frees in scoring position. The Rebels won 10 frees they tried to convert to scores, 5 resulted in points on the day. The physical presence of Cork going forward meant Kerry needed to drop more men into defence. At one stage in the first half Kerry had eight men just between the 45 and 65. The intention was to keep Cork's forwards from cutting inside but the physical advantage enjoyed by Counihan's charges forced the Kingdom into giving up scoreable dead balls.
Depth makes a big difference
Do you think Kerry missed Bryan Sheehan? Brendan Kealy's two missed 45s and a long free from the sideline missed by Galvin on 47 minutes certainly made it look that way. There was a distinct lack of pace in Kerry's attack for much of the game. While Sheehan is not a pace man, his long passing injects speed into attack and this was missing on Sunday. Neither Scanlon nor Buckley proved even remotely adequate in terms of replacing the production lost. James O'Donoghue was the only option at Jack O'Connor's disposal that made a significant impact. The forward showed tremendous positional awareness in scoring 0-2 and creating scores for Eoin Brosnan and Darran O'Sullivan.
The depth advantage enjoyed by Cork however went far beyond Kerry's most notable absentee. In Nicholas Murphy and Ciaran Sheehan the Rebels had more than adequate replacements for the injured Fintan Goold and Pearse O'Neill. Murphy in particular proved a huge factor in the second half as Kerry's deep defensive approach started to come undone. The injection of Daniel Goulding late in the game would push the Rebels over the line. Goulding only scored 0-1, having been set up well by Kerrigan, but he provided the additional dose of pace Cork's attack needed to keep the game in Kerry's half late.
The verdict
Jack O'Connnor tried to shuffle the deck and up to the middle of the first half it looked to be working. Declan O'Sullivan looked far more comfortable away from goal and with Kerry's dominance at midfield, which last for the bulk of the game, O'Connor's charges looked capable of creating scores. The Rebels however proved economical on the ball, converting 13 of their first 18 scoring chances. When Cork had the ball they punished Kerry and eventually won the territorial battle. Once Cork established a presence in the Kerry half, they could pick their options in attack.
Defensively this was a curious game. Kerry stopped Cork's chief threat, the high ball, for much of the game but could not cope with the size disparity in open play. Cork's deep defence denied Kieran Donaghy, who was used almost exclusively near goal, from having an aerial impact but it left both O'Sullivans with room to run. Indeed Cork's backs were stationary calling for a free when Declan O'Sullivan had a goal chance on 50 minutes, which fortunately for the Rebels Alan Quirke saved. It was however the attacking side of the game that proved decisive and Cork showed far greater imagination throughout than the visitors.
Kerry's season will live and die by the return of Bryan Sheehan. With him they have a difference making weapon in attack, possibly not enough to win an All-Ireland but certainly sufficient to remain a contender. For the Rebels the Munster Final, for which they will be heavy favourites, is next. Even in the unlikely event of an upset, this will be their only game for at least the next seven weeks. That should put extra emphasis on ensuring today's victory is built on with another well-marshaled display.
Follow Emmet Ryan on Twitter.