Costa Rica versus Greece… it was the one we'd all been waiting for right?
Okay, so it might not be the most glamorous of the last 16 ties but one of these underdogs was heading for a World Cup quarter-final.
Could these two live up to the drama today's early kick-off provided.  
As always, we'd love to hear your thoughts on the game. To get in touch, email steven@thescore.ie,  Tweet @thescore_ie, post a message to our Facebook wall, or leave a comment below.
You may need to refresh the page for YouTube videos and other elements to display correctly.
Hello and welcome to our coverage of the 52nd match of this year's World Cup.
The venue is the Estádio Governador Carlos Wilson Rocha de Queirós Campos – or Arena Pernambuco in Recife to you and I – and the teams are Costa Rica and Greece.
As usual, feel free to leave your predictions, thoughts and general observations about life into the comment section below.
First things first, here are tonight's teams.
Costa Rica have reverted to the same team that felled Uruguay and Italy with Joe Campbell and Bryan Ruiz the main threats.
Costa Rica (3-4-2-1): Navas; Duarte, Gonzalez, Umana; Gamboa, Tejeda, Borges, Diaz; Ruiz, Bolanos; Campbell.
For the Greeks, Andreas Samaris makes his first start of the tournament in midfield as they look to repeat their success against Côte d'Ivoire.
Greece (4-3-2-1): Karnezis; Torosidis, Manolas, Papastathopoulos, Cholevas; Maniatis, Samaris, Karagounis; Salpingidis, Christodoulopoulos; Samaras.
Here's the view from the press box in Recife where our man Mikey Stafford will be filing his report later.
Speaking of Mikey, here's his preview from earlier:
The anthems are over and we're just about to get under way here.
Fun fact, the Greek one – Hymn to Liberty – is the longest national anthem in the world at 158 verses.
Thankfully, we only ever hear the first two.
Kick-off: Referee Benjamin Williams of Australia gets the fourth of the last 16 ties going.
2 mins: First chance of the game but Christodoulopoulos' shot is well over.
4 mins: Ruiz sets Gamboa free down the right but his shot is closer to the corner flag than it is to Karnezis's goals.
Both sides setting up as we expected so far.
6 mins: Costa Rica failed to win the battle for possession in any of their group games – their highest being 44% v Uruguay – but with both teams set up to counter-attack, something will have to change in this game.
At the moment it looks like the Central Americans are willing to come forward more, Bolanos with their latest chance but he blazes over from a tight angle.
The fans in Recife – or at least this one – are thankful for the teams they've hosted: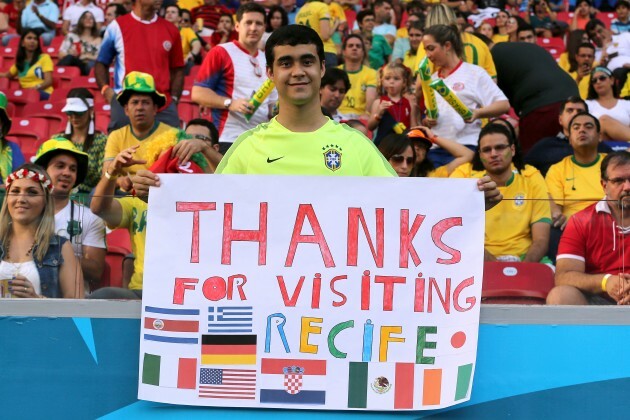 Nick Potts / EMPICS Sport Nick Potts / EMPICS Sport / EMPICS Sport
12 mins: Greece have two chances in quick succession. First Samaras is marginally offside before Christodoulopoulos cuts inside and drags his shot wide.
Better from the Greeks but they're in second gear at the moment.
14 mins: Better again from the Greeks. Samaras' cross is put out for a corner and Karagounis' ball is met by Papastathopoulos but his header goes wide.
18 mins: Boos from the crowd as Costa Rica sit back and invite Greece on.
The Group D winners have their first chance in an age but Ruiz' through ball is too far ahead of Campbell.
22 mins: Costa Rica have their first corner of the game. It's a short one between Ruiz and Campbell with the latter fouled unceremoniously by Karagounis.
Bolanos free-kick is a good one but there's nobody on the end of it.
That's the best chance of the game so far.
24 mins: Gonzalez concedes a corner after Torosidis tries to find Samaras with a speculative cross. Nothing comes from it though and we still await our first shot on target.
27 mins: We have our first shot on target!
Karagounis with a 25-yard effort that Navas deals with on the bounce.
30 mins: Ruiz and Campbell definitely the main threats for Costa Rica – as billed – but there's a distinct lack of quality from the pair in the final third at the moment.
The latter's corner is easily picked off by Karnezis in the Greek goal.
35 mins -Yellow card: Samaris with his first contribution to the game, hacking down Campbell in midfield and rightly going into the book.
36 mins – CHANCE! A brilliant save by Navas as Salpingidis looked certain to score from five yards after catching Diaz napping at the far post.
I'm sure Salpingidis was planning his celebration when the ball left his foot; it really was that good a stop from the Costa Rican 'keeper.
42 mins – Yellow Card: A booking for Duarte as he pulls down Papastathopoulos right outside the box.
The resulting free kick comes to nothing though.
HALF-TIME -
The half-time whistle is greeted with a chorus of boos. There have been better games, it's true, but you can only imagine what's at stake for two teams few tipped to escape their groups, never mind be one game away from reaching a World Cup quarter-final
Kick-off: And the second half is under way.
46 mins – CHANCE! A great free-kick from Cholevas is met by Samaras but the former-Celtic striker can't direct his header anywhere except the hands of Navas.
47 mins – Yellow Card: Tejeda goes into the book for a naughty challenge on Karagounis.
GOAL – 52′ BRYAN RUIZ: At last, the deadlock is broken. Bolanos picks out Bryan Ruiz just outside the area and the Fulham man passes the ball into the Greek net.
The game was crying out for a goal and lets see if that opens things up.
54 mins: Bolanos has a chance to double the Costa Rican lead but it's well blocked. The Central Americans have done more.
Looking at some replays, Torosidis very lucky not to have given away a penalty on Costa Rica's last attack too, the ball clearly striking his hand in the area.
55 mins – Yellow card: Costa Rica substitute goalkeeper Oscar Granados has been booked. We've no idea why but have to assume it was something he said.
57 mins – Substitution: The ineffectual Samaris is off with the seemingly perma-injured Fulham man Mitroglou taking his place.
63 mins: You'd have hoped that going behind would have spurred the Greeks on but they've created nothing of note in the ten minutes since.
65 mins – RED CARD: Durate is off. His second booking, stupidly bringing down Cholevas and the Costa Ricans are down to 10 men.
65 mins – Substitution: Cubero replaces Tejeda for Costa Rica.
68 mins – Substitution: Gekas is on for his 76th cap for Greece as Salpingidis trudges off.
70 mins – Yellow card: Ruiz adds a booking to his goal, dragging down Samaras. It's not that sort of game but the yellows are suddenly starting to mount up.
72 mins – Yellow card: Manolas joins all the others in Benjamin Williams' notebook. It's all very scrappy now.
75 mins – Substitution: Another change for Costa Rica as Cristian Gamboa is, eh, escorted off the field by some Greek players – notably Samaras – with Johnny Acosta coming on to take his place.
77 mins – Substitution: Katsouranis is on for Maniatis as Greece seek an equaliser.
79 mins: Greece with a chance from a free-kick but Karagounis' effort is so high and wide it wouldn't look out of place during one of TheScore.ie's weekly 5-a-side game.

81 mins: After that last effort, Cholevas takes over free-kick duties for Greece. It's not a bad ball in but Manolas just can't direct his header on target.
83 mins: A brilliant ball from Torosidis puts Gekas through but it just runs out of a goal kick.
83 mins – Substitution: Brenes replaces Bolanos as the Costa Ricans look to close this one out.
86 mins: Costa Rica are playing for the final whistle now. Ruiz dribbling towards the corner flag and drawing the free out of Karagounis. Stupid free to give away and waste time.
87 mins – CHANCE! A glorious opportunity for Greece to equalise. After good work down the wing from Christodoulopoulos, Mitroglou can't sort his feet out and Navas makes the grab at the second attempt.
89 mins – Yellow Card: Costa Rica's goalkeeper booked for time-wasting.
GOAL – 90′ PAPASTATHOPOULOS: Navas, who brilliant earlier, may have cost his side a quarter-final place. He failed to deal with the original effort and Papastathopoulos grabbed his first ever international goal.
90+3 mins – CHANCE! Navas makes up for that mistake with a fantastic point-blank save again. That's the second time in the game.
FULL-TIME -
Good news everyone, we've another half an hour to go as Greece and Costa Rica can't be separated after 90 minutes.
Kick-off: And the extra 30 minutes are under way.
ET 1 min – CHANCE! Very nearly an own goal from Costa Rica to open extra time but Navas does well in the end.
ET 4 mins – CHANCE! There looks only one winner here as the ball hits Gekas in the face and goes harmlessly wide for a goal kick.
ET 8 mins: Greece looking increasingly threatening, especially from set-pieces. You have to imagine that Costa Rica will play for penalties now.
ET 9 mins: Another chance for Greece is scrambled clear, Katsouranis with the their latest effort which goes out for a corner. The set-piece comes to nothing this time though.
Los Ticos just can't get their foot on the ball. They may be down to ten men but it looks like they're playing with seven or less at the moment. It's all Greece.
ET 13 mins: And just like that, Costa Rica finally create a chance through Campbell but the Greeks deal with it relatively comfortably.
Interesting stat we've just been sent, Oscar Duarte was sent off nearly 45 minutes ago and he's still played more passes in this game than any of his team-mates.
HALF-TIME EXTRA TIME -
We're 15 minutes away from the drama of a penalty shootout.
Kick-off: The second period of extra-time has begun.
ET 16 mins – CHANCE! Brenes breaks clear for Costa Rica but his shot goes over. That's probably his side's best chance since the goal.
ET 17 mins: Navas comes to his side's rescue again and Gekas has a little kick at him. The referee or his assistants didn't see anything in it though.
ET 19 mins: A spectacular overhead effort from Gonzalez drifts harmlessly wide. A bicycle kick that needed stabilisers if you like.
ET 22 mins – CHANCE! From one end to the other. Costa Rica had a great chance form a corner and then, on the counter attack, Greece had five on three but never looked like scoring as Christodoulopoulos took on the speculative shot rather than seek out a team-mate.
ET 26 mins: Cholevas' set-piece deliveries has been excellent. You sense the Greek management will be disappointed they haven't made more of them.
ET 28 mins: Campbell is spent. Had a great chance but couldn't get his feet out from under him. The less said about Mitroglou's effort down the other end, the better.
ET 29 mins: As soon as I praise him, Cholevas takes his worst corner of the game. Typical. There are two minutes of injury time.
ET 30+1 mins – CHANCE! Mitroglou denied by another great Navas save.
If only he hadn't made that one mistake, Costa Rica would be in the quarter-finals already.
FULL-TIME EXTRA-TIME -
And we're going to penalties.
DRAMA: The Greek manager Fernando Santos has been sent to the stands for complaining to the referee. He's still on the touchline though.
Borges steps up with the first penalty and SCORES
Mitroglou will take Greece's first penalty. He SCORES
Ruiz up next for Costa Rica and he SCORES
Christodoulopoulos is next up for Greece and he SCORES
It's 2-2 for those keeping count.
Gonzalez is third man up for Costa Rica and he SCORES
Cholevas with the chance to make it 3-3 and he SCORES
These are great penalties!
Joel Campbell with Costa Rica's fourth spot kick… SCORES

Gekas with the chance to make it 4-4. It's SAVED

Navas gives Costa Rica the chance to win it with the next kick!
A nation holds its breath as Umana steps up….
Costa Rica are through to the quarter-finals of the 2014 World Cup.
Navas is the reason this game went to extra-time and penalties but he's been hugely important in getting them through to the next round.
His side wins 5-3 on penalties.
And that's it from me. A game that kicked off three hours ago has come to a close in the most dramatic of circumstances. Keylor Navas went from hero, to villain and back to hero again in the space of that 180 minutes.
Thanks as always for joining us.
This World Cup, eh?